There is a reason that some classic products never go out of style, and this Merkur Model 180 long handled safety razor review is about a trip back in time. This is a time without quick and easy disposable shaving products.
This shaver is finely crafted and made to deliver a shave that simply cannot be matched by disposable razors. Here are just a few reasons to consider this classic shaving tool.

Merkur Model 180 Long Handled Safety Razor
The Merkur is made with stainless steel and a finish of beautiful chrome. Its double edge design is made to deliver a superior shave. The handle is longer than most to provide an easier grip. It is also features a handle that is naturally slip resistant.
Many men do not realize the difference between most disposable shaving products and a quality tool such as the Merkur safety razor. They think that three, four, or more blades must mean a shave that is three or four times better than normal. However, this is not how it works.
Tips to Use the Razor
In order to appreciate this classic shaving tool, there are a few important points to consider. This is especially important for younger men that have little experience with classic shaving tools. Once you understand the fundamentals, you can receive the maximum benefits from your equipment.
Clean your face or skin to avoid poor shaving quality. It's far better if you wash your face before shave it.
If you have long or full beard, trim it until you have a short beard.
Try not press too hard with the shaver. In fact, you will need much less pressure than with a disposable one. Let the razor do the work for you, as you apply less pressure.
It is suggested to shave in the direction that your beard grows. However, this will depend on what works best for you. Hair usually grows one direction on one side of the body and another direction on the opposite side. Remember this when you shave.
You will probably need to keep the blade angled away from your skin. With disposable shavers it matters very little. However, safety razors can cut skin if not properly used. Yet, once you understand the basics, you should have few problems.
The Pros
a good looking tool with chrome finish
easy & safe to use
provides a close shave without bumps and irritations
good grip on the handle so you will comfortable in your hand
there are accessories for this razor
Save your money. Although the price is not cheap ($31.09 on Amazon), but the tool will last a lifetime.
The Cons
The razor comes with no plastic guides to protect your skin. Be careful if you are using the razor for the first time. Then, you'll find this tool easy to use for longtime as the tool made from high quality metals.
This quality shaving tool does not open like a normal safety razor. The head comes apart into two pieces. All you need to do is unscrew the handle and take apart the mechanism. Slide the blade in and screw the handle back on. This shaver is designed this way to eliminate any problems with misalignment that may occur with other kinds of safety razors.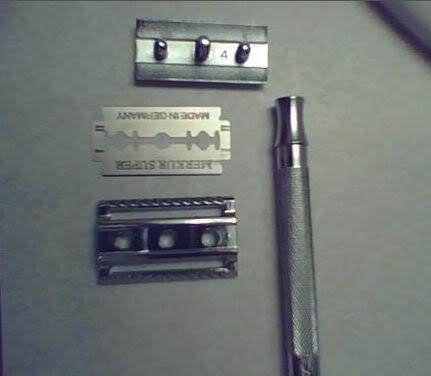 Merkur Model 180 Safety Razor
Perhaps you are looking for a quality shaver that delivers what it promises. You should check out Merkur Model 180 long handled safety razor. The Merkur is easy to use and should provide years of dependable service.