Many people do not satisfied with their short haircut because they feel the hair is too short although the barber already used the biggest guide comb they have, #8, resulting about one inch in length. They are true, the longest comb is usually #8 or #10 if they buy hair clipper or guide comb in a set or kit. If you need a bigger comb, you need to buy it individually. The biggest comb is Wahl #12 clipper guide comb, 1&1/2
.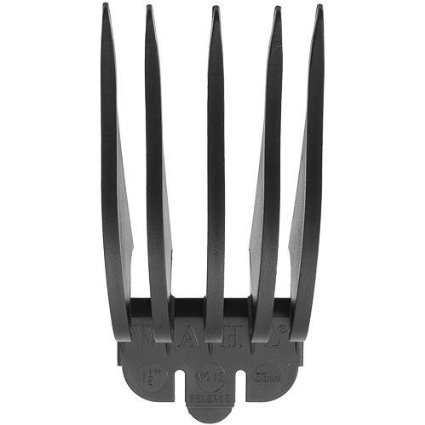 The clipper comb of the Wahl #12 can be a good idea for you who are interested in cutting your hair into no-too-short haircut. For sure, there are so many people who are interested in dealing with this duty by their own way and by themselves.
That is a good idea for the people who often feel so disappointed on the length result of the hair salon on cutting the hair. That is such a good idea if you have a great time and try to cut your hair yourself or bring the comb to your salon or barbershop.
This stuff might be a good idea as the part of the haircutting kit for you at home. That is especially for the man who is interested in getting the 1.5 inch haircut. This guide comb from Wahl can be such an alternative for you to deal with your need in a simpler yet easier way at home.
This guide comb is made from plastic which is not really tough and hard but it is really useful for you. You can get the perfect 1.5 inch haircut at any barbershop or home with no worry as long as you know how to use it properly.
That is also a good stuff to be the addition for the attachment of your own clipper. It fits all Wahl full size clippers. You can buy it easily from your home at Amazon.com
.