The Wahl 79524 24-Piece Deluxe Hair Clipper Kit is one of the most complete home hair cutting kits on the market. It comes with ten adjustable guides, including two for tapering the sides and back, a barber's comb, a pocket comb, a pair of barber shears, cape, cleaning brush, oil, neck duster, clips, and a blade guard, along with a convenient storage case. There is even an instructional DVD that can help men learn to cut their own hair.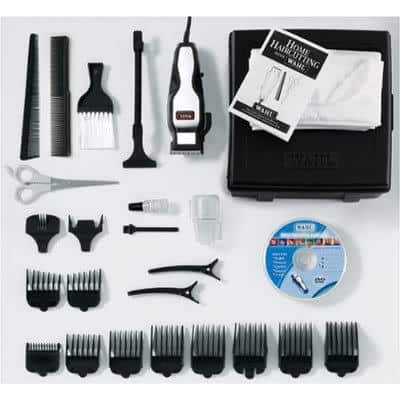 The clipper has a Powerdrive electric motor, meaning it must have a power source to plug into. The blades are self sharpening, made of high carbon steel. There is a switch that can be operated with the thumb to adjust the guide combs to different heights. The unit weighs only two pounds.
This is one of the most durable clippers in its price range. This might make it seem heavy or bulky to some. However, it comes with a five year warranty. Care should be taken not to attempt to force the clipper through hair too fast, as it can pull.
The kit probably contains guide combs and/or other tools that one will never use. However, the fact they are present means that one will not regret not having them should the need ever arise.
The Pros
The pros of this model include its price, which is very affordable, very powerful motor that runs quietly, the simple to operate slide switch for adjusting the height of guide combs, it is a complete kit with all the tools one will need to cut his own hair, including the storage case, and comes with instructions.
The Cons
On the con side, the unit is a little bulky and heavy compared with some other models. It vibrates a bit, especially if the power screw falls out of adjustment. The unit tends to get hot if run for an extended period. Finally, all of the accessories that come with it are made of plastic, making them easy to break.
Our Wahl 79524 24-Piece Deluxe Hair Clipper Kit review has found this to be among the best and most complete kits available in the price range. It is also one of the most solidly built units in this price range. It contains all the tools and accessories one needs to cut his own hair for many years to come if the clipper is properly maintained.
It is not a perfect set built to barber shop specifications, but for home use, it is good. The clipper is a little bit heavy next to other models, but this is because it is more solidly constructed. It tends to run hot if operated continuously for an extended time. It can pull hair if one tries to force it through too quickly, though it does cut very smoothly and quickly when operated at the proper speed.
Cutting hair at home just became easier and more affordable. It should have the ideal tools for any style one wants.