Simone Pepe is an Italian Football (some call it soccer) player who plays for Serie A club as a winger. Simone Pepe is known as being one of the most hardworking soccer players. He is always running up and down the field with no regard to human life. His tenacity is well known among football players and football fans alike. Today, he is now playing for Juventus Football Club in Italy.
Back in 2023, Pepe was selected by the Italian under-21 team for the year's 2006 UEFA Football Championship. However, he was not able to play any games in Portugal in an eventual group stage exit. He then made his debut with the senior side in October 2008 during the world cup qualifiers.
Pepe was also on the squads at the 2009 Fifa Confederations Cup and the 2010 World Cup. He appeared a total of five times in the tournaments and was a starter in all matches in the World Cup.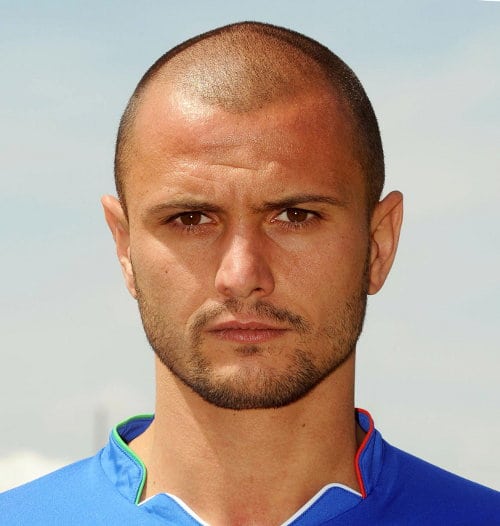 Aside from Simone Pepe's prowess in the world of football, his hairstyles and facial hair styles were also as flashy as his game. A lot of people wanted to have the same hair and beard style of athletes. Pepe is one of those athletes a lot of people want to share the same hairstyle with.
Simone Pepe usually wears his hair short. Here he wear a buzzcut with short stubble of full beard. Luckily, he has a well-defined skull shape. He cut his hair in a uniform length all over his head. To get the haircut like him, you need a hair clipper with number 2 guard.
He is usually seen in this short hairdo which gives him a tough and headstrong look. The hairstyle is great for men with a nice skull shape without any scar and men who have a receding hairline. In other times, Simone Pepe wears a shorter version of David Beckham's Faux hawk.
The Simone Pepe hair is somehow of a combination of a clean, classy athletic look with a touch of professionalism. Despite of having a bull-like demeanor when playing football, he still looks clean and is still a well-groomed man. These hairstyles are recommended for men looking to have a tough looking athletic look without losing the sharpness and well-groomed look of a business man.