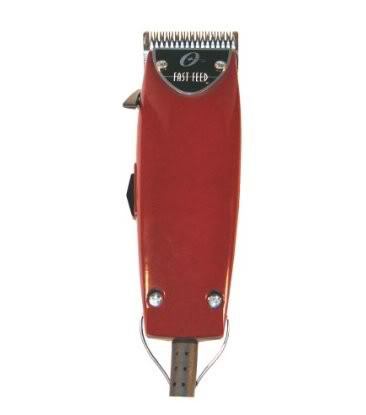 Oster Professional 76023-510 Fast Feed Clipper.
There are many different produces of hair clippers for home use. However, no two models are exactly alike. To help with choosing the proper clipper for you, we are presenting this
Oster Professional 76023-510 Fast Feed Clipper
review.
The 76023-510 features an adjustable blade that allows one to quickly change from an extremely close cut to a medium one. The kit comes with blade oil, a cleaning brush, 3 different guide combs, and a blade guard. The one missing component is a case in which to store it.
This model comes with a 12 amp pivot motor. This provides considerably more power than the traditional magnet motors found in lower priced clippers. This motor is powerful enough to cut through wet, thick, or wiry hair with ease. It also features a heavy duty round cord that does not twist up the way flat ones often do.
This clipper is not the lightest on the market. However, its hefty weight makes it feel more like a professional quality clipper. There are optional attachments available that can be purchased separately and added to this kit in order to make it more suitable for anyone to use for mustache and beard trimming as well as cutting their own hair.
In addition to the adjustable blades that come with this clipper, one can order other optional sets to handle longer hair. The blades that come with this kit are very sharp and look like they will last for many years with proper care and oiling.
The 76023-510 has several features in its favor. One is that it is extra powerful, allowing it to handle even the thickest hair. Adjustable blade settings allow for cutting different lengths with optional blades available for even long hair.
This is one of the quietest running electric clippers on the market. It has a heavy duty round cord that does not twist. Factors that can weigh in against this model include the absence of a case for storage and the unit is considerably heavier than many other models on the market.
Of course, there are worse problems to have. One can get a lighter weight model with a beautiful case that does not work nearly as well as the Oster 76023-510 Fast Feed Clipper. Given its price range, this is one of the better options available to those who want a high quality clipper for trimming their mustache, beard, or hair.
Get a price on the Oster 76023-510 Fast Feed Clipper at Amazon.com>>