If you follow The Voice season 2, you may remember that there was a contestant with dreadlocks hairstyle. Yes, he is Moses Stone. Recently, we got a chance to conduct an interview with him about his hairstyle.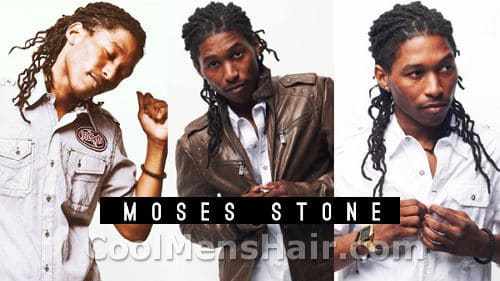 CoolMensHair: Tell me a little bit about yourself, your passion, & activities.
MS (Moses Stone): My name is Moses Stone. I am a Pop recording artist. I've been doing music since the age of 10. I am most known for my appearance on the hit tv show NBC's The Voice Season 2 making history being the first ever rapper/singer on the show. I have also appeared on shows like MTV, BET 106 N Park & Showtime at the Apollo, I am a fan of art and music is my passion. I love what I do!
CoolMensHair: Since when do you wear dreads? And, why dreadlocks?
MS: I have had dreadlocks for a total of 3-4 years they have been through my whole journey in my music. I am half Jamaican so I've been around the hairstyle and culture my whole life, for me it represents being a individual and being free/strong.
CoolMensHair: How you get your hairstyle?
MS: I started out with gel twist and my dreads started to form on there own.
CoolMensHair: How to maintain your hairstyle?
MS: I usually try to get my hair done as often as I can since I am in the entertainment business and always out and photos being taken of me. I have to always make sure my hair stays fresh so usually I'll get it done Twice a month keep them in cornrows for maybe a week or two then wear them crinkly wearing some up and some down.
CoolMensHair: What products you use?
MS: I don't use much products on my hair because I am very careful about what chemicals are in my hair, but I mostly have some african oil in there just to keep my hair from being dry.
CoolMensHair: What impact do you have when wearing a dreadlocks?
MS: I feel like the impact that I give with my dreads is that every person with dreads doesn't smoke weed or is a drug dealer etc. there's a negative stereotype on dreadlocks and I just want to bring a new angle to them as far as being able to get them accepted in all sorts of places from jobs and establishments and change people's perception on people with dreads especially African Americans with dreads. Dreads are about individuality, being free, being strong, your locks are apart of you it's weird, but it's not just hair.
CoolMensHair: Many people often associate a dreads hairstyle with reggae music, do you agree?
MS: I can understand the associate with reggae music. Jamaica is where people identify dreadlocks coming from as well as the legend and my inspiration Bob Marley had dreadlocks. There is a whole culture out there with dreadlocks that's a lot more deeper than just a hairstyle, it's a way of life being a rasta.
CoolMensHair: What kind of music are you into?
MS: I listen to all music I am always open to hear something new and gain something from it at the end of it all music is about emotions, relating and connecting with people. All songs either have lyrics, music or both together it all is created to convey a emotion in you. Music is universal & it's something everyone around the world loves!
—
If you'd like to get in touch with Moses Stone, you can reach him at: https://twitter.com/IamMosesStone
All bookings, features & inquires for "Moses Stone", contact: [email protected]