Kajuya Kamenashi hairstyle.
Kajuya Kamenashi
is a multi-faceted powerhouse of talent. He is a Japanese singer-songwriter, artist, T.V persona and radio host. A co-host of KAT-TUN's late-night NTV talk show, Cartoon KAT-TU, Kajuya Kamenashi has proved to be a major crowd puller. Adding to his profile, this young lad is a successful radio host too and hosts his own program aired by Nippon Cultural Broadcasting.
Born on February 23, 1986, Kamenashi made his entry into Johnny's Entertainment at the age of 12. He is the co-lead vocalist with Akanishi and in spite of being the youngest in the lot he is the unofficial front man because of his oration skill.
Kazuya Kamenashi and Yamashita Tomohisa formed a temporary unit and released a single consisting of the theme song of "Nobuta wo Produce" as well as a solo. It was Kamenashi's song, "Seishun Amigo" that became the number one single in Japan in the year 2005. Kamenashi frequently acts as MC for KAT-TUN on television programs and shows.
Besides his television stints as a host, this Piscean is also a well-known actor delivering award-winning performances in television dramas Nobuta wo Produce, Gokusen 2 and Kami no Shizuku. Proving his skills both in the radio and television, Kamenashi Kazuya is now about to debut on silver screen with Gokusen series, Gokusen: The Movie, in July 2009.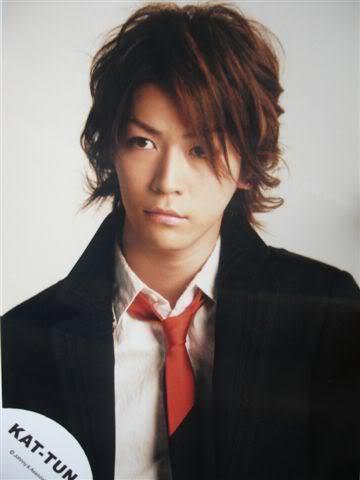 Kamenashi hairstyle. Photo © Johnny & Associates.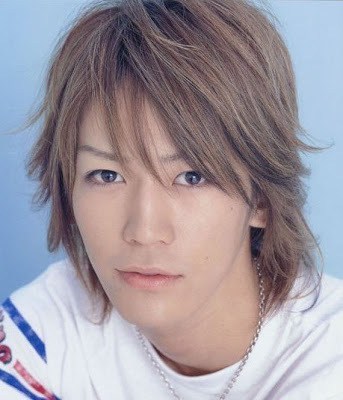 Kamenashi shaggy hair
Kamenashi emo style. Photo © Johnny & Associates.
Along with his acting prowess, his fans now even get to see his ever changing hairdo and looks.
In fact, this all-around celebrity never shied away from experiments when it comes to hair. The skinny yet macho man, Kajuya Kamenashi earlier had a curly hairstyle. But, he soon gave up the hairstyle for a smoother look and flaunted a semi-long layered shaggy haircut.
There are times when he sports a ruffled hairdo that's pretty rare these days. He carries the black nails and dark 'emo-style' with equal ease. Sometimes, his hairstylist styled his hair in a way that looked like a short version of Hisanobu's bangs. Of late, he flaunts a new hairstyle that makes him look all the more gorgeous, cute and sexy too.
Let's hope with brimming talents Kajuya Kamenashi not only rules the hearts of the Asians but also become popular in the other half of the globe!