Jamie Foxx twist hairstyle. Image courtesy of IMDb.
An actor and celebrity that sports one of the most interesting looks available today is the
Jamie Foxx twist hairstyle
. It is one of the easiest to care for after achieving the desired look and is worn primarily by
African American males
. Interestingly, it is based on the same kind of twist women used to wear, but on a smaller scale.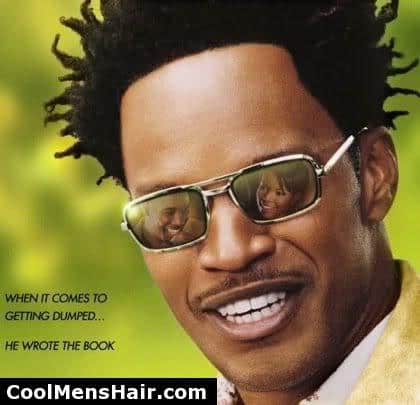 Jamie Foxx twist hairstyle. Jamie Foxx as Quincy Watson in Breakin' All the Rules (2004).
In order to achieve the desired effect the right products must be used which will also ensure healthy hair. Fortunately, for this style long hair is not necessary, although it must be of sufficient length to get and hold the twist.
By taking small sections of hair and coating it with a styling gel, the hair is simply twisted around the finger. The larger the sections, the fewer coils will result. This allows those selecting this hair option the opportunity to create the right look for each occasion.
Gel products are required in order to hold the individual twists. In general, the stronger the gel the better the hold. There are many on the market today specifically designed for this purpose and most are very affordable. This style can then be finished off with a touch of hairspray which will also help ensure a tight hold.
This is an ideal look for a man with a busy lifestyle. It requires very little care and only takes a short time to achieve the desired look. This style is especially attractive for those with long hair and takes significantly less time to create than dreadlocks which often take the better part of the day to accomplish.
It is extremely important for men to ensure the right image is presented regardless of the situation. Not only is the Jamie Foxx twist hairstyle an easy way to achieve a stylish look, but the fresh, tidy appearance will ensure you are noticed.