Toni Kroos is a German footballer known for his hefty build and classic haircuts. Born in 1990, Kroos plays for Real Madrid and the German football team. With his classic tapered haircut, Kroos is the poster boy for the well-behaved footballer who plays clean in and out of the field.
The great thing about this cut is that it is very flexible. It can be tussled up for a casual, bedhead look, something that Kroos has been seen sporting during his days off the field. It can also be slicked back and combed neatly with the right hold and shine for more formal occasions. Here's how to get the Toni Kroos hairstyle.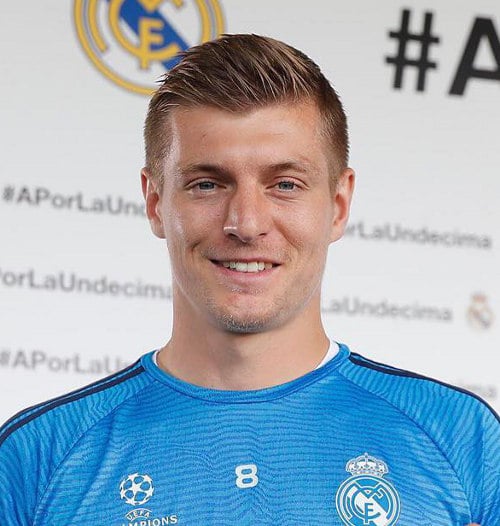 To get the haircut, start off with a short base cut around the ears and back, but keep the hair along the crown longer to make an easy side part. To get the right tapered cut, tell your barber that you want a medium tapered haircut with 3 inches at the max for the top of the head.
Product choice is important when it comes to side parts. Use a low-shine pomade to get a good degree of hold without getting slick and shiny hair. The hairstyle usually holds well even if he spends hours on the field, so a medium hold pomade would be a good choice.
A good men's comb would be ideal for doing the side part. Using the comb, create the part and start combing the hair to the opposite side. Keeping the hair on the crown about half an inch to 3 inches long will give you the flat, classic crew cut look that Kroos is known for.
You can get an edgier look simply by running the hands through the hair and scrimping and pinching as you reach the tips or comb your hair using a wide-tooth comb.