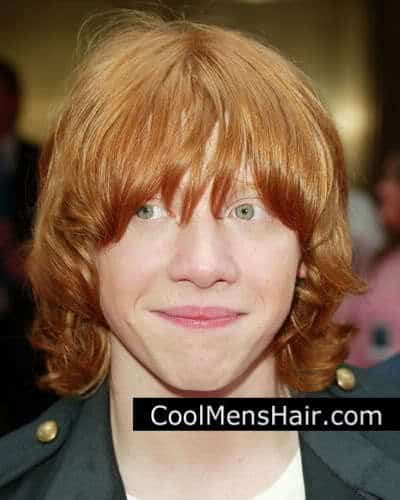 Rupert Grint shaggy hairstyle.
He may not be the conventional teen heartthrob–oozing with appeal, good looks, and amazing bod. However, Rupert Grint shines on his own because of his excellent acting chops and the Rupert Grint shaggy hairstyle that allows his ginger hair to become more noticeable and unique. It also adds more volume.

Rupert Grint (Ron Weasley) shaggy hairstyle

Rupert Grint medium shaggy hairstyle
There are many different kinds of shag hairstyles. The one Rupert sports is called the medium shag. He usually maintains his hair up to shoulder length. To achieve the same kind of look, you only need to have quite a number of layers, preferably on the sides. He also maintains bangs or fringes that enough to cover the entire forehead but never go beyond the eyebrows.
It's very easy to maintain a shag hairstyle since it doesn't demand constant combing or even styling. However, you may add mousse if you wish to give it more volume and a hair moisturizer to keep it shiny and healthy at all times. Of course, if you wish to keep the shaggy hairstyle, you really need to see a hairstylist at least once a month to properly maintain the layers.
Don't forget to carry the hair with the right personality or attitude. Rupert is known to be playful and spontaneous like any other teen, characteristics that add more to his charm.