The Edwin Jagger De89bl Double Edge Safety Razor has been described by many as a top quality product that is able to compete with the best razors on the market. The modern product includes a wide range of standard features that have been incorporated for comfort and durability. It is certainly a reliable item providing men with a more comfortable, closer, and smoother shave.
Safety razors have increased considerably in popularity as a result of their longer lasting properties making them a more cost effective option. With the arrival of the Edwin Jagger De89bl Double Edge Safety Razor, consumers are provided with the best of both worlds. This includes the incorporation of the chrome double edge razor blade head which has been described as providing the best results with a closer, wet shave.
Close Shave Result
We have compared the results obtained with this innovative product to that of original straight cut throat razors and have found that a closer and more accurate shave is obtained with the new double edge item.
It includes a classically designed comb like head, which expertly encloses the brass plated tubular handle providing sophistication and a solid grip. The name of the product is boldly embossed on the collar for a quality option.
Product Features
Product features include the Edwin Jagger head fitting virtually all available standard DE blades. These razors further provide a closer and smoother shave in comparison to the straight razors. A result of the design of a sturdy and solid handle means that enhanced balance is provided for a more precise shaving experience. It has been developed as a smart and durable product and may be purchased in the brand presentation box.
Many people have also reported less occurrence of painful ingrown hairs and shaving rashes that are often attributed to blunt blades and insufficient grip. Shaving no longer needs to be a chore, with attractive features and a weight of 2.1 ounces packed into a single, sturdy product. The purchase of such razors includes the supply of 5 safety blades which makes for an item that is ready to use.
This stylish product possesses a beautiful chrome finish which further protects against the development of damage such as rust over time. With the head displaying the same chromed surface as the rest of the item, it has been defined as exuding quality. The flawless finish adds to its appeal with its handle providing extra grip in the form of a double lip near the top end of its handle.
The item provides increased traction when applied to a wet face. The chrome finish is flawless and considered one of the most attractive features of this product. The balance and weight of this brand of razors makes it exceptionally easy to use.
The Cons
If you have big hands, you'll find that the handle of this razor is a bit short (3 3/8″) & very smooth. When it becomes wet it is quite slippery. If it is a big problem for you, I would really recommend using Merkur Model 180 Long Handled safety razor. The razor has a longer handle with easy grip. The picture below shows the comparison between these two razors.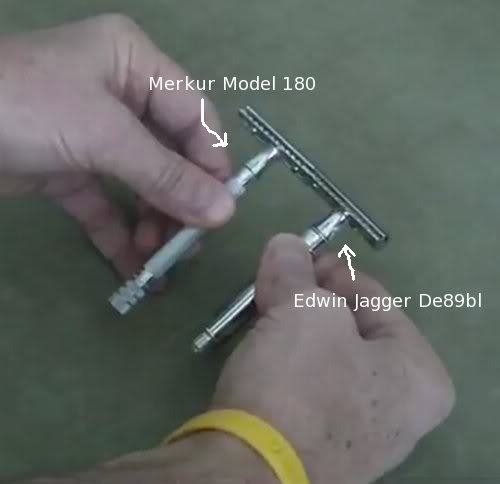 Comparison between Merkur Model 180 and Edwin Jagger De89bl.
Conclusion
With the Edwin Jagger De89bl Double Edge Safety Razor, users will be provided with a range of modern features designed to assist in a closer, smoother, and cleaner shave. It is easy to use and considered attractive and durable as a result of its flawless chrome finish which further contributes to its longer lasting properties. For those who desire a smoother and more comfortable shave, the Edwin Jagger safety razor provides enhanced features that are kinder to your skin.
Buy Edwin Jagger De89bl Double Edge Safety Razor from Amazon>>