Those who know their country music are surely familiar with Dorsey Burnette. This rockabilly singer and one of the founding members of the Rock and Roll Trio came from humble beginnings in Memphis, Tennessee.
He and his brothers took an interest in amateur boxing and in music and created reputations for themselves as strong amateur contenders. Dorsey eventually became a Southern boxing pro in college while holding a day job before finally studying for his electrician's license.
His father encouraged in Burnette and his brothers a love for the guitar by buying his boys guitars which they would promptly destroy. However, Dorsey eventually learned the basic chords and would play his guitar despite the broken strings.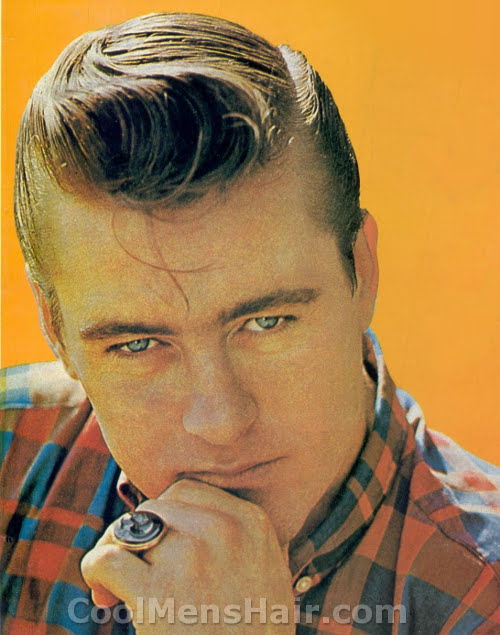 Dorsey is known for his distinct, all-American hairstyle. His short yet sleek and shiny pompadour has made countless women swoon, especially since he is one of the few stars with blond hair who rocked the pompadour with flair. He also sported a left side part which gave him a distinct look from all the other musicians who also sported this hairstyle.
This hairstyle is relatively easy to achieve. If you know how to style the basic pompadour and if you have the right cut for this hairstyle, then you are halfway there. The Dorsey Burnette hairstyle is achieved using a strong hold and shine pomade.
Using a pea sized amount of the product, rub between the palms to emulsify and work through the hair. Slick the hair on the sides back and down and do the same for the upper portion of the hair. Grab the front portion of the hair and pull it back to create the puff.
f202Use a comb to smooth the hair. If the hair is too soft you can add a bit of pomade to ensure that it holds its shape. Part the hair on the left side, pick a few strands loose so that they drape over the forehead, and you are all done.