Rapper, producer and radio personality DJ Khaled is one of the most notable personalities when it comes to rap and hip hop.
He also has a distinct combination of hairstyle and facial hair that makes him easily recognizable wherever he goes. Clean and easy to manage, this short taper fade cut is a versatile hairstyle that will suit any guy, whether you are a hotshot rap producer or just an average Joe. Here's how to get the JD Khaled haircut.
Preparation
You will need closely cropped hair, about 5 cm from the base on all sides. Use a drape around the neck to avoid the mess when you start using the razor for the fade.
Fade
You will need a 00000 detachable blade to bald the bottom. This is called the fade style because the cuts become shorter as you do down towards the base of the neck.
Choose the guard size for the fade line, which is usually a 1 guard size if you want a military fade cut. Start moving the clippers sideways across the fade line and then start moving along the fade line, pushing the clippers forwards and moving about a half back before moving forward again.
Do this around the entire 'sides and back of the head. You should get a faded effect or a shadow that gradually disappears on the way to the base or the nape.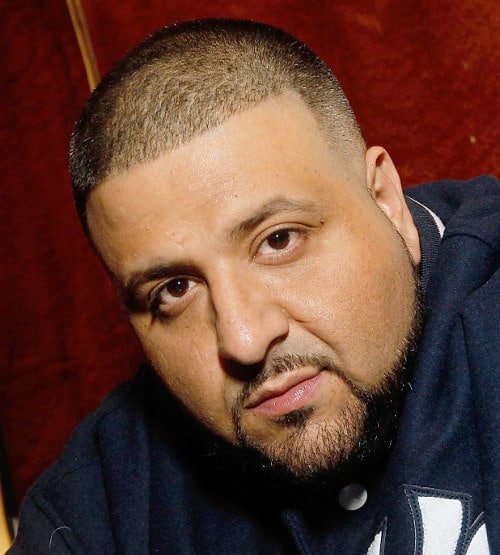 Beard
He is also known for his sharp beard. While he has been seen letting his beard grow long and thick, he usually keeps it trimmed nice and neat for rapping gigs and videos.
His beard is easy to be copied and shaped, since he keeps it trimmed to cleanly run along his jawline with about a cm thick of hair around his mouth to create that bearded goatee look. Simply run the clippers around the sides of of the beard to make the outline easily noticeable.