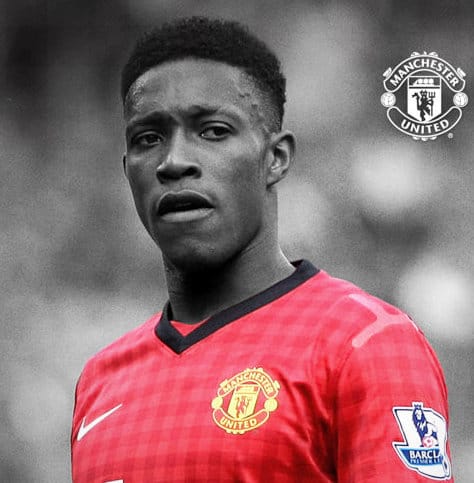 Danny Welbeck is a famous English footballer who plays for the national team of England and also Manchester United. He is known for his distinctive hairstyle called the High Top Fade, which became popular during the late 80s and early 90s, especially among rappers and the hip hop and urban contemporary musicians.
It is mostly adopted by African American people because the texture of their hair, which is thick and curly, is suitable for this purpose. Although this hairstyle was out of fashion during the late 90s, in the last couple of years it has seen a comeback and people like Welbeck have popularized it in recent times.

Danny Welbeck hair.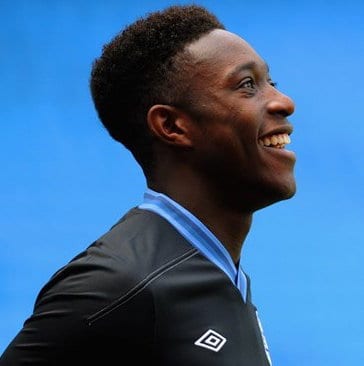 The side view of Danny Welbeck high top fade hairstyle.
In this particular haircut, the hair at the sides, above the ears and the bottom part of the back of the head are cut very short or shaved close to the head. An electric razor is usually used to shave the hair and keep it very short. The hair in the middle of the head is a little longer and the top is kept very long, giving it enough height so that it stands out.
The hair on the top of the head is then cut flat which is characteristic of the High Top Fade hairstyle. In order to get the his hairstyle, you will need to have thick hair, preferably curly, but as long as you have good volume, it goes well with wavy hair too. You must also use a good quality hair product or gel so that you look well-groomed.
In order to maintain this hairstyle, you need to use an electric trimmer to trim or a razor to shave off the sides and back regularly and trim the hair at the top in a couple of weeks so that the ideal height is maintained. If your hair is not very manageable, you can use an S-Curl Texturizer. There are various ingredients present in this product which help to manage the curls and make your hair smooth.
On the other hand, if your hair has soft waves and you want it to have small curls and a natural frizz, you can also use a curler or perm your hair at the hair salon. This way, not just African American people, but also people with other races can try the Danny Welbeck hairstyle. Some may need to use strong hair gel so that the required height is maintained.