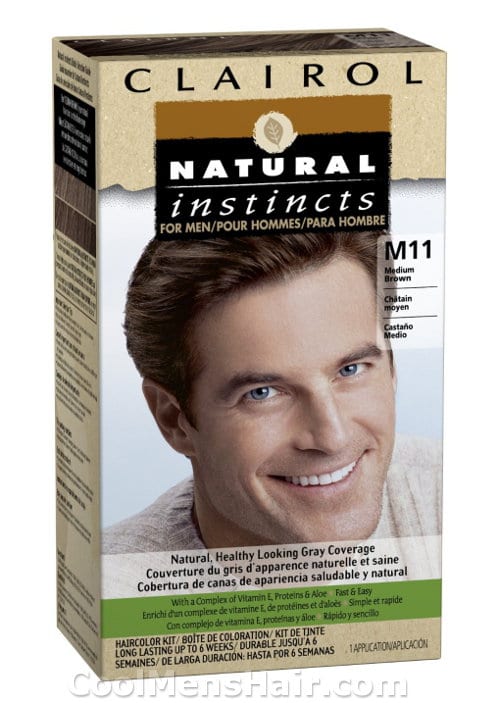 Clairol Natural Instincts Hair Color For Men M11 Medium Brown 1 Kit (Pack of 3)
is a non-permanent hair color which covers and blends away your gray hair naturally. Many men all across the world suffer from either premature greying or due to age, but are confused about which product to choose from.
Most hair color products contain harsh chemicals that can cause hair fall and affect the overall quality and look of your hair. However, Natural Instincts stands out among these innumerable products because it contains a formula comprising fortifying ingredient complex that actually makes your healthy.
No wonder it is becoming so popular among men and is a great choice if you want to cover your grey hair or beard in a safe and effective manner. So what makes this product different from other similar ones? Clairol uses no ammonia which makes the hair color gentle on your hair and prevents if from becoming rough and brittle.
The presence of aloe and vitamins and a special conditioner also helps to reduce surface damage and adds shine to your hair, while it keeping it soft and conditioned naturally. Because of these reasons this brand is preferred by many men who can cover their grey and not feel guilty about ruining the texture of their hair.
It is also very easy to apply this product and you don't need to go spend money on a salon to use it. The coloring lasts for a long time, up to 28 shampoos, which is much longer than the leading brands available in the market today.
Even though some people may find the product a little on the pricier side, it does not compromise on quality. When it comes to hair, it is always better to use a good quality product so that you don't cause any long-term or permanent damage to your hair.
The point of using a hair color product is not only to cover your grey, but also to make the color look natural. Clairol will hide your grey hair and at the same time make the color well-blended so that it does not look jarring and unnatural.
Since men also have to color their beard to cover the grey, this product has proved to be very popular. Other brands that are used to color the beard sometimes tend to leave the hair a shade darker, which leads to different colors in your hair and beard.
With Clairol you can cover your grey in a quick, easy and reliable manner. Just make sure that you keep it away from your face, scalp and neck while applying, just like any other brand, as it may leave stains on the skin. However, any mark will fade in a day if you gently rub it with a damp towel.
There are also many colors that you can choose from. Since Clairol Natural Instincts Hair Color For Men
provides a rich, dense color, if you are not sure about your shade, you may want to select a shade which is a tad lighter. Once you are satisfied with the color and it matches perfectly with your natural hair, apply the product and also use their conditioner cream to cover your grey hair in a natural and healthy way.