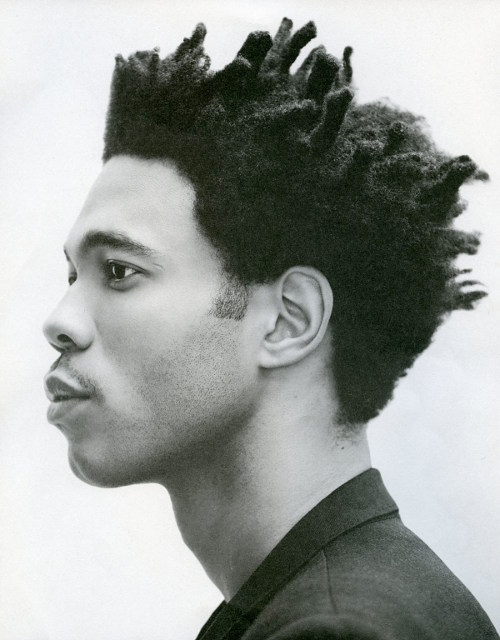 Young fashion designer Charlie Casely Hayford is known for his modern menswear designs, characterized by blocks of color, monochromes and clean lines. He launched the label Casely-Hayford with his father, British fashion designer Joe Casely-Hayford OBE.
He was also made the global face of Converse in its international ad campaign, modeled for Dr. Martens and was included in GQ's Most Influential Men Under 40. He also sports a characteristic dreadlock hairstyle that is both stylish and very easy to achieve.
How to Get the Style
While dreadlocks are often worn long, Hayford prefers his do shorter so that they stand upright and are easier to manage, which is probably more suited to his fast-paced, designer lifestyle. To get this look, you will need about three to four inches of hair.
To prepare, wash and shampoo to remove buildup. Run a comb to remove tangles. Using a rat-tail comb, start at the foot of the hair to segment half an inch section to create a ponytail which you can secure with an elastic at the base.
Move to the side and create another ponytail, and continue to do so for the next side until all sides are done with ponytails. Holding the first ponytail, use the rat-tail comb, insert it between the ends and comb down to the base.
Remove it, reinsert at the middle point and backcomb again. Do this teasing motion until the entire ponytail section is matted into a fluffed ball. Do this for the rest of your ponytails until the entire head of hair has been teased.
Use a small amount of wax,rub between the palms to emulsify. Take a teased ponytail, and rub your palms along its length until it straightens and lengthens. Use a rolling motion to smoothen the lock until it becomes tight. Do this for the rest of the ponytails. Keep the elastics on the locks for a week to maintain the shape. Remove afterwards.
For maintenance, shampoo regularly to remove dirt and grime and apply wax occasionally to keep the dreads looking great and sharp.