A good shaving set has all the most popular items that a man would need when grooming. This is something that most men desire. To have everything in one place so that one does not need to walk around the bathroom to look for where something essential, such as the razor, is.
Finding the perfect shaving kits has always been difficult. This is not because there is no wide range of sets for men, no! It is because men are very specific when it comes to things they like and those they do not.
There are many shave sets available in the market. So, you might be wondering what sets this one apart from the rest, which would make you want to purchase it. Well, there are many unique features and items that come with these sets, which might interest you.
SimplyBeautiful Shaving Gift Set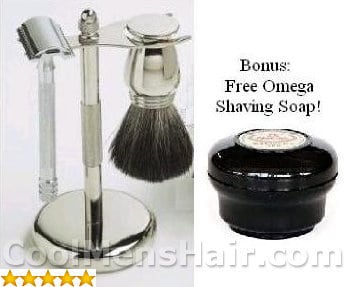 The set includes a Mekur classic long-handles safety razor. This is the size #180 razor. It is an exquisite piece that gives the smooth shave you need.
It also has a SimplyBeautiful 100% pure badger brush. To spice it up, it comes with a chrome handle. Not only is it hefty, but also elegantly designed, which gives you that soothing feel as you apply cream or soap on your face.
Both items are held in place by a chrome stand. This not only makes the items easy to pick up, but also ensures that they stay hygienic. To cap it all the SimplyBeautiful shaving gift set comes with free omega soap, which costs $110 if it is purchased separately.
Buy SimplyBeautiful Shaving Gift Set>>
The Art of Shaving The 4 Elements of the Perfect Shave Starter Kit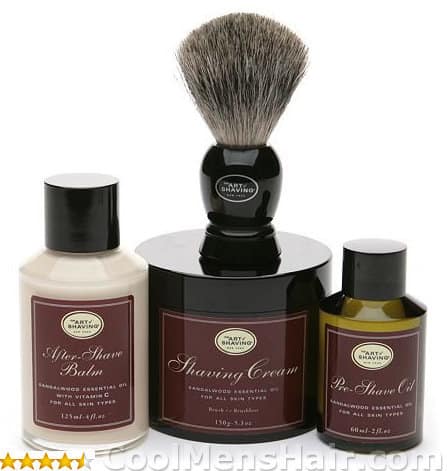 It is a full kit that has every product you need ranging from preshave oil to a brush. With it, you enjoy grooming your beard and in actual fact look forward to each and every morning. The products are top of the class and offer the required soothing effect. They are also effective and make grooming an easy exercise.
One of the products is preshave oil. It comes in a 2 fl. Oz container. There are several fragrances that you can choose from, depending on your preference. They include lavender, unscented, sandalwood and lemon.
There is also shaving cream. This one is in a 5.3 oz container. It also comes in different fragrances like the preshave oil. So you have a wide variety to choose from.
Just as the other two products, aftershave balm comes in varied scents. It is packed in a 3.4 fl. Oz bottle. This aftershave cream is one of the best that are available in the market.
No product set would be complete without a brush, since it is the one that is used to apply the products. The Art of Shaving The 4 Elements of the Perfect Shave Starter Kit has a genuine badger brush. It is high quality and applies the products on your face, effectively.
Buy The Art of Shaving Starter Kit>>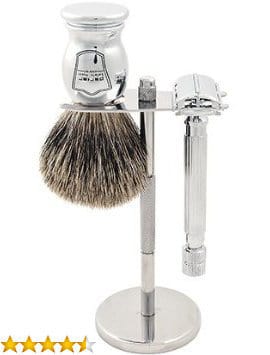 This kit includes a Parker safety razor. It is the heavyweight butterfly open type. This is one of the most important parts of the whole kit. The model is 82R. It is one of the best razors in the market and offers the smoothest shaves.
There is also a shaving brush. It is the pure badger brush with a deluxe chrome handle. With it, you are assured of soothing and effective application of shaving cream and soap.
The stand matches the items. It is stainless steel and is designed to hold the both items at a perfect height. This enables one to easily pick them and place them back after use.
If you are looking for a personal gift or one for your buddy or husband, this would be an excellent choice. It is not only beautiful but also functional and acts as a great combination for a perfect shave. It is affordable and effective.
Buy Parker 82R Safety Razor Shave Set>>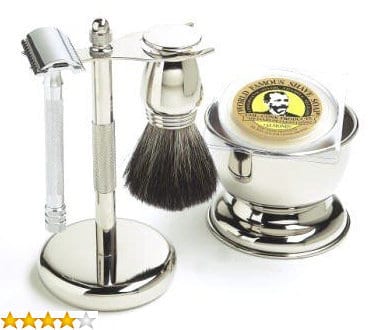 This set provides everything needed to produce the perfect shave. The items include a stand which holds a Classic safety razor and a badger brush, both of which are made of chrome.
Also included in the kit is a chrome bowl which holds the soap. A likeable part of the set is the soap which is not only one of the best available, but a tub can also last for a year. Refills can also be purchased from online stores. The combination of the sand, brush and razor looks appealing in the bathroom.
Unlike multi-razor heads, this set has the ability to produce a close shave without leaving burns. The razor has a straight edge which allows one to tailor it towards producing the perfect shave. Though it may seem a bit pricey, it gives good value in the long run as compared to replacement fusion heads which only last a few shaves. However, one needs to lean to use the kit properly for the best results.
All the items in the set are also of high quality. Don't expect any plastic junk here-this stands out as a precision instrument. Some users report that the set holds up quite well despite heavy use. The items also clean well and resist rust.
The minimalist styled stand helps shield the razor against harms. It also allows the brush to aerate naturally and drip-dry. This helps the entire set last longer.
Buy Shaving Gift Set>>
The shaving set is truly revolutionary considering the features and accessories packed with each. It includes a well designed hair brush that will prove a delight brushing off every time you shave. The brush is designed to last and offer the silkiest of touches with being made from 100 percent pure and natural badger's hair. The soft bristles stay that way for years and will not bend or harden no matter how long you use the set.
If you have been using a soap bowl while shaving prepare for a revolutionary experience with the shaving kit's apothecary mug. It is not only handy for building lather quickly but it looks great to have as a collection. It is monogrammed to stand out. It also includes a handy and intuitive handle that will ensure you keep your hands clean and avoid unfortunate slips.
The kit also goes an extra mile by including a piece of shaving soap. The soap has been specially formulated for shaving purposes. It builds lather of adequate consistency and quality. It is hypo allergenic and you will never suffer from those irritating itches that come from using toilet soaps when shaving.
To top it all the Van Der Hagen Men's Luxury shaving kit comes with an exquisitely designed combination brush and razor stand. With it, your shaving equipment will never get greasy or grow mold. You will have an luxurious shaving experience every time with this kit designed to solve your shaving troubles once and for all.
Buy Van Der Hagen Men's Luxury Shave Set>>