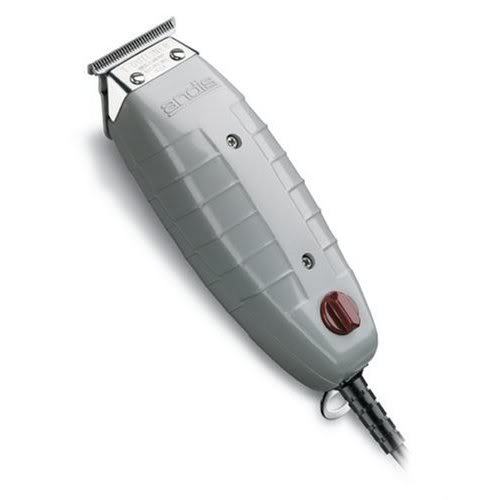 The Andis Professional 04710 T-Outliner Personal Trimmer review will help you in choosing the equipment that will best meet your needs. This trimmer is that works well on mustaches, beards, and even the hair on one's head. It is constructed of heavy duty materials with a quality one would expect from much higher priced brands.
This trimmer features a T-blade that cuts so close to the skin surface of the skin, that you can put the razor aside and simply use this device to shape a beard or goatee. The magnetic motor operates at such high speeds that the device can make easy work of even the thickest, wiry hair one puts it into.
The only drawback noted was that the trimmer runs hot after a few minutes. However, for most users, this will not be an issue because it cuts so quickly that there will be few times when it is run continuously long enough to get that hot.
It comes with guide combs that make it possible to set the length of trim to maintain a perfectly groomed beard or to give one's self a complete buzz cut. Because of the close cut provided without the guards, one can do fades and tapers with ease by simply starting out from the head a bit and moving in as the bottom is approached.
The high speed motor runs very quietly. It is possible to give one's self a trim without alerting everyone in the house what is going on. This makes for a pleasant surprise for the significant other. It has a nice long power cord that allows one to use the device comfortably from almost anywhere without danger of getting the cord into a strain that prevents one getting the angle he needs to cut effectively.
The Andis has many benefits in its favor. The speed and power of the motor make cutting a breeze with no strain or pulling of hair. The short blades cut cleanly and eliminate the need to follow up with a razor as one must do with many other trimmers.
It is an excellent choice for shaping, fading, and creating one's own design for his beard or goatee. It runs quietly and features a heavy duty design one might expect from more expensive models.
There are a couple of drawbacks:
First, the device runs hot if used continuously for more than a few minutes at a time.
Second, it does not come with a travel bag, though most of us have a spare lying around that makes this a non-issue.
Buy the Andis Professional 04710 T-Outliner Personal Trimmer from Amazon>>