Most men use wax on the mustache to keep the shape of the mustache and to prevent fraying especially for those who wear their mustaches pointy at the ends. Wax is essential for giving the mustache a well-groomed and well-maintained look. However, not all men know how to use and remove wax. Here are some tips on how to remove wax from mustache.
Washing
You may want to remove dirt and most of the gunk that is the used wax out of your hair with some tepid water and mild soap. Lather the soap and work on your mustache, applying on each strand to remove the debris and gunk. Avoid using hot or very warm water on your mustache since this could dry out the mustache and even dry out the skin.
Wax Removal
Most men prefer to use baby oil to remove the rest of the gunk from the mustache. Choose products made of natural ingredients such as organic baby oil and beeswax since these are light and will not weigh the hair down. Avoid products that contain synthetic mineral oil since this can cover the skin and will not absorb well, causing your mustache to feel warm and heavy.
Wicked Cookie Duster Moustache Wax Remover & Conditioner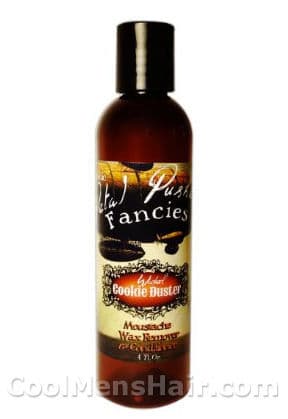 It is a good wax washer and rinser that is made from organic ingredients and comes with a fantastic smell. Handmade in small batches for the best quality, this is made from an old family recipe and is a vegan formula that makes it perfect for virtually any guy. The light quality of this wax remover makes it great for both short and long mustache. For $10 you get a great-smelling mustache and easier mustache maintenance. You can buy it here>>