Electric clippers are becoming more and more common in households. Men have found that they can give themselves very good haircuts at home and avoid the trip to a barber shop. However, some men like to cut their hair very close, just short of actually shaving.
Fortunately, there are special clippers designed to cut this close known as balding clippers. One model that is very popular is the Wahl Professional 8110 clipper. This model is part of their 5-star series. This Wahl Professional 8110 5-Star Series Balding Clipper review will look at the features of these clippers along with some of their pros and cons.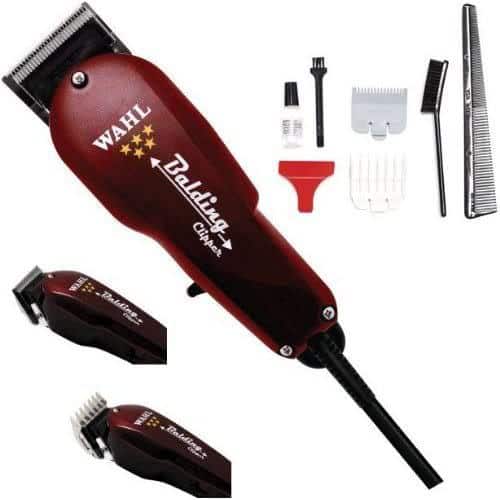 Wahl Professional 8110 5-Star Series Balding Clipper.
This clipper features powerful surgical steel blades with no overlap designed to bald the entire head. The motor runs twice as fast as clippers using the standard pivot motor. Men who do not wish to cut their hair right against the scalp may use their choice of 2 included cutting guides, one 1/16 of an inch and one 3/16.
In addition, the complete kit includes a barber comb, blade guard, pre-shave brush, machine oil, cleaning brush, and complete instructions for operating this clipper.
Users have given somewhat mixed reviews on the product. All agree that it cuts extremely close and very quickly. However, some see the sharpness of the blades as a drawback because there is a potential to cut the scalp or ears badly if care is not exercised.
The 5-star series of clippers from Wahl was created to meet the special demands of cutting African American hair. This hair is much thicker and wirier than that of other races. For this reason, it is essential that the blades by incredibly sharp. The faster motor simply ensures that one can finish the cut in a reasonable amount of time.
One user said that this product was truly outstanding in his opinion. He had allowed his hair to grow out for about 4 weeks before having his girlfriend shave his head with this clipper. He indicated that there was no discomfort or fear of being cut. The shave he got was not razor clean as the hair was left at about one day's growth of length. However, he indicated that it was actually superior to many professional cuts.
Even a critical review written by a professional barber could not find any fault with the way the clippers cut hair. His only real concern was with the sharpness of the blades and the chance of cutting the scalp if care is not exercised. It is not recommended that one attempt to give himself a haircut using these, but having a friend or relative do it can yield excellent results.
Beyond this, the general complaint is that the cord could be longer. Of course, this seems to be just a bit nit picky, as if someone is trying to find something negative to say.
This Wahl Professional 8110 5-Star Series Balding Clipper is a superior product capable of handling the thickest hair and cutting it so close to the scalp that only a razor could cut closer, though possibly not as comfortably.