Now you can thin your hair easily without spending some money in a salon or barbershop. You need only a special comb to thin and layer your thick hair. What type of comb is it? It is a razor comb. Razor combing is a great way to thin your hair for styling, shaping and cutting the hair with ease.
There are some products available in the market for this purpose, but they are either too expensive or not very easy to operate. The Diane Tinkle Hair Cutter Comb is an affordable and a convenient way to thin your hair at home.
Hairstyling or cutting can be very expensive but with this razor comb you no longer have to spend a big amount at the salon for styling your hair. The comb is very cheap, light in weight, easy to handle and store because of which you can carry it with you while you are traveling too.


Diane Tinkle Hair Cutter Comb
An important feature of the product is that it has two edges, one on each side, positioned vertically in a secured manner which makes the cutting edge longer. One of the blades is ideal for short cuts, while the other can be used for longer cuts.
This is allows more styling options with the help of just one device. The comb can also be cleaned easily by taking out the double edged blade, which makes it very convenient to change the blades when required. Users of this product have often said how safe it is and easy to operate because of its functional design.
Another great comb is Universal Unisex Razor Comb. In this tool, you will get two types of comb: a razor comb on one side and a regular comb on the other end. It is a great tool for both styling and thinning hair.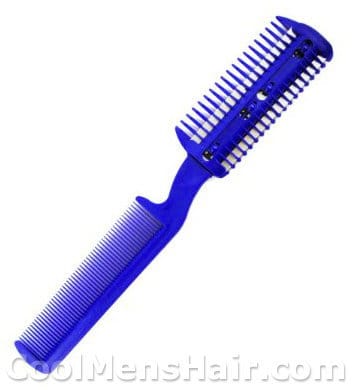 Universal Unisex Razor Comb
Although razor combs are mostly used by men with shorter hair, this product works great even if you longer hair with layers. It is a great product for thick hair as you can use the comb to shape it, thin it and make it more manageable.
f201You will not only look well-groomed, but also do not need any special training to use the comb to make your hair look even and blended well. Anyone can use it, at and for best results, use it on dry hair instead of wet hair for better control over the styling.