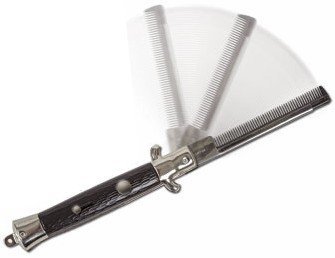 A comb looks like an actual switchblade.
If you are looking for a funny and cool thing for a present, then consider a Switchblade Pocket Comb, which cannot but leave anyone indifferent. This is an exact copy of a handle of the type, which is being used in switchblade pocket knives. But when you push the button, not a blade but a nice comb leaps out. This comb is quite functional and dense enough to be used even on the finest hair.
Heritage of the "Grease"
Some of you may remember these charming things since your childhood. These combs were invented by stylish guys at the "grease era", that is, in 1950s – 1960s. Having such a comb in their pockets they could always keep their hairdos in order and at the same time look cool and a little dangerous as always.
So, this could have been a lovely plaything for many of us: just deliver such a thing from your pocket and watch everyone get tense as if the things are getting too serious and bad, but then touch the button and let them see the shiny white and narrow…elegant comb! Someone will definitely feel relieved at this moment, and the laughter that follows will create a pleasant atmosphere.
Still a Good Gift
Such a thing is great for those people who need their hairstyles to be accurate at any time of day, in any situations. But also it is a nice and not boring gift for your friends that are always ready to have a good laugh.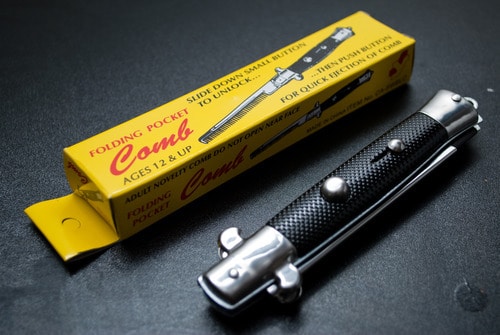 Switchblade Pocket Comb.
The exterior of this switchblade pocket comb is really elegant, and the size allows carrying it in your pocket without any inconveniences. It comes in a package box, which is really slim and compact, and when wrapped in a nice way, will be a lovely gift and surprise for your friend or relative, even for a kid, because it is totally harmless!