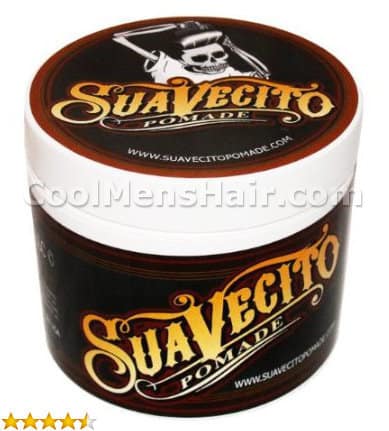 Suavecito pomade is a new and popular product in the marketplace. It is notable for its appeal to men who want a good hold, but one that is water soluble. Other factors that men want in their hair products include the scent and styling power for those with modern, classic, retro or old school styles. In the past, hair wax was the product that provided this type of hold, Unfortunately, wax tends to be difficult to wash out, once it is applied.
Previous types of pomades usually rely heavily on wax as an ingredient. There may be added oils, greases, flowery scents or perfumes in order to provide the hold many men want. A pomade that depends on wax for hold works, but also is difficult to wash out. Several shampoos are required to remove the waxy residue.
Suavecito is water soluble. It washes out as soon as you are in the shower. At the same time, as soon as the product is reapplied, the hold is back. You can even restyle during the day without having a heavy or greasy look to your locks.
The hair control substance can be made even lighter by adding a little water during the styling phase. The product is effective for those with fine hair, as well as those who have heavy and thick locks. Its hold strength is not as strong as original Murray's. If you need a moderate hold or only a light hold, this pomade is the best approach.
The scent of this product is remarkable. You'll enjoy the unique yet masculine scent. When you are styling your hair, you don't want the scent of the hair control substance to compete with aftershave, deodorant and cologne. Suavecito has a slightly musky scent that is attractive to men and to females as well.
Suavecito pomade is easy to use. You can use it on damp hair after your shower. A little dab on your hands worked through the hair is enough to manage the control you want. Add a little bit of water if you want to get a wet-look hairstyle. The scent is pleasant yet masculine. Although the hold is important, for many males, being able to wash the pomade out of the hair easily is the overriding benefit to the hair product.