The right hairstyle makes a bold and dashing statement about your personality. Well-managed hair enhances your appearance, making you look more elegant and refined. For a discerning man who takes pride in his hair, Suavecito offers a range of hair grooming products to keep your hair healthy and stylish.
Suavecito Men's Hair Kit is a complete hair grooming kit designed to give you salon like professional looks at home. It comprises a list of the best grooming products that will make every man a little better looking and more confident. It is safe and comfortable to be used at home.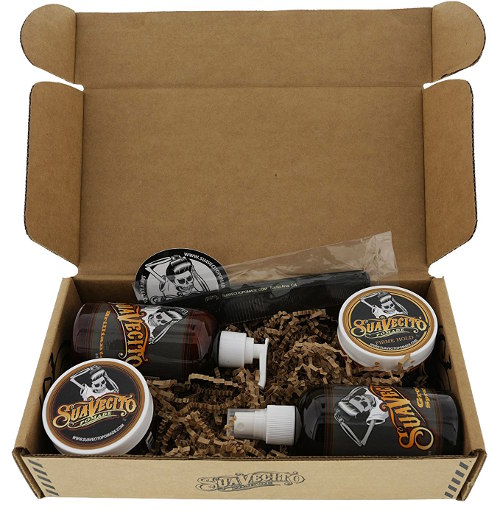 Whether you are tired of styling your unmanageable hair, or frustrated with your bad hair days, a good quality hair care kit can make your hair look beautiful and gorgeous, turning your day around. Suavecito hair kit comprises of Brilliant Creme, Grooming Spray, Original Hold Pomade, Firme/Strong Hold Pomade and Large Deluxe comb.
Each product of Suavecito Men's hair kit is formulated using the perfect blend of natural ingredients that are clinically tested and verified for their safety and effectiveness. The result is great haircare products that help you get the styles you want without damaging your hair.
Your hair is an invaluable beauty asset; therefore it deserves special care. Whether you have straight hair or curly hair, make sure you provide complete nourishment to your hair so as to keep them healthy and bouncy.
However, the key is to find the right products that not just style your hair but also nourishes them. Suavecito men's hair care kit ensures that you stay looking very best all day and all night. It will leave your hair shinier, sleeker and healthier throughout the day.
Brilliant Creme
The name Brilliant Creme is a combination of two brilliantine + hair crème. contains lanolin and beeswax that provide softness and hold to your frizzy hair. It provides a natural finish to your hair without making them dry. It come in 8 oz bottle.
Grooming Spray
Suavecito Grooming Spray is the salon secret formula for priming dry or damp hair and tame your unmanageable hair. It controls flyaways and offers light hold and volume to your hair. It can be used in conjunction with pomade or without. It offers a perfect base for all styles. It come in 8 oz bottle.
Original Hold Pomade
Suavecito pomades give you that shiny, neat and slick look that you have always desired for. It provides an excellent hold that offers you a silkier and shinier appearance throughout the day. You can try out various types of hairstyles, such as pompadour", "undercut" or "ducktail".
Whether you have straight or curly hair, Suavecito pomades are suitable for all hair types. It does not have an overwhelming smell or typical odor, and can be removed easily by washing with just water. It is not very sticky on your hands or hair. It come in 4 oz can.
Firme/Strong Hold Pomade
It is an extra strength hair styling pomade. It works for any type of hair. You can style your hair into pompadours, slick backs, and side parts with ease. It come in 4 oz can.
Large Deluxe Comb
To acquire the best results out of these products, Suavecito kit comes with a 7″ length mega comb. The comb has two teeth: a wide teeth and a fine teeth to help you comb and style your hair based on your hair type.
In today's fast-paced lifestyle when everyone is juggling time between office, home and family, taking out time for your salon appointments is not an easy task. However, the pressure to look good is always there, even for men. Suavecito comprises of five amazing products that will make your hair look stylish and trendy. It is a great kit for grooming as well as for gift. Suitable for men at any age.
Check the Suavecito Men's Hair Kit price on Amazon and purchase it>>