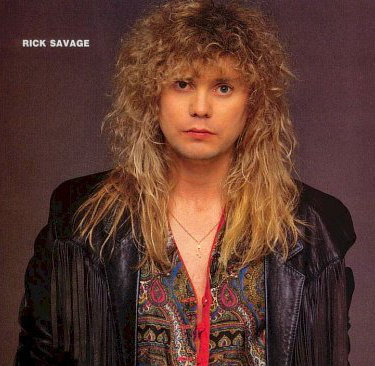 Rick Savage has long sported his iconic long locks throughout his years with Def Leppard. Described as a cross between a mullet and a shag, this hairstyle, or the lack of it, distinguished Def Leppard from other bands.
The hairstyle is kept curly and unkempt and Savage makes it interesting with a row of bangs. Done in the classic mullet/poodle style, Savage has kept his hair with a lot of volume and flare since the 80s, including the curly texture which has grown looser today.
The Rick Savage hairstyle is actually very easy to get. Men with shorter hair may need to have a soft perm done to get the poodle hairstyle, which also means that they need to grow the hair out fairly long if they want the hair to reach past the shoulders after the perm. A perm can be permanent or temporary which is great for those who may want to revert to their old styles after this short experiment.
For men who have not had a perm before, the stylist may recommend medium to small curls which eventually loosen up as the days go by to resemble the defined Rick Savage curls. The bangs are also important elements to the hairstyle although it is kept thick and coarse, true to the grungy 80s spirit.
The hair is kept down and long, and although it is not clear whether or not Savage used a lot of products on his hair, men with thinner hair may want to use a volumizer to add more oomph and bounce to the hair.
A volumizing mousse is one of the best investments for this hairstyle. An anti-frizz produce will also give the style a smoother look. Although the poodle hairstyle is far from sleek and savvy, a few well-chosen products can be used to reduce the frizz and give the wearer a cleaner appearance.