Daily use of blow dryers and hair irons can take a toll on the hair. There are so many reasons why you need to use a protective product that can lessen the damage brought on by the heat and mechanical trauma that accompany hair styling. The best products, like the Tresemme Thermal Creations Heat Tamer Protective Spray, also keeps the hair soft and manageable aside from giving it the protection it needs.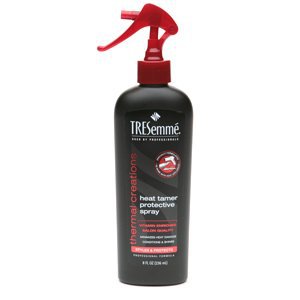 Features
Heat protection. The product offers excellent heat protection. It also protects against mechanical pulling and the friction caused by the iron. The heat protection allows users to style their hair and get the texture that they want even if styling is done on a daily basis.
Moisture locking vitamin complex. Rough and coarse hair is often a consequence of excessive hair damage. The vitamin complex provides the right amount of shine and locks moisture in to keep the hair soft and smooth to the touch. Vitamins also help add bounce and manageability, all signs of healthy locks.
How to Use
Towel-dry damp hair before each use. Spray the Tresemme Heat Tamer Spray 6-8 inches away from the middle portion of the length of the hair to the tips. You can do this by pressing the trigger button to create a soft mist.
You can also use it on dry hair before using the curling or flat iron to avoid excessive heat damage. For best results, use the spray with other products from the Tresemme Thermal Creations styling line.
Pros & Cons
Pros.
One of the best things about this product is that it protects without being greasy and heavy. The super lightweight formula makes it great for daily use and it smells great as well. Most users love how it does the job for them without being as pricey as other brands. It protects the hair by sealing in moisture and keeping frizz at bay, great for those who are wrestling with wavy, unruly hair. The product is also enriched with vitamins, so hair is healthy and shiny.
Cons.
One of the few complaints users have about this product is that the curls do not stay on as long as they would like. For some reason, the formulation of the spray prevents the hair from maintaining a particular shape for a long time. However, for those who prefer loose locks to tight curls, using the product actually produces the desired effect of loose, wavy, beach-ready curls.
Hair styling using blow dryers and flat or curling irons will damage hair and make it more prone to dryness and breaking. Fortunately, there are products like the Tresemme Thermal Creations Heat Tamer Protective Spray that are designed to protect the hair from too much heat.
Added vitamins also help nourish the hair shaft and add shine and softness. For those who want to keep their hair soft and healthy even if they style their hair on a daily basis, products like the Tresemme Thermal Creations Heat Tamer Protective Spray can help reduce the damage and provide the best styling results for any type of hair. You can purchase it here>>