We all agree that hair forms an integral part of a person's appearance and overall personality. It plays an important role in defining a person's individuality. When it comes to buying hair care products, most men are not only seeking good quality but for them, this hair-related stuff is much more.
They define their personality. Organic Botanicals understand your needs and bring you high quality, effective hair care products that make you feel, look and stay beautiful.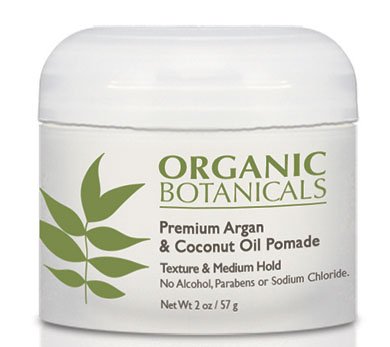 Organic Botanicals Premium Argan and Coconut Oil Pomade is a nourishing formula to repair, moisturize and add shine to all hair types. Apart from moisturizing your frizzy, unmanageable hair, this wonder oil nurses your strands back to health.
The coconut oil conditions and softens hair, while argan oil nurtures and protects delicate strands. Packed with organic and natural botanical extracts, this amazing hair product adds luster, shine & softness to your hair – naturally.
Ingredients
The Pomade consists of a powerful blend of coconut and argan oil. The unique composition of coconut oil comprising of medium-chain fatty acids, vitamins, proteins and antioxidants is blended with nourishing properties of argan oil to create a therapeutic formula that offers restorative, moisturizing and protective benefits to your hair. The powerful nourishing blend penetrates deep inside the scalp to provide maximum benefits.
Hair benefits for men
Men's hair is different in texture and quality, and therefore requires different nutrients to nourish them. This organic pomade provides the right ingredients in the right quantities to improve hydration and nourish your scalp.
Apart from controlling hair loss, these nature-based ingredients provide a plethora of benefits for your hair and scalp. The enriching formula of coconut and argan oil nourish and beautify your hair from inside out. It replenishes and rejuvenates your hair, thus giving you more control and shine.
Argan oil locks in the moisture and provides extensive conditioning. The texturizing cream is right for creating tousled types.
Made from natural and organic ingredients, this coconut and argan pomade is free from parabens, fragrances and any other synthetic ingredients. This makes it suitable even for kids and babies. Whether you want to restore your chemically treated hair or simply style your straight hair, Coconut and Argan pomade can help you get that suave look.
This luxurious combination of Organic Botanicals has become a popular choice for hair products for men. Try Organic Botanicals Premium Argan and Coconut Pomade and see the results by yourself.