Well, it's true… Mane matters. When it comes to hair, nobody wants to take a chance. That is why it is important to use quality products that ensure healthy results. The right product can help fix the problem; the wrong product will only make it worse.
Dove Men+Care 2 in 1 Shampoo and Conditioner is specially designed for those who are looking for healthy solutions for hair thinning and hair loss issues. Regular use of this product makes your hair look and feel fuller and thicker.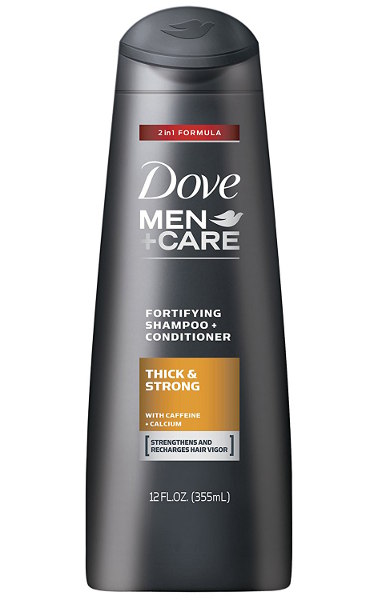 About Men+Care
Dove 2-in-1 shampoo and conditioner combines the benefits of shampoo and conditioner to clean as well as condition your hair in just one step. It is specifically designed for those concerned about hair thinning problems.
Infused with caffeine and calcium, this amazing hair care product cleanses your scalp and strengthens your hair. This potent formula can help prevent thinning and hair loss, strengthen hair and add extra volume, making your hair look thicker and fuller.
How Does it Work?
Dove shampoo and conditioner for thin hair is formulated with a rich blend of botanicals and vitamins, which deeply nourish your scalp. The two main ingredients of this 2-in-1 shampoo and conditioner are caffeine and calcium. These ingredients work together to strengthen the follicles to promote stronger, thicker strands.
Calcium and caffeine make your hair more resilient and stronger. Caffeine gives a refreshing start to your day and prepares your hair for an active lifestyle. This clinically approved formula works to revive new hair growth and stimulate more at the same time.
It conditions and revitalizes your scalp and increases hair strength. The result is thick and strong hair that look healthy and bouncy.
How to Use it?
To use this 2-in-1 shampoo and conditioner, take a small amount in your palm and apply it on your hair and scalp. Massage it gently to form a lather. Leave it for a couple of minutes and the rinse it thoroughly.
Hair is a necessary part of our personality and gives us a distinct identity as well as graceful looks. However, as we age, hair thinning or hair loss becomes unavoidable and therefore it becomes important to take special care of hair and scalp at this stage of life.
Dove Men+Care 2 in 1 Shampoo and Conditioner addresses these common hair issues and treats them gently with its rich, invigorating formula. The result is thicker and stronger hair full with shine and health.