If you want an inexpensive way to keep yourself well-groomed, all you need is the Philips Norelco G 370 All-in-1 Grooming System. The device consists of a trimmer which you can use to cut and trim your hair and try out different types of trendy hairstyles.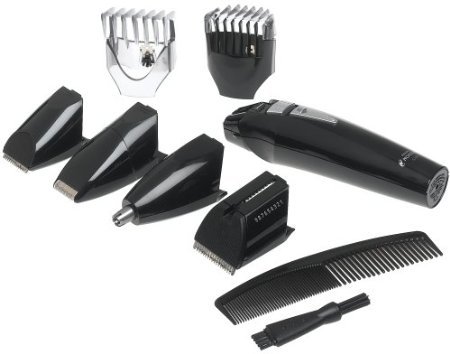 Philips Norelco G370 All-in-1
There are many similar machines available in the market, but in this device you will find six important attachments: a trimmer, hair clipper comb and precision and detailing trimmer which you can use to style your hair, also a mini shaver and mustache and beard trimmer to get just the right well-groomed look, and lastly an eyebrow-nose-ear hair trimmer that can be used to shape your eyebrow and remove unwanted hair from the nose and ears.
This makes Philips Norelco 370 one of the most convenient and inexpensive options, which you can either buy for yourself or give away as a gift. In fact, you can choose from 9 locking length options in the hair clipper comb attachment and the beard and mustache trimmer to get the desired length.
The easy to handle ergonomic design of the product makes it very comfortable to hold and move while you style your hair, beard or eyebrows to get the precise cut. Another state of the art feature of this trimmer is its wave-shaped blades which divide and cut the hair in a smooth and effortless manner.
The mini hand shaver is great way to shave off the exact amount of facial hair and get the lines you want. The product's AccuControl System comes with a guide comb which moves over the precise outline of your face and also lets you have control over the look you are trying to create.
There are many men who have a problem with excess hair in their ears and nose. It can be very troublesome to remove these tiny hair. But with the nose and ear hair trimmer attachment of this product, you can easily and discreetly trim off those hair.
The precision groomer is helpful in creating the most intricate styling, like stripes, shapes or writing close to the scalp. There is also a cleaning brush and comb provided with every unit. Every attachment is washable and the blades are self-sharpening which makes its maintenance all the more easier.
After charging the device only once for 10 hours, you get over 35 minutes of cordless usage, which is especially helpful when you are traveling and need a quick haircut or shave.
Philips is a well-known brand all over the world and has over 60,000 registered patents. In this product too they have continued to focus on quality and convenience. There is a 45-day money back guarantee if you are not satisfied with it and a two-year warranty.
The product also comes with a storage pouch that you can use to recharge the trimmer and for keeping all the attachments neatly. Overall this product should be in your must-have list, as you can get so many styling options in just one device.
Easy storage, low cost and the fact that it is so user-friendly are some of the most important features of this product that make it so popular.