If you are looking for a comb that will help keep your hair healthy and shiny, use a horn comb. Crafted out of an ox, sheep or buffalo horns, natural horn combs are made of keratin, a protein that forms the primary structural constituent of hair.
Due to this feature, these combs unlike plastic combs do not generate static electricity and also help hair retain its natural oils, making them look healthier and shinier. Horn combs are nice and compact and are a great option for men looking for a comb that helps them tame the hair on the head as well as their beard.
Moreover, since these combs are made from natural materials, each comb is unique in its own way and will tend to last longer if they are used and cared properly.
Benefits of Horn Combs
Easy combing: The horn has a similar molecular nature as hair. Unlike plastic combs, it does not cling to the hair, but glides through the hair smoothly and facilitates detangling.
Conditions hair: Using this natural comb helps unplugs and treats follicles and also distribute the natural oils in your hair. This conditioning action of the comb not only leaves hair naturally moisturized and glossy, but also help stop split ends and hair breakage.
Treats dandruff: Using these natural combs helps exfoliate dandruff and discourage flaking, relieving an itchy scalp.
Healthier hair: The keratin present in the comb helps close the cuticle scales. When the hair scales are closed, they become more resistant to external environmental conditions (weather, pollution, humidity). When hair is less dehydrated, less greasy, it looks and feels healthier.
Help relieve stress: Horn combs are good for scalp stimulation and help boost blood circulation near the brain. When blood circulation is improved, blood pressure is relieved and the nerves in the brain are calmed. As a result, stress is relieved allowing you to have peace of mind.
Best Horn Comb for Men: Breezelike No Static Black Buffalo Horn Comb with Sandalwood Handle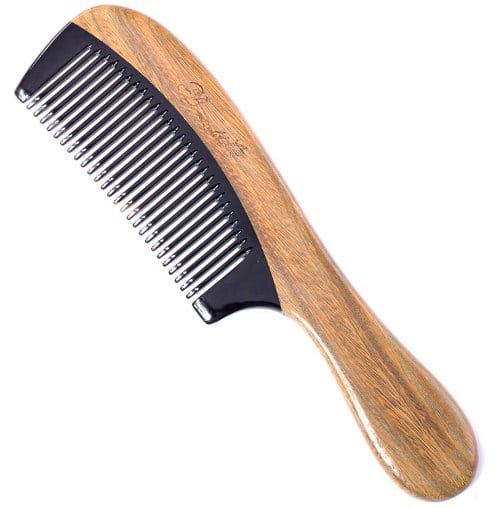 Made of sandalwood and black buffalo horn, this natural comb for men is one of those exquisite combs crafted with Chinese traditional handicrafts. You can hold it in your hand easily as the handle was made of wood and has dimension 7.1 x 1.9 x 0.3 inches.
Smooth and comfortable on hair and scalp, this aromatic horn comb not only helps relieve itchy scalp, hair loss and headaches, but also helps ease tension and alleviate blood pressure naturally. However, to help it last longer, it is important that you do not soak the comb in hot water for a long time and also keep them away from sunlight and high temperatures.
Purchase Breezelike no static black buffalo horn comb with sandalwood handle>>
A natural horn comb is a great hair care essential for men that can help them keep their hair and beard groomed. Using the comb on a routine basis will help men to tame their hair and look their best in a simple, natural and economical way.