Just because you are a guy does not mean that you shouldn't spend time finding the best shampoo to meet your needs. Just like women, men also deserve a full head of amazing, healthy and good-smelling hair.
Choosing the right shampoo is essential to make a difference in your hair. And with such a breadth of quality shampoos and conditioners available in the market, there is never been more choice for the consumer – which can be both exciting and confusing.
If you are looking for a revitalizing hair shampoo that has potent cleansing and hair volumizing properties, Krieger + Söhne Shampoo (K + S Shampoo) offers the perfect choice. Made from natural invigorating ingredients, Krieger + Söhne nourishes and conditions your scalp and hair, keeping them healthy, sharp and fresh.
The product is specifically designed for today's men who want to stay fresh and ready anywhere, anytime. Healthy, nourished hair makes you confident and prepared to find any battle in life. Let us find out more about this amazing shampoo for men.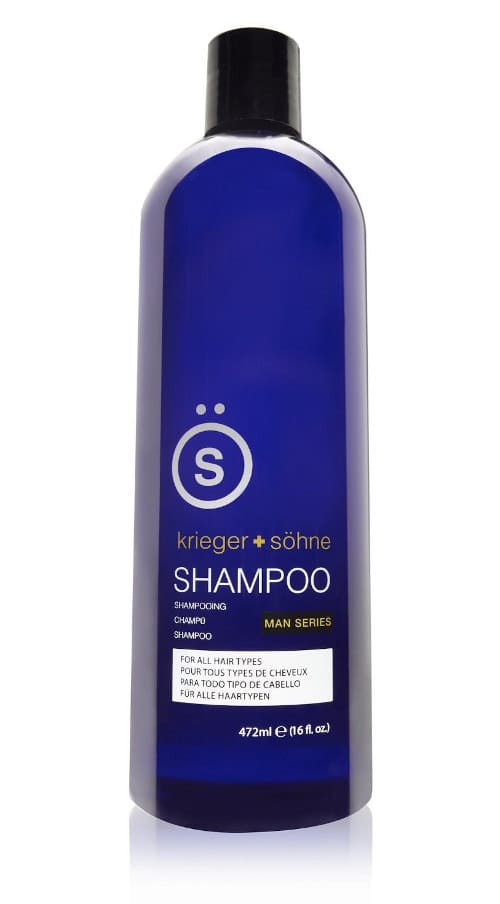 About Krieger + Söhne Shampoo
K + S Shampoo is a blend of plant-based ingredients that offer several healing and hydrating effects on your scalp and hair. Apart from moisturising your frizzy, unmanageable and thin hair, this wonder product nurses your strands back to health.
Manufactured by Krieger + Sohne, a reputable brand that has been providing us with innovative grooming products for men, this shampoo offers a revitalizing formula to keep your hair healthy and bouncy. Regular use of this shampoo gives you salon-like professional hair. It is suitable for all types of hair.
The shampoo contains healing properties that provide solution to all your hair related woes. So, whether you are looking remedy for thin hair, or want to treat your damaged hair, this amazing shampoo can work wonderfully for your hair.
What does it contain?
When it comes to luxurious and healthy hair, natural herbs and oils are the best. Krieger + Sohne contains nourishing and rejuvenating formula for all your hair-related concerns, including falling of hair, thinning of hair, bald patches and lack of lustre.
K + S shampoo comes with a blend of ingredients that work synergistically to provide best results. It contains tea tree oil- a herbal ingredient known for its several health boosting properties.
Infused with the goodness of antioxidants and enzymes, this product transforms your hair, giving it a more shiny and radiant look. It works by eliminating active oxygen, the effect of environmental pollution, dust, UV rays etc., and removing the accumulated waste from the scalp. The result is salon-like professional hair.
Warranty
The company takes pride in its high quality hair products that offer safe and effective results. Therefore, it comes with a 100 percent money back warranty. If you are not satisfied with the product, just return it back and get your money refund.
The pressure to look good is always there, even on men. Krieger + Sohne Shampoo offers you a therapeutic formula to revitalize your hair. With minimum hair styling effort, you can end up having smooth hair after just washing and brushing them.