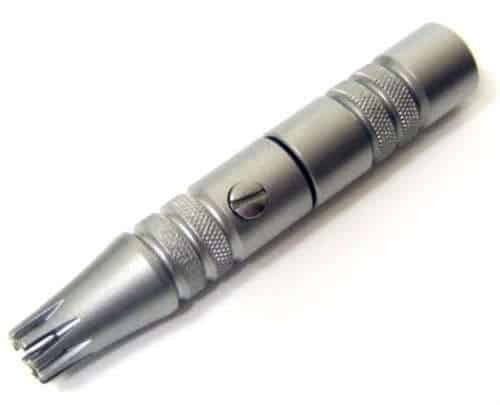 The Groom Mate Platinum XL nose & ear hair trimmer.
In the ongoing battle between going green and maintaining a certain level of comfort and performance, one grooming tool comes out ahead on both sides. The Groom Mate Platinum XL nose & ear hair trimmer is a manual device that requires no electricity or batteries, but provides a much more comfortable cut of the hair in these sensitive areas than can be achieved with trimming scissors.
Most men resist admitting to having ear hair. This is one of the most unsightly types of body hair one can have. It is followed very closely by an excess of nose hair. However, all one has to do to get rid of either of these is insert the trimmer into the nostril or ear canal so that it has access to the hair and give a twist.
This operation requires both hands, but is fast and efficient. The stainless steel blades cut the hair quickly and comfortably without cutting the sensitive skin in these areas.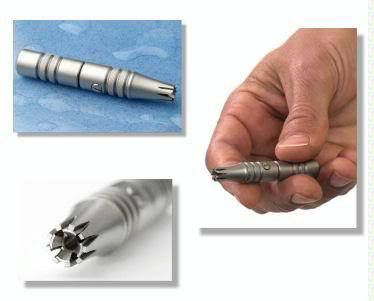 This device is very light and small, being only about two and half inches in length. This makes it ideal for carrying in a pocket or shaving kit for use anywhere in the world. Because it does not require electricity, it can be used in Europe without any modifications needed. There is not even a battery to recharge.
Cleaning is made easier by the fact that the trimmer is completely submersible in water. There are no electric circuits or components to damage. It is constructed completely of stainless steel, so it will not rust.
This method is far superior to the use of scissors that can nick one easily in a sensitive area. It is also much less painful than pulling the hair out with tweezers.
While some might see the fact this device is operated manually as a disadvantage, the lack of circuitry or batteries makes this one of the most environmentally friendly methods of trimming the nose and ear hair. Therefore, our Groom Mate Platinum XL nose & ear hair trimmer review is completely favorable.
We would recommend this product to anyone who is serious about reducing his carbon footprint by using green methods and who is serious about looking his best at all times. This is the one trimmer that meets both demands while providing a safe, comfortable method of cutting the hair from these sensitive areas without risking cuts or nicks. It can be used literally anywhere with no pain or embarrassment.
Buy Groom Mate Platinum XL nose & ear hair trimmer from Amazon.com>>