For many people, the quality and durability of a boar bristle hair brush for hair care & hair growth is the first choice in styling implements. There are a number of benefits that have been identified when you select this type of tool. For example, it can be considered partially or completely made of natural materials. The construction makes this style of implement perfect for every type of hairs, whether thick or thin in nature. Men and women can gain the benefits from using this device.
What is A Boar Bristle Brush?
As is indicated by the name, a boar bristle hairbrush is made of the whiskers of mature boars. These bristles last a long time. They are shaped so the ends are not likely to scratch the scalp. The bristles are harvested and cleaned before being packed closely into the backing. The sterilization process means that you get clean and polished bristles only. The benefits of the brush for hair are due in part to the construction of the brush and in part due to the natural components used in the design. It is important to consider both the bristles and the handle or back of the brush.
The Bristles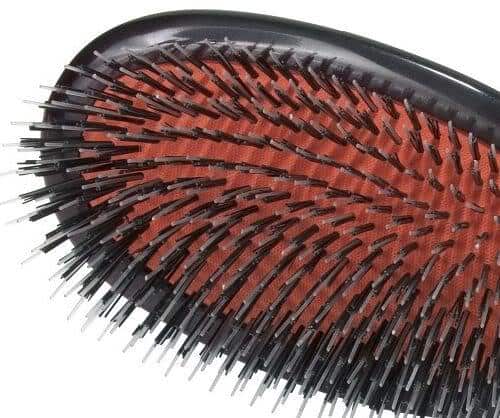 Mason Pearson's bristles set in a rubber-cushion pad.
Because the bristles are packed closely together and secured into the backing, the brush is known for its benefits for ethnic hairdos. The tightly packed bristles are able to penetrate the follicles and tame particularly thick, wiry, and curly hairs with ease. At the same time, the bristles are not scratchy or rough on the strands or the scalp, as plastic and some other types of bristle components can be.
The Handles
The handles of boar brushes are made of plastic, metal, or wood. Of these, wood is the highest quality and preferred by users for several reasons. Occasionally some models of brushes are made with all three types of components in the construction. For example, the handle might be made of wood with sections made of plastic or metal. Metal handles are the least common of the major types of handles. In part, this is because metal can get overly warm when used with a hairdryer or a crimping tool. Typically round designed brushes are made of metal.

Mason Pearson hairbrush handle.
Plastic handles are the least expensive of this type of brush. The handle may be formed completely using plastic. Alternatively, plastic serves as an accent on wooden brushes. The plastic accent also is helpful to grip the wooden handles. The most popular type of handle is wood. This is a high-quality tool. A wooden boar bristle hair brush for hair care & hair growth is all natural. The implement is strong and will last for years with proper care. Typically, beechwood is selected for the wooden handle.
Benefits of Using A Boar Bristle Brush
Remove Dirt. Because the bristles are packed together closely, they remove debris, dirt, and dandruff from your hair more thoroughly. The smooth bristles will not tear your hair and damage the follicles from which the hair grows.
Distribute Oils. If you have dry hair, the bristles help distribute tiny oils more effectively.
Reduce Excess Oil. If you have greasy hair, the bristles help reduce the excess oil by lifting them away from your hair.
Stimulate the Scalp for Hair Growth. The brush also gives your scalp a great massage. By massaging your scalp, the blood flow, oxygen, and needed nutrients to the hair follicles will be increased. If the blood supply is not sufficient, your hair cannot grow properly. This massaging method (in addition to other methods) has been used in the book Hair Again! Re-Grow Your Hair Naturally. A lady also claims that she has corrected her receding hairline and grown her hair back after using a boar bristle brush intensively.
Damage Free. A boar bristle hairbrush utilizes all-natural components to keep your locks gleaming and damage free. Strand damage can occur due to brushing using synthetic bristles. The bristles on this type of hairbrush tend to be inserted closely together, and their coarseness allows the bristles to remove dust, dirt, and another buildup in your locks.
How to Use the Brush
Using the brush faithfully may let you discontinue the use of some conditioning products. The body's natural conditioner, sebum, is spread by using the boar brush through your strands. It is not intended to detangle, but to clean and condition it. When using the implement, detangle first by using a wide-toothed comb or your fingers. Using a clean brush, go over your entire head with long, even strokes from the scalp to the ends of the strands. This will spread sebum. You can gain a therapeutic scalp massage by brushing upside down. If you are using the tool to both clean and condition your tresses, you should brush first to remove dirt, then clean your brush before doing the conditioning steps.
Which Hairbrush is Right for Your Hair Type?
Full Boar Bristle Brush

Ambassador Olivewood Men's Hair Brush
Determining which brush is right for your type is not too difficult. Sensitive scalps and thin to normal hairs should use 100 percent boar bristle. I recommend using the Ambassador Olivewood Men's Brush. This brush is also suitable for short, but thick strands.
Mixed Boar Bristle and Nylon Brush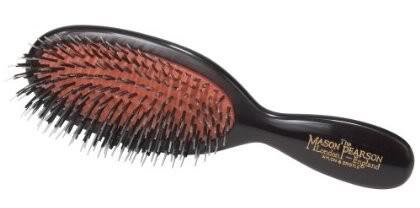 Mason Pearson Pocket Mixture Bristle/nylon Mix Hair Brush
Normal or thick locks with some curl could benefit from a brush that combines boar bristle and nylon. One truly great bristle & nylon brush is the Mason Pearson hairbrush. If your hairs are short, the Pocket mixture which has a dimension of 6.75″ x 2″ implement works well.If you have long & thick hair, then you need a larger one, the medium size Junior in this brush model. It has a dimension of approximately 9″L x 3″W.
Round Hairbrush


Spornette Porcupine Rounder Brush
If you have curly hair, you can choose to use a round hairbrush. The Spornette Porcupine Rounder Brush is highly recommended. It features a combination of boar and nylon bristles. The nylon bristles work well to grab curly hair, while the boar bristles are great for distributing oils and smooth the curls.
How to Clean & Care for the Hair Brush
While this type of hairbrush is effective at removing debris, with frequent use it can become filled with hairs, dead cells, or dirt that needs to be removed. For this reason, it's important to clean your boar bristle hairbrush regularly, at least two to four times monthly. Regular cleaning helps to preserve the product itself. In addition, when you want to have clean and shiny locks, starting with a clean implement is crucial. Because of its design, with closely packed bristles, the implement serves as a collector of everything unpleasant from your tresses. Dead skin cells, dirt, oil, and other unwanted debris can prevent your hairdo from looking its best. Regular use of the brush means all the things that make your tresses look bad are being collected by the bristles and need to be removed so that they are not distributed back onto the hairs.
The Do's
Cleaning your implement is not difficult. You should begin by removing any collected hairs from the bristles. Using your fingers is preferred. Otherwise, gently insert any instrument with a pointed end to gently lift collected hairs from among the bristles. If you buy a Mason Pearson Medium Size Junior hairbrush, you will also get a bristled cleaner.
In a large bowl or the sink, add shampoo to warm water.
Swirl the bristle end of the tool in the warm soapy water for several minutes.
Don't soak the wooden or plastic handle in water.
The implement can then be rinsed with lukewarm water to remove soap, dirt, and debris that was loosened during the washing process.
You can double-check the bristles once more, using your hand or a comb with wide teeth to ensure that all the dirt has been removed. Shake out the excess water and place the hairbrush bristle-side-down on a towel and allow it to dry.
This process usually takes longer to dry than a bristle that is synthetic.
The Dont's
Wash the bristles using hot water.
Use detergent to clean the brush.
Dry the bristles with a towel.
Dry the bristles in strong sunlight.
Things to look out for while buying a boar bristle brush
First off, we recommend that you use hairbrushes that take the very first cut of the boar bristle this will ensure bristles that are good for your scalp.
Secondly, before purchasing a boar bristle brush, run it through your hair a bit and find out if it comes in contact with your scalp. If yes, it means this length of bristles is good for you and you can buy this one. If you have thin hair, then DO NOT go for very hard bristles and brushes which have nylon bristles mixed.It will do more damage than good also, opt for brushes which have wider space between the bristles. If you have thick hair, opt for harder bristles.
Finally, as we have guided above, choose a hairbrush according to your hair type.
Frequently Asked Questions:
Ques-1: Will a boar bristle brush make my hair soft?
Ans: Yes, it will because, when you are using a boar bristle hairbrush, your scalp's oil production is being balanced out and spread.Hence, sending a cover of sebaceous oils from your scalp to your hair strands.
Ques- 2: Can I use my boar bristle brush as a styling tool?
Ans: Yes, you can. Especially if you use it regularly, the scalp's oil helps to naturally straighten out your hair.
Ques-3: Is it worth spending on a boar bristle brush that is expensive?
Ans: Absolutely. Boar bristles brush that is less expensive come from boars that are domesticated indoors in China and Japan hence, the bristles are not of the quality that you expect. This, in turn, will affect the functionality of the brush such as promoting oil production and oil distribution along with your scalp. Hence, it is always better to invest in an expensive brush for a better quality of bristles.
A Final Word
The boar bristles hairbrush is good for your follicles and scalp in a way that synthetic brushes can never match. It is a conditioner as well as a cleaner. Because of the way the device is used, you may be able to eliminate one or more chemical cleaners that are hard on your tresses. Using the body's own natural conditioner means that only what is good for scalp and follicles is being applied to your skin.
Although a natural brush represents a significant expenditure in comparison with other types of brushes, you may only need to purchase one in a lifetime of use.