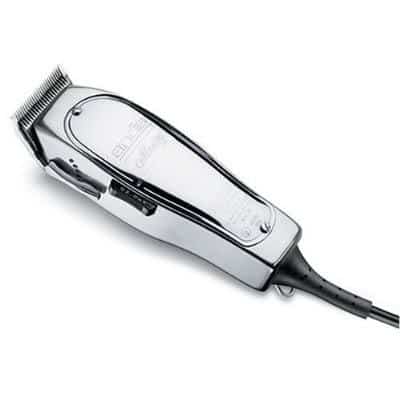 Andis 01557 Improved Master Professional Clipper.
This Andis 01557 Improved Master Professional Clipper review will take a long look at the features, pros, and cons of purchasing this model of clippers for self hair cutting. It is important to note that these are designed for use by professional barbers, so they have some features and shortcomings not found in lower priced models.
These clippers are designed to provide the ideal touch in outlining and fading. The precision blades allow one to shape the hair line exactly the way it is wanted. They are also adjustable via a lever on the side of the device to set the precise length one desires for fine or coarse hair.
The unit is built to be durable. The housing is made of aluminum rather than plastic. This feature has both it positive and negative points. On the positive side, one need not worry about breakage if the clippers are dropped. Negatives include a buildup of heat after continuous running and the unit becomes slippery to hold after a while.
The motor is very powerful and fast. It is able to move the blades at a speed of 14000 strokes per minute. This makes the unit essentially fall through dry hair as if their were no resistance and powerful enough to cut even wet hair.
The unit is simple to operate, with a slide switch on the side of the casing to turn the power on and off and a screw on the other side that is used to control the gap between the blades and ensure smooth operation.

Andis 01557 Improved Master Professional Clipper Package.
Items one will not receive in the package with these clippers include the various combs and guides normally used by men cutting their own hair at home. These are considered optional items for barbers and stylists. However, they can be purchased separately at a reasonable price. There is also no storage case for use when traveling.
The Pros
Overall, the pros of this model include the ability to shape, outline, and taper the hair precisely, long lasting carbon steel blades with an adjustable setting, a fast and powerful motor that runs quietly, and a durable metal casing that is resistant to damage caused by rough handling.
The Cons
Cons for this model include the fact that these clippers are heavy, weighing in at 1.8 pounds, The metal casing becomes extremely hot after extended continuous use, can become slippery, especially if one gets oil on his fingers while changing out guides, guides must be purchased separately, and the price.
Most users of these clippers are quite happy with them and recommend them to their friends. There are some, however, who state in their Andis 01557 Improved Master Professional Clipper review that the quality of the cut received using this model is not sufficiently superior to that received using cheaper models to justify the difference in price.
This is a decision that must be made by each individual user. However, a good rule of thumb to remember is that when it comes to quality hair cutting equipment, you get what you pay for.