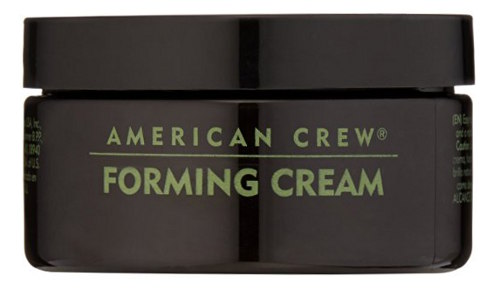 If you are one of those men looking for a styling cream that works with all hair types, American Crew forming cream would be a perfect choice. A great hair styling product for men, this forming cream can be used every day to achieve any hairstyle you desire. Available in a fairly classic, minimal packaging, this forming cream for men provides medium hold, natural shine and excellent pliability.
Features
Containing ingredients like lanolin, flower oil and castor beans, this forming cream is available in a jar for easy application. The consistency of this styling cream for men is extremely smooth and just a little amount of it is required to spread it evenly through dry and damp hair as desired.
Benefits
Makes hair look thicker: Using this men's hair styling product regularly helps swells hair shaft and helps hair look thicker, the American forming cream is a great choice for men with fine, thin hair.
Easy to use: The creamy paste of this men's forming cream spreads easily and blends in with hair, making it easy for men to style their hair as desired.
Keeps hair healthy: This crew forming cream for men shampoos out easily, without leaving any kind of residue behind. In addition, using the cream helps conditions and moisturizes hair, keeping hair healthy.
Pleasant smell: Featuring a nice pleasant smell, using this forming cream promises to leave you feeling more sophisticated, elevated and confident.
Long lasting: Since just a little bit of the styling product is required to help hold hair all day, this forming cream last longer, making it an economical styling product for men.
Cons
If overused, can leave hair feeling greasy
Not suitable for gel users
Does not give hair a natural look.
A versatile hair styling cream for men, American Crew forming cream not only helps men style their hair easily, but also helps tame frizzy hair and keep hair healthy in the most economical way. So what are you waiting for? Apply the forming cream and see guys go envy and girl love you after using it.