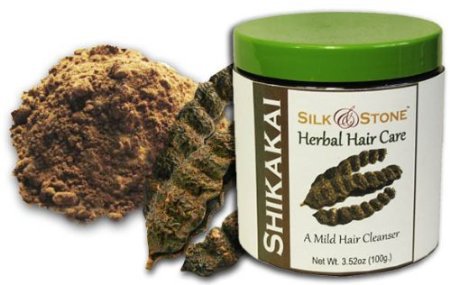 Shikakai refers to a fruit derived from a native Asian climbing shrub called Acacia concinna. It is an Indian name and has been used extensively in the country since ancient times as an Ayurvedic medicinal plant and primarily as a hair care product.
Today, extracts from shikakai are incorporated in various herbal or natural shampoos all over the world. The fruit by itself can also be used in the form of a powder or paste. Since it does not contain any harmful chemicals, it does not produce a lot of lather but is an excellent cleanser, adding bounce and shine to the hair.
By using it, your hair will be glossy and look nourished because the product has a low pH level and does not strip the hair of its natural oils. Here's how you can wash hair using the powder:
You will find the powder in stores which specialize in natural beauty products, alternative medicine and Indian grocery stores. Once you get the powder, you have to make either a thin paste to be poured on the hair or make a thick paste to be applied on the hair strands and scalps in sections.
In order to make the shikakai thin paste or 'tea', mix a few tablespoons of the powder and cold water which will give it the appearance of muddy water. Leave it for 10-15 minutes and then pour it into a spritz bottle. You can also shake the bottle so that the lather increases and then squirt, spray or pour the mixture all over your hair. Also remember to pour it on the scalp for better nourishment.
In order to make the shikakai thick paste, mix the powder with a small quantity of hot or cold water so that you can make a thick paste, similar to henna. Don't make it too thick or it will dry out and it will be difficult to rinse it later. Set aside for 10-15 minutes and then apply the paste with your fingers or a brush on your scalp. Make sections of the hair and apply it well all over your hair.
Let the thin or thick shikakai mixture remain on your hair for a few minutes and keep your hair covered with a plastic bag or shower cap if you are using the paste to prevent the mixture from drying out. Rinse it off with lukewarm or cool water, while massaging your scalp.
Finish off the rinsing with some cold water. If you have applied hair oil, the shikakai will get rid of the excess oil to a large extent, after which you can use a regular mild shampoo to further wash your hair.
When you wash hair using it, you do not require any conditioner because it is a natural detangler and conditions your hair too. You can use a natural conditioner if you want, but that is an optional step. Since it is a mild product devoid of any harsh chemicals, it is great for men who have a sensitive scalp or are experiencing hair fall. Besides these benefits, it also helps to prevent dandruff.