Striving for the mirror-smooth chevelure is not a very special thing, as TV advertisements often show incredibly pretty pictures of silky and absolutely straight strands. However, there is no beauty without a sacrifice, and sometimes people with lovely natural curls resort to straightening playing up to fashion.
Home-Made Hairdos
When doing it in a salon, it is possible to have straight and shiny coiffure for a couple of months, until the roots will discover their nature again. In such procedures they use powerful chemical agents, which is not possible at home. So, sometimes there are no other ways than to use fans and straighteners.
These methods are not much better than chemical straightening, because high temperatures can damage the locks badly. That is why, no matter how curly your locks are, it is recommended not to use a straightener more often than two times a week, and if possible, even more seldom.
The Necessary Protection
Besides that, it is absolutely necessary to use such a remedy as a hair heat protectant. This agent is able to get inside each hair, nourish and moisturize it. If you are a frequent user of straighteners, it is possible that your locks are already damaged, at least slightly, beside their ends.
It is a general problem of manes that are longer than the shoulder line: their ends do not receive the necessary nutrition, and if they are additionally treated with heat, their condition can grow worse by the hour. In this case it is necessary to choose protectants that will provide you with extra coating of damaged sections.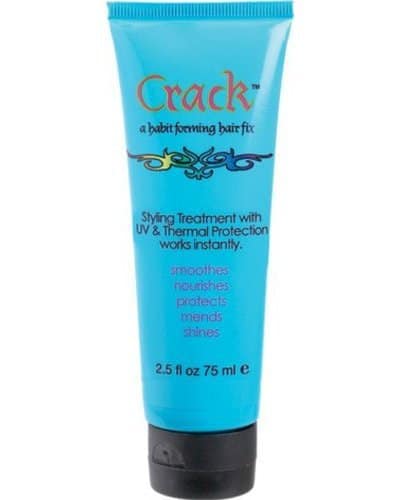 Crack Styling Leave-In Treatment
Such protectants may come in different forms: spray or cream. The recommended spray is Tresemme Thermal Creations Heat Tamer Protective Spray, which makes your locks softer and more flexible for a good styling.
Or it can be a cream like Crack Styling Leave-In Treatment with UV and Thermal Protection that makes your hair shiny with silk proteins and does not overweight it or leave the sense of grease.
Such remedies are available in different types – for oily, dry or normal hair, all with the same effect but with diverse components. The faces can be multiple, but the sense is the same: to protect it as much as possible.
How to Achieve the Best Result
In order to get the necessary covering, it is recommended to complete the following procedure. The hair needs to be washed well, for the grease or another impurity will result badly on the quality of styling.
The protectant should be applied once right after the washing: the damp locks will absorb all the useful ingredients like a sponge. Then it is necessary to avoid using a fan for it can overdry the locks and fluff them up. After they get dry in the natural way, it is the right time to apply the protectant for the second time.
If the hair is too short to use a straightener, then there are other ways to cope with the untamed curls. For instance, it is possible to use a straightening shampoo and then a conditioner, which would wrap each hair with its silicone and silk components, making them even, pleasantly heavy and obeying.