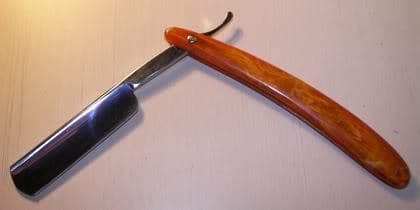 straight razor
There is a plethora of razors you can use for shaving. One of them is the straight razor. This is radically different from all the others since it is the simplest and perhaps one of the oldest. It became very popular during the 1950s and utilized by barbers in salons.
It is also referred to as a cut-throat or open razor since the blade may be removed from its own handle. This is so unlike the electric or the safety razors. They have a protective shield that only displays the edge of the blade. Hence, the skin is well protected from cuts and even from serious injuries.
Using a straight razor requires a lot of practice and patience because of the high risk of injuries. It may also mean getting the right kind of straight razor to use.
If you are a heavily bearded man or the hair grows very fast, you need to make use of flat ground razors. For those with hair strands of average growth, they can utilize the singing blades where the blades are very thin and can definitely produce a very clean-shaven face.
The Steps:
Clean your face. You can take a bath or apply a glycerin-based soap on your face. You can then remove the suds with warm water. The purpose for cleaning is to get rid of the oil and dirt that may prevent the razor from functioning properly. It will also soften the facial hair, making them much easier to get rid of.
Apply a shaving cream. At this point, you need to have a shaving brush which you can use to apply the cream into the face. The brush permits you to put on the cream evenly as well as prevent you from handling anything oily. You may not be able to properly grip the razor's handle and injure yourself in the process.
The cream should provide your face with enough moisture and lubricant so the razor can glide comfortably all across your face.
Shave. Take note of how the razor should be positioned. Ensure that the edge is pointing downward and the handle going up. The razor should also be in 270-degree angle. When you shave, follow the growth of the facial hair. Begin with the cheekbones or the sideburns and end with the hair on your chin.