Regular brushing of the scalp is not something that men like to do often, but they may want to think twice. Aside from feeling really good, regular brushing is good for the health of the scalp and hair and may help prevent common hair problems that affect men. Here are a few good reasons to start brushing your scalp today.
Boosts circulation to the scalp and hair
Brushing stimulates the blood vessels that deliver blood to the scalp and hair. Increased circulation in this area means that it receives adequate nutrition which makes the hair and scalp healthier and less resistant to breakage and hair fall, something that men, especially those who are at risk for hair loss, will find beneficial. Increased circulation and increased delivery of nutrition also promotes hair growth resulting to longer, healthier, stronger hair.
Helps spread natural oils for shinier hair
Brushing distributes and spreads the body's natural oils so that they coat the entire strand, not just the top of the scalp. This gives the hair a natural sheen and help you avoid using synthetic hair products to give more life to your hair. This is a great result for men who want to transition to natural hair care products while still maintaining that glossy shine to the hair.
Scalp brushing promotes relaxation
There's a reason why a trip to the barbershop or salon is considered a great time for some R&R by both men and women. Scalp brushing is promotes relaxation similar to the effect of a massage. You are essentially giving your scalp a massage when you brush scalp, making this a great way to relax and destress for virtually no cost.
Use the Right Brush
The right brush can make a huge difference when it comes to brushing the scalp. Large bristles that are evenly spaced out, firm enough to apply the right amount of pressure without causing any soreness on the scalp are just two of the characteristics of a good and effective brush.
The Scalpmaster Brush
in purple is a great option for restoring the scalp's natural oils. The Scalpmaster Shampoo brush has firm bristles which helps you apply just the right amount of pressure, but they also have a plastic give, making them gentle on the scalp. This is a particularly important feature for those with irritated scalps that need to heal.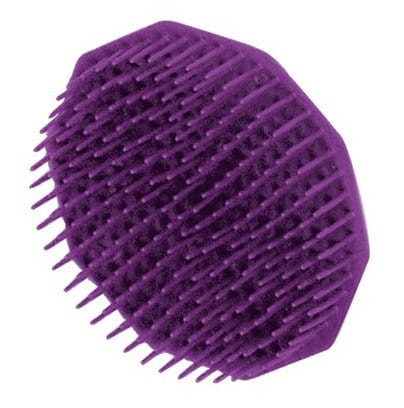 The Scalpmaster Shampoo Brush
is also designed to be durable and is solid enough to last for months. With its round design, it surprisingly covers a large amount of scalp area in one stroke. Users report of feeling their scalp producing much oils with the first use. It also has a compact design, making it easy to store in your travel bag or utility case.