Over the course of the last three or four decades, there have been many changes in the ways young men wear their hair. Changing trends in young men's hairstyles have gone from very tame short haircuts that conform to the expectations of everyone around us to some really way out punk styles.
Short & Simple Hairstyle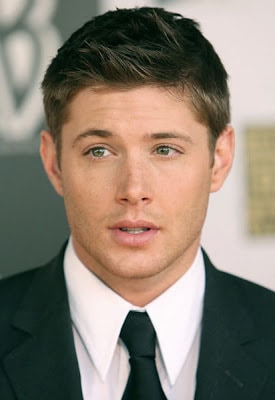 Jensen Ackles short and simple hairstyle
There are still a variety of simple hairstyles for young men that come in different lengths. Most conservative families still encourage young men to keep their hair short and simple, usually just flipped over to one side. Some popular styles from the fifties and sixties and still around, including the ducktail and the flat top.
Emo Hair
More modern young men are going in different directions with their hairstyles. One of the more trendy styles today is known as emo hair. This basically consists of cutting the hair to any length one desires and styling it in a way that is truly unique and individual. In most cases, the hair is dyed black with other colors used in different ways to create a fringe or a spot of color within the style.
Punk Hairstyles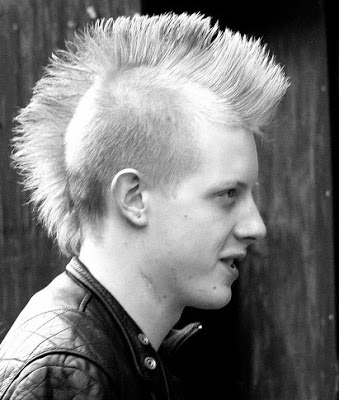 Mohawk hairstyle. Photo by Lady Vervaine.
Punk hairstyles are still quite popular as well. The most common punk style, the Mohawk, is still going strong, but other punk styles are coming along as well. Medium length hair is often worn in spikes that stick up all over the head. Most punk styles are high maintenance and require a great deal of time applying mousse or styling gel to hold the hair in the rakish positions chosen for the day.
Faux Hawk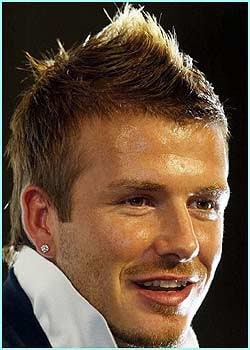 Faux-hawk hairstyle
One of the most popular new hairstyles for young men is known as the faux-hawk. This hairstyle uses the Mohawk as a basis, but instead of shaving the sides of the head, the hair is worn short on the sides and longer on top. How the hair is styled is a matter of personal taste. It can be styled with the longer top hair standing up like a regular Mohawk or it can be adjusted to a more traditional look.
View various faux hawk hairstyles
One thing that is different today is the fact that young men have a great deal more latitude in how they wear their hair without fear of being seen as strange or aberrant. Where once short hair was the only choice available for young men in the mainstream, now it is not uncommon to see men with hair as long as any woman's. The number of styles that can be worn is just as varied.
Hairstyles For Young Men
1. Young Black Man Haircut
A short haircut is easy to wake up and go with and any facial hair you have will pair well, like this goatee.
2. Pompadour
A pompadour with a fade is packing height, which is great for men with round faces as it will elongate your structure.
3. Young Man With Grey Hair
Grey hair is no longer for older men. Work the hair color into a shaggy haircut with a fade and use a little shaping gel to encourage texture.
4. Braids
One of the best ways to show off long hair is with a lot of thin braids. Make the look edgy with a bald or tapered fade.
5. Twist Hair For Young Men
Short twists are a neat way of styling black hair and they last several weeks while being stylish.
6. Dreadlocks
Do you have long hair? Dreadlocks piled high will let the world see your gorgeous face – decorate locks with gold beads for accent.
7. Wavy Haircut
Wavy haircuts always give off a boy-next-door vibe and the bedhead look is always in, so you can wake up and go in no time at all.
8. Curly Hair
A simple center part is all you need to style thick curly hair. Give it a blunt cut above the jawline for a modern look.
9. Straight Hair
If you have straight hair, count yourself lucky that no styling is needed: simply leave it loose but keep it trimmed at regular intervals for healthy locks.
10. Buzz Cut
Round or oval, the buzz cut is a classic choice that works for any face shape. A bit of facial hair helps round out the look.
11. Fade Haircut
This fade haircut features a blunt bang and a flair of orange and yellow color striped down the middle.
12. Layered Hair
For easy texture and built in style you don't need to spend a lot of time on, ask your stylist for layers.
13. Hair Design
A spiky textured haircut features shaved designs in its fade. Come prepared with inspiration of your own or ask your stylist to get creative.
14. Hard Part Haircut
Hard parts are clean shaved in lines on either side of the head that add easy dimension to your haircut. Here, it separates a fade from heightened texture.
15. Thick Haircut
Thick locks are a hot look for any guy – get the look but using plenty of product and combining the style with a medium or low fade.
16. Fine Hair
To make fine hair look thicker, slick it all back in one direction. It's a professional style that'll also stay looking hot while you're working up a sweat at the gym.
17. Messy Hairstyle
Messy hair, aka bedhead, is not difficult to get: use your fingers to scrunch the hair near the forehead and keep the back trimmed short so you don't look sloppy.
18. Slick Back Hair
When heading out to a fancy event, the slicked back style with a low fade is your go-to. Comb mousse through locks and you're done.
19. Long Hairstyle
A man ponytail is boho-masculine and always in style. Simply pull your medium length hair up and secure with an elastic.
20. Medium Hair
For short to medium hair, try a blunt or choppy cut with a center part. This style especially helps to elongate round faces.
21. Perm Hair
Male perms tend to last between 4-6 weeks. If you're craving volume, give it a try and wear curls with a fade for a truly unique style.
22. Haircuts For Young Balding Men
To distract from that receding hairline, opt for a semi-short haircut with a curtain bang parted to one side.
23. Mohawk Haircut
Prefer a hairstyle that catches eyes? This mohawk fade pops with orange hair color but platinum blonde or baby blue would look just as awesome.
24. Blonde Hairstyle
Another boy-next-door hairstyle that never fails to impress. Encourage body up top with mousse and frame it with a mid to high fade.
25. Professional Haircut
A professional haircut is ideal for men with conservative jobs. It features medium body up top with a tapered fade and minimal facial hair, if any.
26. Undercut
Undercuts are a favorite because they work with any men's hairstyle. Leave a little length on top for the perfect balance of long and short.
27. Asian Young Men Hairstyle
A soft tousled haircut is a great option for Asian men tired of their straight hair. Let it grow to eyebrows and go for some color to liven it up.
28. Spiky Hairstyle
Silvery grey edges up this spiky textured hairstyle. A mid bald fade and shaped facial hair ensure this style is nothing short of detail.
29. Afro Hairstyle
Rock your natural hair by letting it grow several inches and leaving it wild. Make sure to leave your gorgeous eyes visible for a look everyone, including you, will love.
30. Quiff
Quiffs are popular for the way they combine a pompadour with a flattop. Wear it with a fade or an undercut, or both!
Feeling inspired by these young men's hairstyles? When it comes to looking trendy, there's no shortage of ways to insert your personality onto your haircut. Try one or all of these styles and see which one you love best. We have a feeling this list will become your go-to!