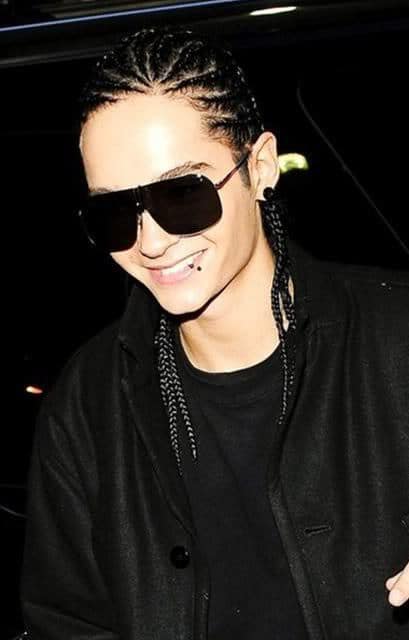 Tom Kaulitz cornrow braids hairstyle.
Tom Kaulitz
is a guitarist from the German Democratic Republic and one of the founding members of the band, Tokio Hotel. His identical twin brother,
Bill Kaulitz
, is the singer for the group. Kaulitz was born September 1, 1989 in Leipzig. He is an avid fan of hip hop music and enjoys watching 'Scrubs' on the television. He speaks three languages, German, French, and English.
Tom Kaulitz cornrow hairstyle.
Here, his hair is dyed black and is styled in
cornrow braids
that hang to the middle of his back. This hairstyle looks good on him and is easy to maintain.
The process of making the cornrows probably took quite a bit of time, given the length of his hair and the number of braids he wears.
Tom Kaulitz cornrow braids hairstyle
In order to achieve this look, one must first have very
long hair
. The hair needs to be wet or damp to style the braids. A little bit of hair oil can be useful as well, to make the hair easier to handle. Starting in the center of the forehead, one should part the hair leaving a half inch strip at the very top. Braid this strip a couple of times in front, then pull a small amount more hair from the strip into the braid and continue. Then work down each side in the same manner, keeping the same number of braids on each side of the head.