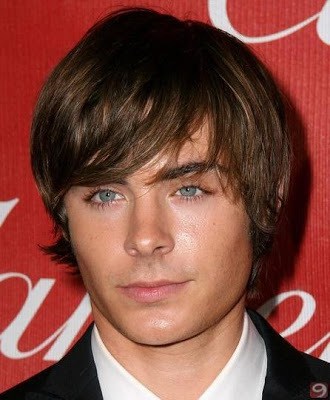 Zac Efron with side swept bangs.
Side swept bangs hairstyles are easy to care for and don't require using too many sticky hair products or tons of smelly hairspray.
If a
man's hair
is wavy or
curly
, he may want to consider using a straightener, but you shouldn't let this idea intimidate you. It literally just takes a few seconds and the look lasts all day long. For the man with naturally straight hair, a little dab of smoothing lotion and a few minutes with the blow dryer are all it will take to maintain your style.
The best part about side bangs for men coming back in style is that it is such a flattering look for men. A middle part is the least flattering hairstyle a man can wear and it tends to imply that he is balanced, according to psychologists. Wearing the hair straight back with no part says that a man is confident or "cocky". Side swept bangs for men give them a sexy look and tells the world that he is comfortable with himself and yet approachable. This look can help to soften a man's face and draws attention to his eyes which is what women claim to notice first about a man.
Here are some pictures of the hottest side swept bangs hairstyles:
Zac Efron Hairstyle

Pete Wentz Hairstyle

Alex Evans Hairstyle
It is important to have this hairstyle trimmed every three to six weeks to keep the ends healthy and prevent the side bangs from impairing your vision. These styles are sexy, but hair in the eyes is sloppy and unattractive.