Short Faux Hawks are trending this year for men just like the past couple of years. This hairstyle is perfect for the middle of year heat. Short Faux Hawk is stylish and functional at the same time, however, the best feature of this hairstyle is, you can sport it in many ways as you wish.
Why Faux Hawks?
Wondering why go for Faux Hawk when you can sport mohawks? The answer is pretty simple. Mohawks can be a little too extreme for every occasion. It is somewhat hard to pull it off with every outfit. Whereas, short Faux Hawk is comparatively more universal and subtle. It is stylish, trendy, and blends easily with any outfit. Even your most conservative grandmother would appreciate this style just as your trendiest friend who is "too cool" for everything! You can sort it in the classroom, business or at a rock concert!
The Best Short Faux Hawks for Men
Let's take a look at the 31 coolest short faux hawks for men!
#1: Classic Short Faux Hawk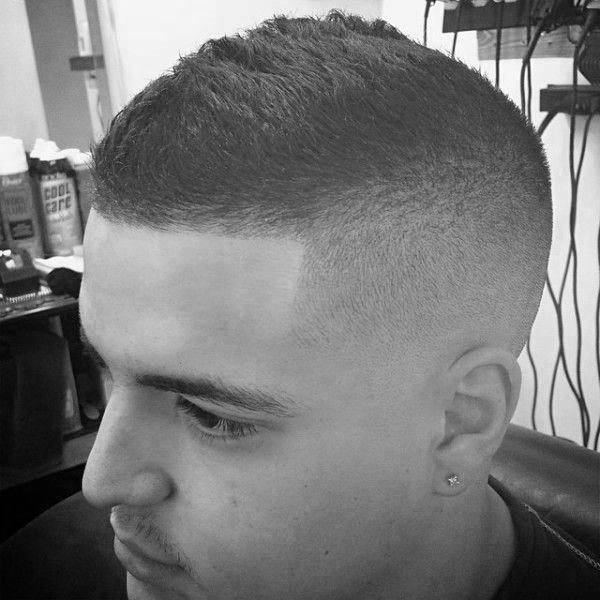 Classic Faux Hawks are best go-to short Faux Hawks. You can get this one whenever you make up mind for a Faux Hawk. If you're one of those who believes in staying classy and trendy, without doubt, you will find this appropriate!
Why We Love The Emo Hairstyles
#2: Short Faux Hawk like Beckham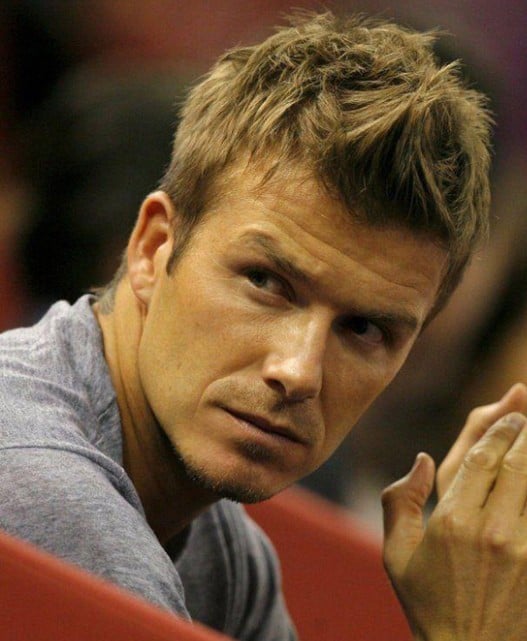 David Robert Joseph Beckham will always be remembered for making short Faux Hawks for men cool throughout the millennium! He made Faux Hawk cool in 2002 world cup, and later on many times. He might now be a dad to a teenager who is pretty famous for being fashionable and presentable himself, yet David Beckham's fashion suggestions are always relevant. Sport your hair in David Beckham's iconic short Faux Hawk and bend the summer style to your way!
#3: Thick & Textured Faux Hawk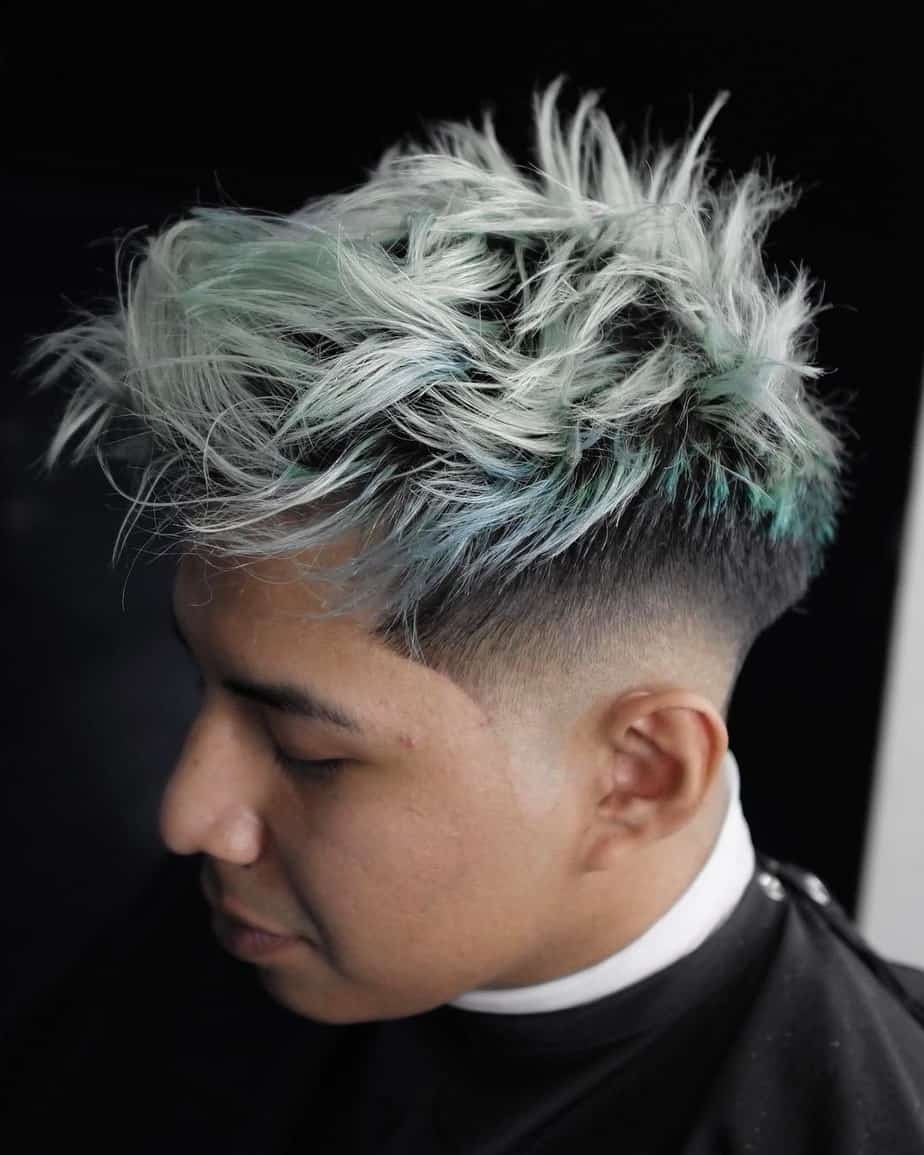 If you have curly or wavy hair, this fauxhawk is especially cool on you! Shape up your thick hair for summer by styling it in short and textured Faux Hawk. If your hair is wavy or curly, it will give the hair a bonus hold and cooler look.
#4: Short Sides & Textured Faux Hawk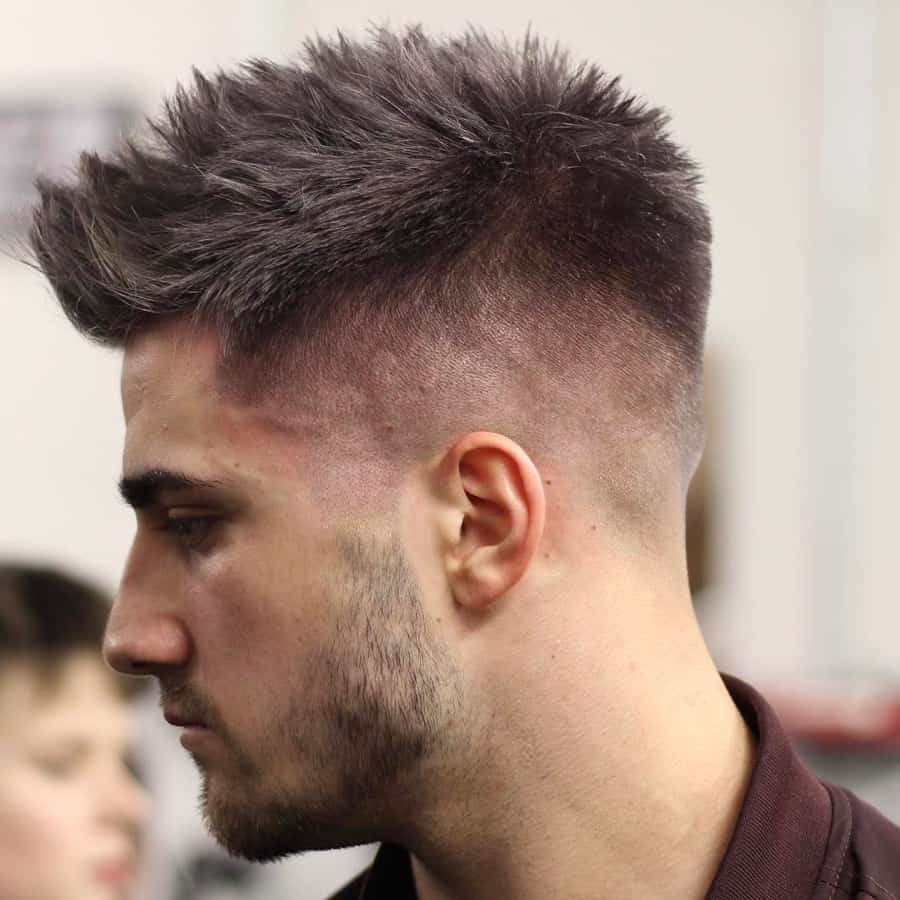 If you live an active lifestyle, this one is for you. You can look good in this short Faux Hawk variant It will be both stylish and won't sweat you in the gym. Keep the sides short and raise a short, and soft Faux Hawk on top. You're all set!
#5: Short Faux Hawk & High Skin Fade
If "short sides" are not enough for your comfort, you don't have to "sweat it". You can also rock high skin fade on sides with short Faux Hawk. If you play any sport, this is a highly recommended fashion-forward summer hairstyle!
#6: Normal Faux Hawk & High Taper Fade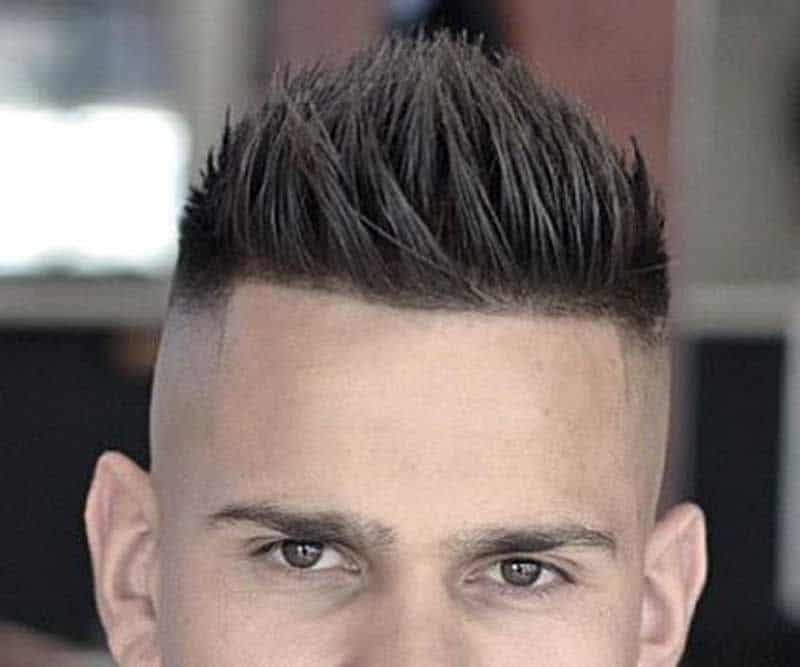 Taper fades are dope! Have you ever given it a try with short Faux Hawk? If not, you can consider it a good summer hairstyle. Make it a boxy or square-ish for the best trendy result. Many stylish MMA fighters are currently adopting this hairdo for maximum functionality.
#7: Short Faux Hawk with Design & Hair Fade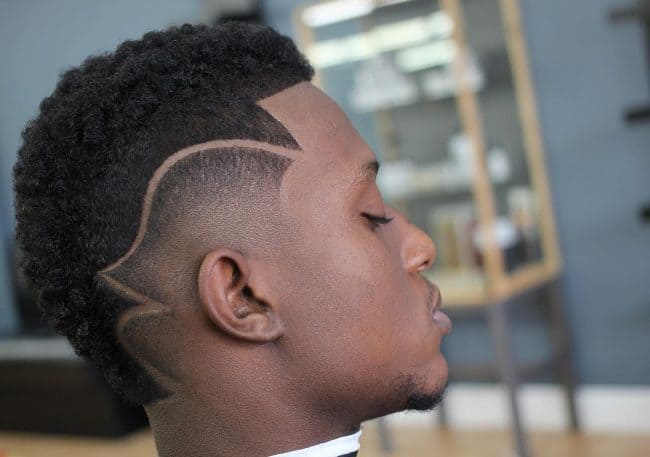 Short Faux Hawk hairstyle leaves hair to be an artistic canvas! You can style your precious hair with artistic design on the fades on both sides. The hair on top can rest in short, and cool Faux Hawk No compromise needed in either style or comfort zone!
#8: Faux Hawk with Shape-up & High Skin Fade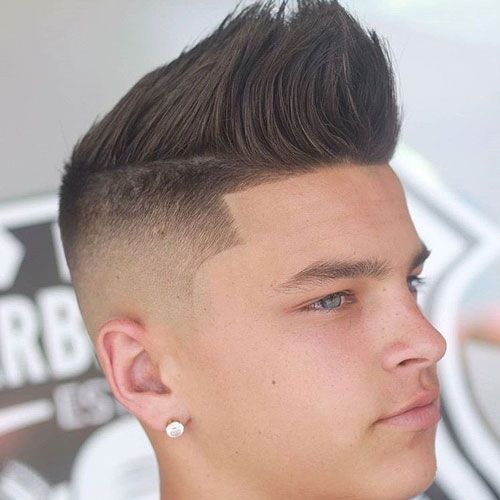 The shaped up hairstyle is pretty hot in 2019. With high skin fade on sides, it goes great with short and synchronous Faux Hawk. Try it, you will feel the breeze on our head. It is also very fashionable.
#9: Line Part & Fade Faux Hawk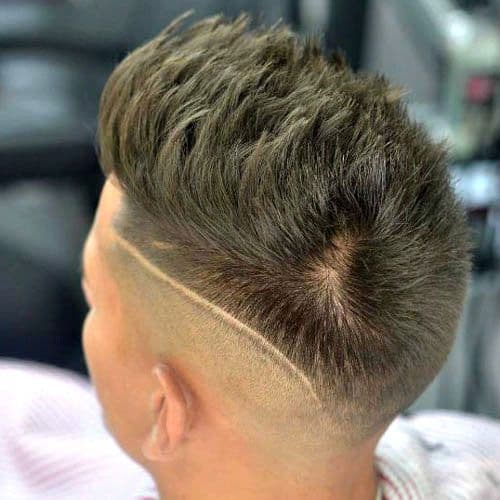 Line art hairstyles pair well with shot Faux Hawk hair. If you add the fade to the sides, it becomes an irresistible combination of everything good! If you want a healthy, stylish, and all-purpose summer look, you may want to adopt this one.
#10: Spiky Faux Hawk & High Bald Fade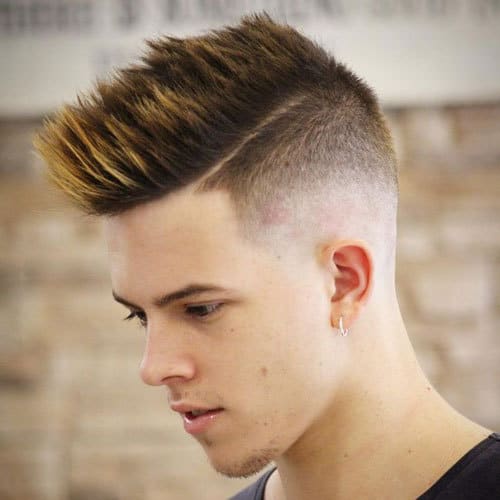 Spiky Faux Hawks are more impressionable short Faux Hawks. If you want a look that asserts such an impression in the first look, you may want to adopt this hairstyle. High bald fade in the sides make the hairdo look and literally feel cool in summer weather.
#11: Faux Hawk & Disconnected Undercut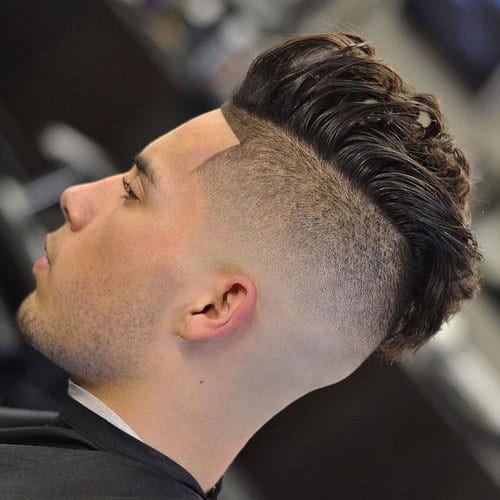 Disconnected undercuts are a great summer combo with short Faux Hawks. You can sport it in any summer settings, formal or informal. This hairstyle you really well with some hair product involvement.
#12: Colored Hair & Faux Hawk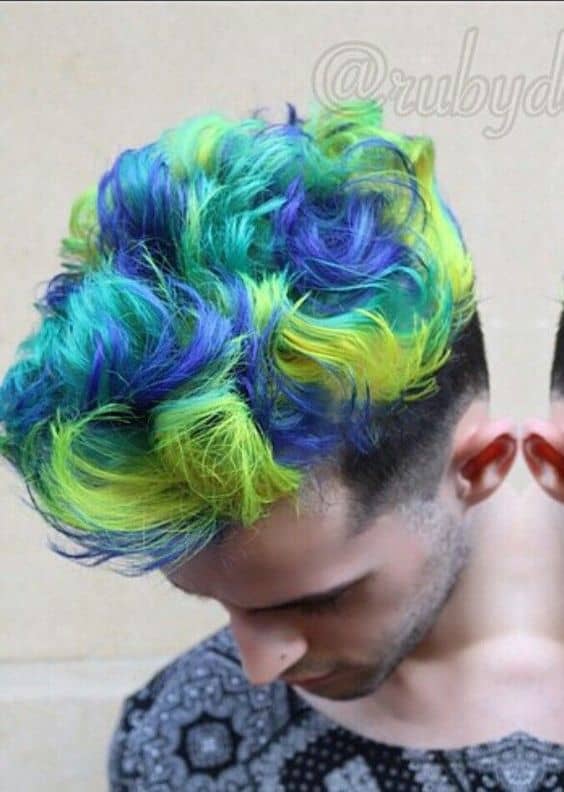 Faux Hawk accentuates the features of colored or highlighted hair. You can dye the whole hair in one shade, or maybe just do some highlighting. Either way, Faux Hawks produce the best hairstyles in either of those.
#13: Low Taper Fade & Messy Faux Hawk

Messy and short Faux Hawk us a cool hairstyle. It is low maintenance, even among other short Faux Hawk hairstyles. It is also easy to sport. If you have low taper fade to sides, that would add extra breeziness to the whole style.
#14: Textured Hawk & Line with Razor Fade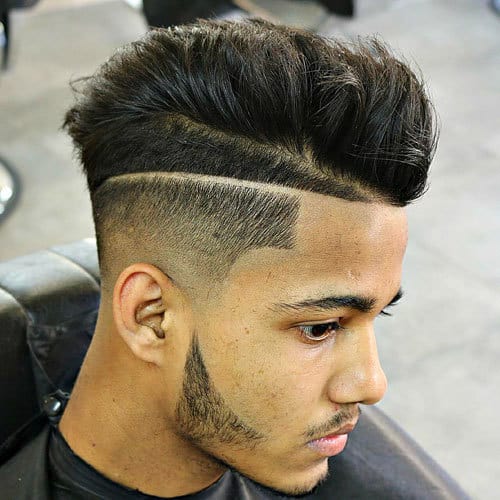 Textured short Faux Hawk though suits the wavy or curly hair more, it also goes well with straight hair. If you accentuate the Faux Hawk with a razor fade, it would get you a refreshing, and handsome summer look. If you do a strong line part that will make it more trend-relevant to current styles.
#15: Low Bald Fade & Textured Brohawk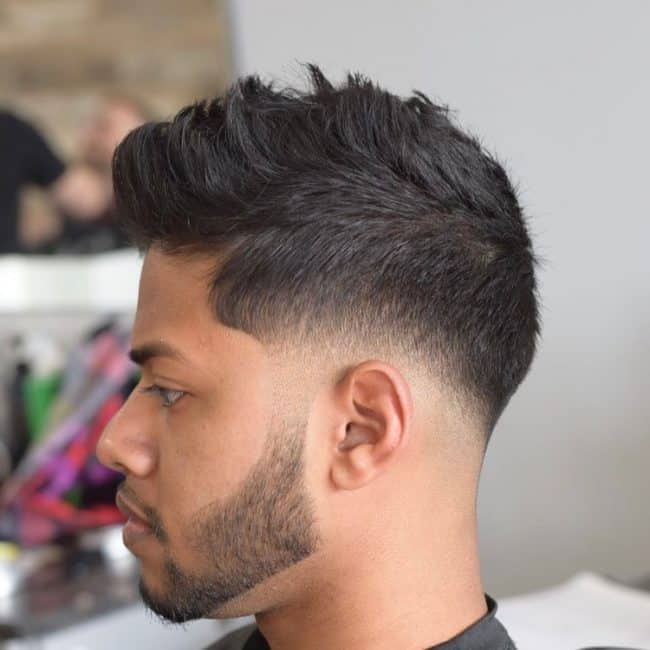 Brohawk is a cool variant of short Faux Hawk that you can easily adopt. If you are interested in bald fades of any variant to the sides, that would be even cooler! If you aren't sure how intense the bald fade should be for you, you can always go with low bald fade. Textured brohawk is pretty cool for a young and vibrant summer hairstyle!
#16: Faux Hawk with Burst Fade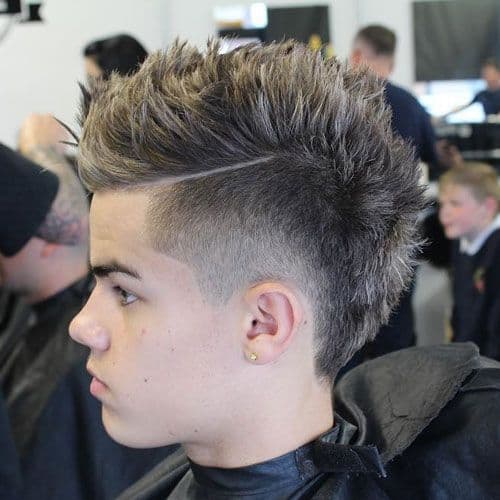 Cool burst fade and short Faux Hawks are a killer combination. Hawk your hair up from front to back for an edgy look. You might also want to add some strong line part on both sides for a better result.
#17: Short Spiky Faux Hawk with Low Taper Sides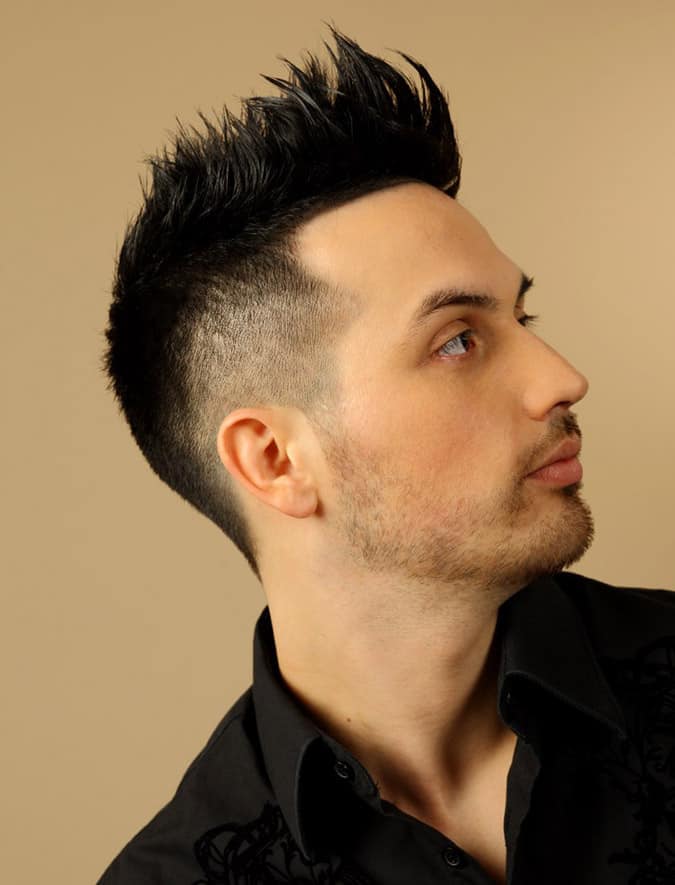 Short Faux Hawk hairstyles are 60% about the "hawk" and 40% about the "sides". If you want a good side hairstyle, then try low taper side hairstyles.
#18: Spiky Faux Hawk & Low Taper Fade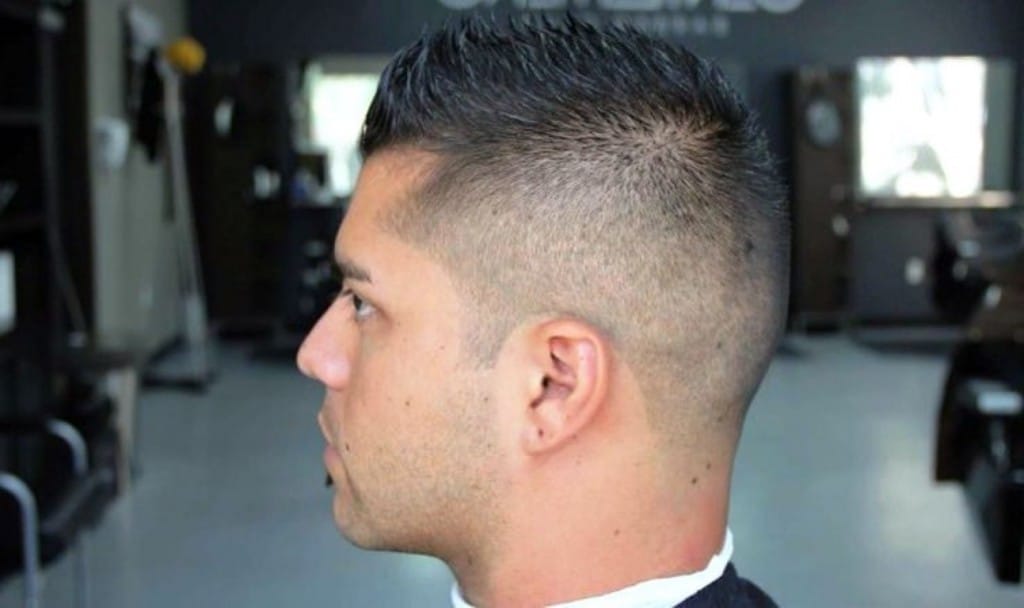 Short, spiky Faux Hawks look cool with a proper taper fade. Any intensity of taper fade would do. Go with low if you want, but if you're in a warm, tropical weather, middle taper fade would be more comfortable.
#19: Wavy Faux Hawk & Undercut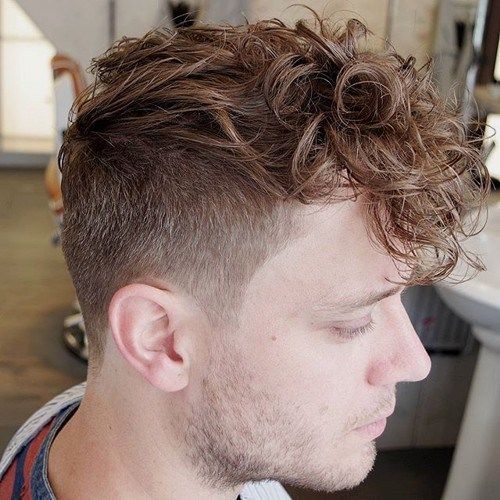 For wavy hairstyles, short Faux Hawk is especially cool. Wavy hair is generally rich in natural distinct texture and consistency. With proper maintenance and hairstyle, wavy Faux Hawks can be a cool style to sport. If you try an undercut, the whole style will be breezy and perfect for summer weather.
#20: Short Faux Hawk & Skin Fade with Beard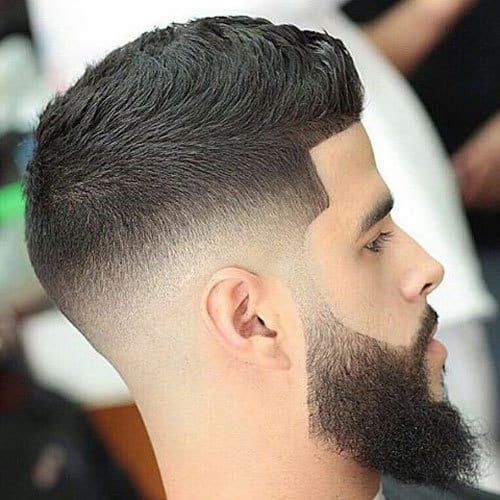 For bearded fellas out there, short Faux Hawk is a cool hairstyle. If you try a good and strong skin fade to sides, it will balance the whole style for summer days.
#21: Back Hair Design & Short Faux Hawk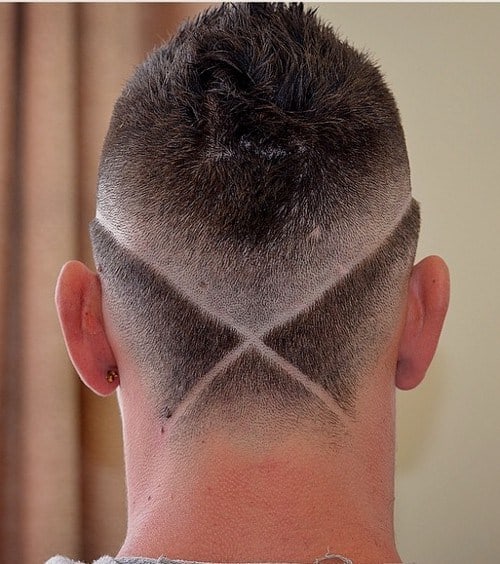 Back design goes well with short Faux Hawk. Why suffer the scorching summer hit when you can fight it with style? Back design with short Faux Hawk is the key to a summer heat beating hairstyle.
#22: Faux Hawk with Deep Part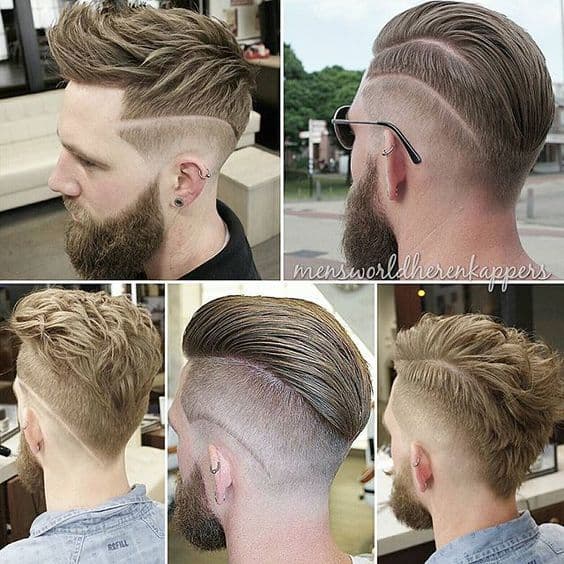 Short Faux Hawks are already a cool way to style your hair in summer. However, you can accentuate the coolness with a little help from your stylist, Try deep parts to both sides You can even do a faux part line under the part. There are many ways to wear short Faux Hawk and deep part combo. Go for the one you prefer.
Most Handsome Dreadlocks In Trend This Year
#23: Faux Hawk with Buzz Cut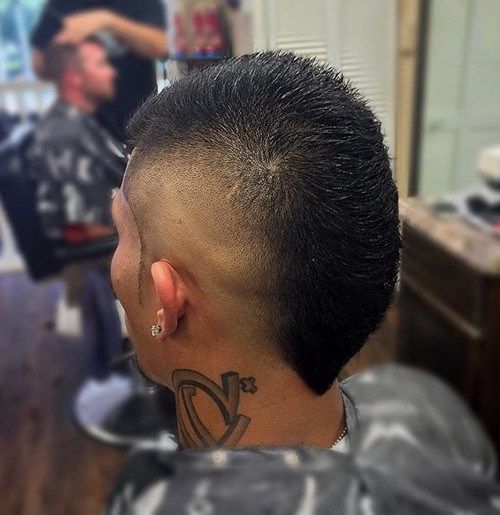 Short Faux Hawk is a functional and stylish hairstyle. You know what else is functional? Buzz cut! It's so functional that youtube star Rhett McLaughlin sported that on their wedding day (and went on record saying he isn't really proud of it). If you wish to take Rhett's remarks as a suggestion, you might love this style. Try buzz cut with something trendy and stylish, and your summer wedding look would be 10/10! You can get an iconic and comfortable hairstyle with Faux Hawk and buzz cut. It is also pretty low maintenance.
#24: Faux Hawk with Front Combing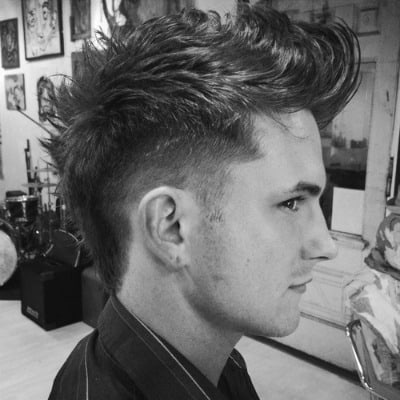 Front combing is quite a trendy hairstyle nowadays. It goes well with short Faux Hawk. It gives an illusion of longer hair, when it's actually pretty short in reality. Like, what else you need to look cool and literally feel cool?
#25: Slick & Smooth Faux Hawk
Short Faux Hawks don't always have to be spiky. You can have smooth and softer Faux Hawk hairstyles as well. The trick is in sporting soft Faux Hawks with proper maintenance. You might want to use some products with it.
#26: Low Fade & Short Faux Hawk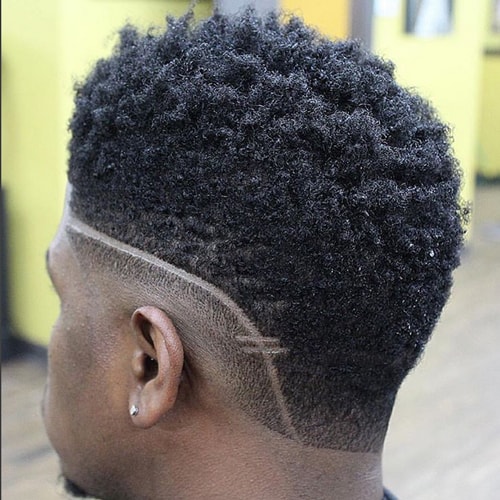 Ever considered fade hairstyles with short Faux Hawks? In this summer, fade hairstyles are pretty IN. Low fades are particularly hot with shorter Faux Hawks. This is an ideal hairdo if you're stuck in stuffy work cubicles all summer. It will make you feel good, comfortable, and confident about your look.
#27: High Top Fade Faux Hawk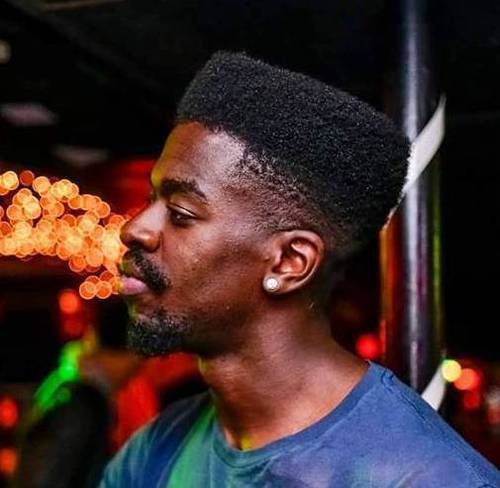 High top fade haircuts are especially appropriate for the stuffy and humid weather. If you are into sports or work-out and are looking for a perfect and stylish hairdo, high top fade Faux Hawk is a good fit for you. It dries out quickly after the shower and leaves your scalp clean and less oily.
#28: Corporate Faux Hawk
Who said short Faux Hawk hairstyles aren't formal enough? The short Faux Hawk isn't just appropriate for the corporate environment, it's also very comfortable. It's neat and subtly stylish, just the way any formal and corporate look should be. Enlist the help of your hairstylist for the best result.
#29: Extreme Short Faux Hawk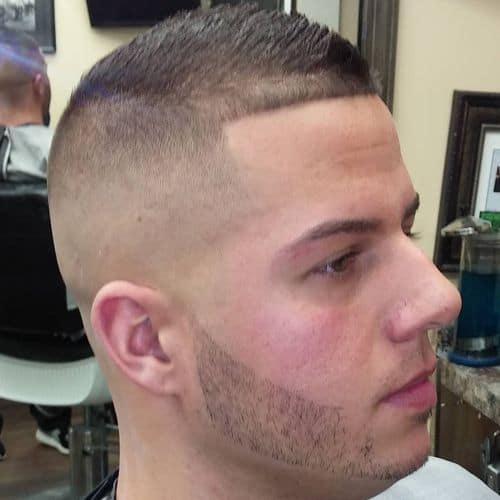 Regular short Faux Hawk isn't enough for you? You should try extreme Faux Hawk hairstyle then. It is stylish and comfortable during the summer. A good choice for stylish athletes.
Manly Bangs Which Are Super Popular
#30: Hard Part Ombre'ed Faux Hawk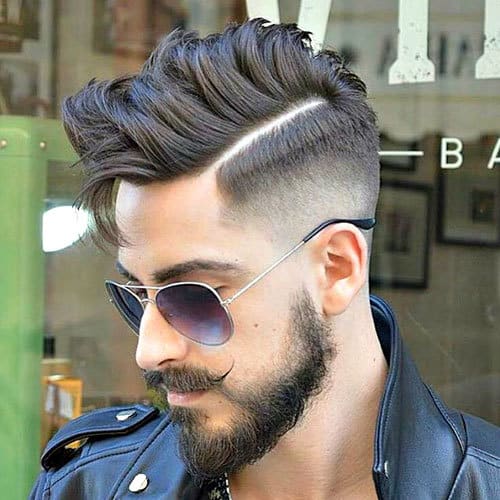 Ombre'ed Faux Hawk is a post, short Faux Hawk variant. If you've got way too many formal public occasions on your planner this summer, you should try this haircut. Ombre'ed hairdo looks classy, in-control, and smoldering on men of any hair type.
#31: Rat tail Faux Hawk
Short Faux Hawks can also be paired with the rat tail. If you're already sporting one and planning to get a short Faux Hawk, you don't have to sacrifice your rat-tail necessarily! The rat-tail will add extra coolness to your new style. It's trendy and fun hairstyle for young and vibrant men out there this summer.
Want to Grow A Weird Mustache? Go for Fun Manchu!
Faux Hawks are like the golden medium of all hairstyles of summer. You can grow it out after the weather cools down, or keep the style. The best part of the Faux Hawk hairstyle is, you can easily make transitions as you please. Just make up your mind!