Imagine you are a painter and your hair is your canvas for self expression. Emo is typically associated with emotional, sensitive, shy, dramatic, introverted, or angst-ridden males. This differentiates emo boys hairstyles from more conventional ones. The style reflects a lifestyle including fashion and music based on emotional self expression. The creative aspects of hair, including cut, style, color are used to convey uniquely emotional style. Punk culture, goth culture, shoe gazing music, and visual art play out in uniquely stylized hair. Using color, eye liner, lip gloss, black nail polish, and other accessories are instrumental in expressing mood.
Emo culture has elements of Goth culture. Dark fashions, expressions of dark sentiments, dark hair, eyeliner, fingernails are similar elements. However, emo culture diverges with splashes of color expressing individuality rather than withholding. Form fitting clothing and lack of design patterns are also fashion elements outside of Goth culture. Part of emo culture is all about hair expression as an extension of unique self expression. Consider the bright, tight pants and T-shirts with humor, and splashes of clothing and hair color.

Pete Wentz emo hairstyle with eyeliner.
Examples of appealing hair styles can be found through hairstyles of celebrities like David Cook, Fallout Boy's Pete Wentz, and the band Thirty Seconds to Mars. Visual references will be useful if styling at home or consulting a salon stylist. Dark colored hair with bangs covering over one eye, or side swept to cover the head or face is a popular look. Fringe should be just above eye level. A stylist can provide feedback about whether a cut or style suits your face. Save money if you do your own hair, and retain creative control.
Hair weaves, color, relaxers, and straightening may be part of the styling process. Hair of variable length and texture can be styled to design a unique look. Facial shape can factor into decision making. Long faces with square jaws may work best with haircuts and styling geared to these characteristics. Long bangs with short back hair suit round faces.
The Cut and the Color

Mullet emo hair.
Both the cut and the color create a particular hair style. Bangs, layers, mullets, chopped, razored, side sweeping, and bead head styles are part of the mix. Hair can also be spiked, flat, soft, edgy or unruly. Produce a bowl cut by wearing an upside down bowl and cutting around the base. The mullet, razor cut, bowl cut, long layers and fringed bob are common styles. In a mullet, either the back is shaggy and long, or the front is long and cut at an angle. The mullet looks like a shaggy layer. When doing a razor cut, first wash hair. While damp, cut hair. After towel drying hair, apply hair gel for straightening as needed. Dry by sectioning hair with clips. Dry hair using a round barreled hair brush, and work from the roots out. The bottom and top sections should be dried last. Hair dryer diffusers can lessen hair damage risk, and dry a larger area at once. For an alternate method, try a low temperature and blow hair upside down, using fingers to style.
Straight Hair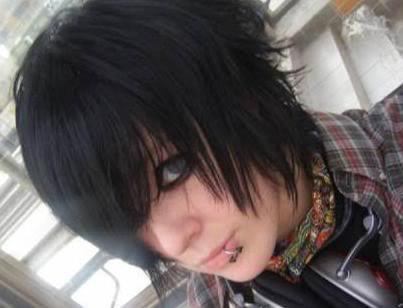 Straight emo hair.
Hairstyles of emo culture starts with straight hair. Flattening hair can be done by applying a chemical relaxer or using a flat iron. If hair is not long enough, grow it when it is relaxed, it can be effectively cut at an angle. If relaxing, allow time and money. The process can cost over tens of dollars at a salon. Before using a flat iron, apply conditioner, serum, hot oil or other heat protection to hair. Clip hair into small segments. Flat iron starting from the bottom of the head to the middle. Flat iron the top of the head last. Use a heat setting below the maximum available temperature. When relying on the flat iron, straighten hair daily. Serums, gels, spray wax, or other hair care products can smooth, hold, thin, and shine hair. Curly hair can be straightened at the front, and the back left as is. An alternate style is to go for the bead head or unruly look and avoid relaxer or flat iron. The goal is to frame your face with your hair.
Cutting the Hair

Hot spiky emo hair for boys.
For home stylists, thinning shears, a small razor, scissors or other sharp object can be used for cutting hair. Use one or more mirrors to cut and check the back and sides of hair. Asymmetrical lines and cuts are the most popular ways to produce the desired styling. Symmetrical cuts can also express uniqueness. Create choppy layers and pointy bangs with the cutting tool. Create front fringe by cutting at an angle starting from left or right. Cut hair diagonally across your forehead, or straight across. Fringe should end above eye, just past the eye, or just past forehead. Leave enough crown hair so that it creates a spike with the aid of hair product. Layer sides and back of hair. Alternatively, bangs can be cut to chin for later pin back to sides. Cut hair at the back of head to a short length to avoid the mullet appearance. Trim the hair sides and top in layers.
Accessorizing Your Emo Hair
Red emo hair.
Ways to express yourself include accessorizing. Hair color can dramatize your appearance. Color hair using temporary color, permanent color, extensions, or highlights. Color all of hair, or sections. Use one color or multiple colors. Bangs, crown back or sides can be colored. All black tinted hair is popular. Bolder colors are red, purple, aqua, and green. Other ways to express individuality include inexpensive, but expressive tight T-shirts, colorful tight pencil jeans or baggy cargos, studded belts. Eyeliner, mascara and black nail polish can amplify for dramatic effect emo boys hairstyles.
Emo boy.
See photos of hot emo boys hairstyles here>>