When you think about a punk hairstyle, there are many different fashions that you can incorporate. This article will give a quick rundown of the history of the style than followed by some suggestions on the different ways you can use punk style to make a statement about yourself.
Evolution of Punk Hairstyles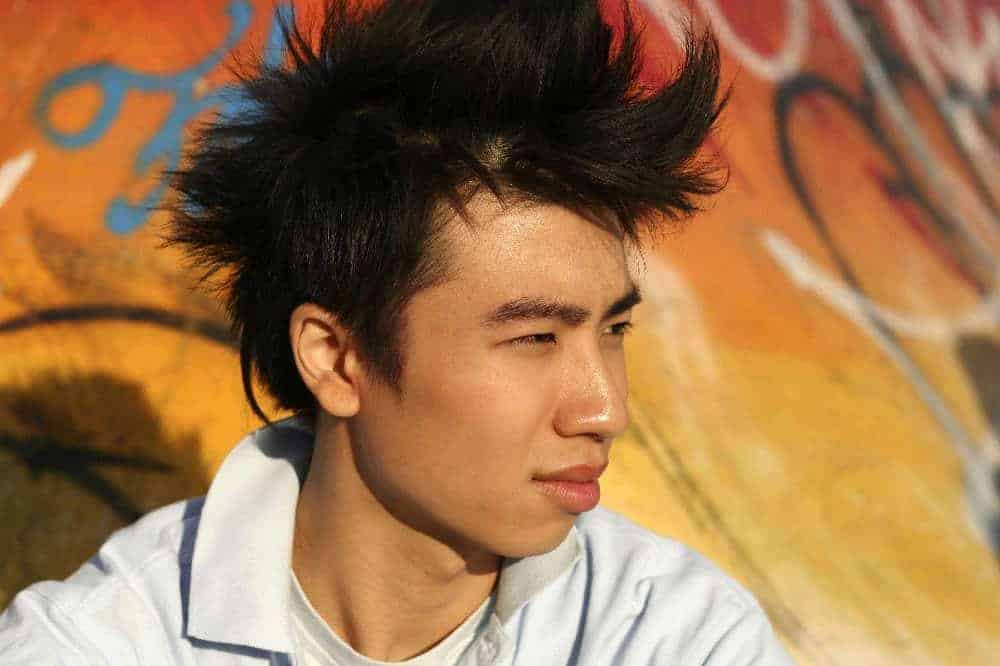 To give you a better history of the punk hair, it hails back to the 1970s. The inspiration for the hairstyle came from the punk rock music of the time. The musicians often would dye their hair and spike it. This was used as a way to send a message confronting the rules of everyday society.
Today with punk hairdo, you can still decide to dye the hair, spike it, or do both. Some people will go for the full effort and both dye and spike the hair. You can go for a Mohawk if you wanted to go this route as well when spiking and dying the hair. Some people prefer not to spike the hair so you can do an un-spiked Mohawk if it speaks to you.
Deryck Whibley of Canadian band fame Sum 41 has dyed his hair occasionally and simply worked to get full spikes going in all directions. To do a Mohawk, it is recommended that you cut the hair not used for the Mohawk to about 3/8" to ½" while keeping the Mohawk part of your hair as long as you want it to be.
There is not a standard length for a Mohawk and it has more to do with how much you want to push your punk hairstyle. If you are choosing to dye your hair, it is normally recommended to choose unnatural colors such as red, pink, or blue. You can choose to dye your hair whatever color you want but these are the types of colors that hail back to the beginning of the punk style.
Depending on the constraints if you have a job, you can potentially do a more moderate look. A good example is Billy Joe Armstrong of Green Day fame. He spikes his hair to show disregard for society but his hair is shorter. This could fit both for a conservative day job and then you spike it at night to get the punk hairstyle to show who you really are.
Origin of Punk Hair Variations
People have long been in the practice of using hair dyes to change the color of their hair as a means of making themselves feel more attractive. Punks use hair dyes to make themselves appear different from mainstream society. Bright, harsh colors such as red, neon green, blue, orange, yellow, and other colors that are not found naturally in hair coloring began to be used in the 1960s and really became popular among punks in the 70s.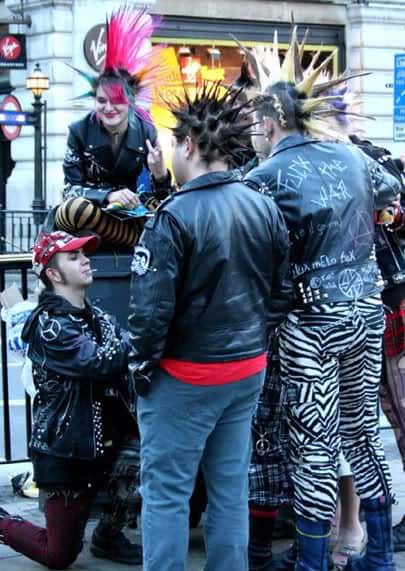 The 1970s saw changes in hairstyles as well as the use of bright colors on punks. One of the most common punk hairstyles is the Mohawk, though this has different variations. Some punks, more male than female, have also gone with a variation of the Mohawk that uses two equidistantly spaced stripes of hair with both sides and the center of the head shaved.
In the 1980s, many punks began to adopt more conservative approaches to their hairstyles and fashions. Today, a person can be a hardcore punk and not really look much different from the average boy next door. However, for most punks, it is still common to add outrageous colors to their hair and have it styled in ways that shout nonconformity.
Even among individuals who do not go all out with the Mohawk, a faux-hawk, a less radical version that does not involve shaving the sides of the head, or keeping a full head of hair and doing it all up in liberty spikes is not uncommon. One common factor is the continued use of bright colors on the hair.
How To Get Punk Hair Easy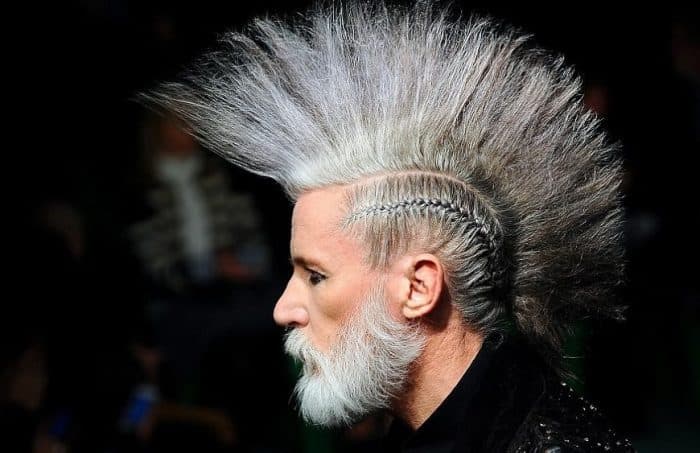 There are several ways that you can change your hairstyle. But, how to get punk hair will take some thought and planning. When you decide that you want a punk look, you will need to find a men's hairstylist that has experience with creating distinctive, signature looks using the tools that will make your hair reflect your style.
When you first go to the stylist, they will talk to you about what you want to do with your hair. If you want to add colors and throw in some Goth, the stylist will need to know that. If you start going to the stylist early, they will be able to work on your hair to shape it and get it to the length it needs to be to give you the style you want.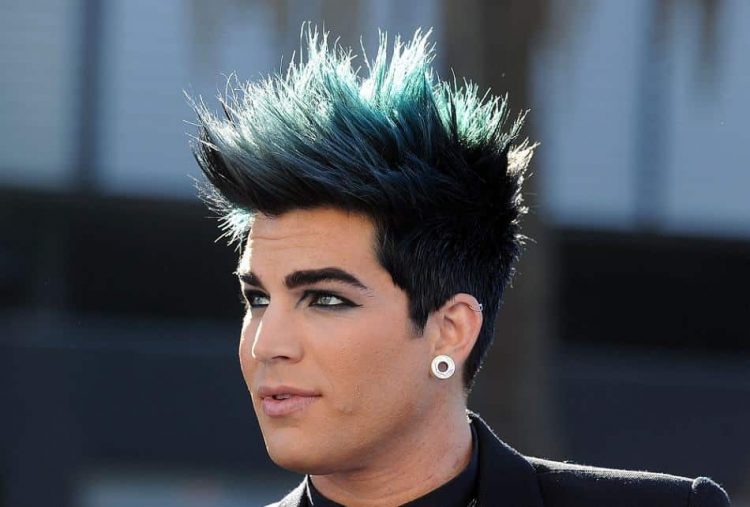 A good punk cut doesn't look like a lot of effort went into the colors and cut. But, there is a lot of work involved in getting that effortless look. The stylist will need to work with different colors to come up with a signature look and style for you.
There are a lot of different punk cuts and any color will work. Some colors will look better on your hair than others and your stylist will be able to help you find the great colors for your look. A popular style is a spiked mohawk that has a different color on each spike.
When the style and color is set and you have got the punk look you want, the stylist will teach you how to use the products that are needed to achieve the look easily. Each time you come in, the stylist will do some re-touching so your color won't begin to look drab or fade.
With bright colors in your hair, there are specific shampoos and rinses that you need to use. The stylist will have these products available for you and will give you instructions on how to use them to keep your colors alive for the longest period.
By the time you leave the stylists after the first visit, you will know how to get punk hair easy and keep it punk for as long as you want. There are a lot of choices to make when you are deciding on the style, colors, and cut that you want to make punk.
When you have committed to a signature look, it should reflect your personality and independence. When you have your hair done, you should feel great and your hair should complement anything that you are wearing.
Punk Hair Color Tips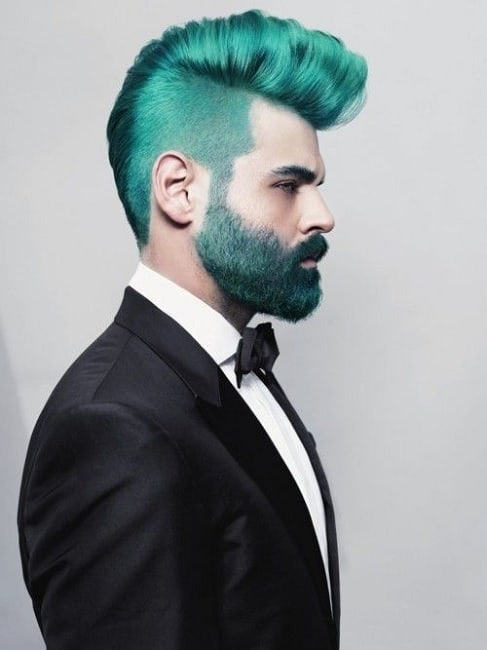 You've thought about it and thought about it, and now you're sure. You're sick and tired of looking like a prep, and you want to go for some punk hair color. There's just something about the thought of bright blue (or green, or purple) hair, spiking at odd angles, that just plain does it for you. But, when considering punk color, where should you begin?
There are tons of punk hair color resources out there, but most of them are geared towards women. Sure, you can try to tweak them to fit a dude's hair, but should you? The last thing you want is for your blow-them-away blue punk hair color to end up looking more like pond scum than hair has a right to.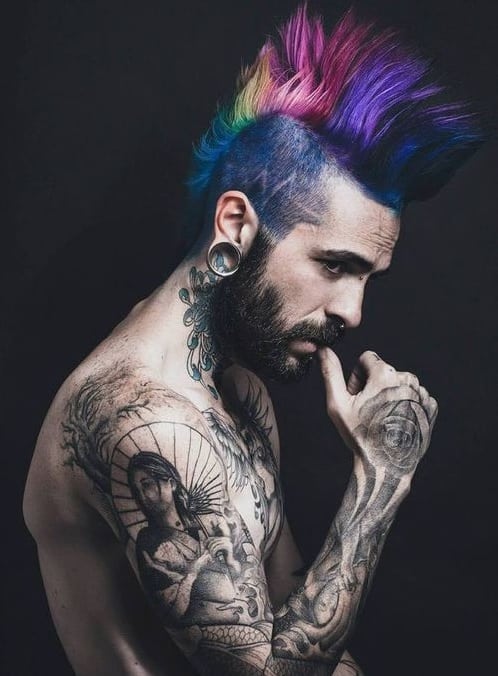 First of all, boys, when considering color for punk hair, it is important to remember that a guy's hair isn't the same as a girl's. If your cut is short, the fact that all of your hair is close to your scalp is going to increase the temperature of any chemicals that you put in it. This can result in over processing your hair, and blowing your new colored punk hair if you are not careful.
Especially when you are working with bleaches. (Over bleaching your hair is the best way to ensure that it all falls out.) Your best bet is to use a punk hair color product specifically designed from a guy's 'do. Then the instructions will be especially targeted at guys will take this into consideration, and you will be a lot less likely to do serious damage to your locks.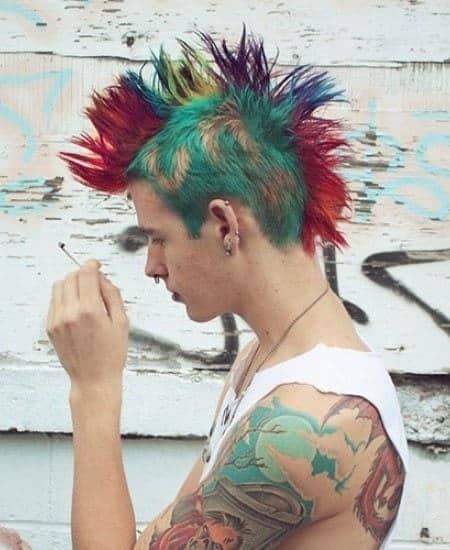 Also, guy's hair color tends to be coarser than chick's. That means that you may need to add additional time if you are going for the highly pigmented punk hair color look, or your sweet new color may end up looking washed out and dull. There are many different types of punk hair color products on the market, so it shouldn't be too difficult to find one that both provides the color intensity that you are looking for and suits your hair type.
Just remember that, when considering punk color, you are making a big change to your appearance. Don't underestimate the importance of doing your homework and making sure that the color for the punk hair you choose is right for you.
Amazing Punk Hairstyles for Men
Following are the trendiest men's punk styles that men can try this very and coming year!
1. Punk Pompadour or the Punk Pomp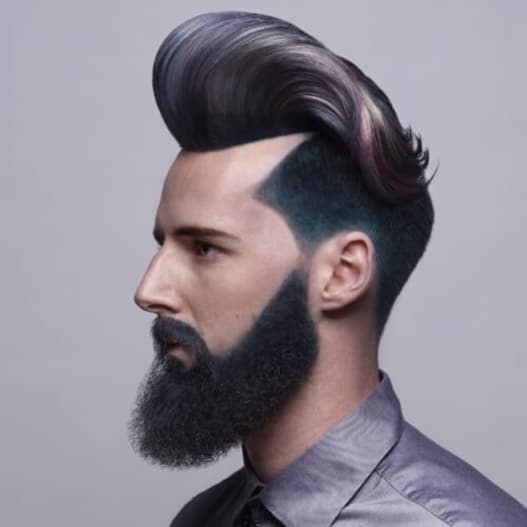 Named after Louis XV's mistress, Madame de Pompadour, this hairstyle gets an unconventional twist as a punk hairstyle. In this punk style, the hair is back-brushed and rolled to give it some height and an almost pyramid-like structure. A technicolor touch makes it everything a punk is supposed to be.