If you have curly hair and in love with the mohawk, don't be upset! Mohawk can look awesome on men with curly hair too!
Most guys are not really into changing their hairstyles from time to time, but if you take great pride in your looks and your hair, you might be one of those guys who want their hair to complement their personal styles.
Curly Hair Mohawk
1. Natural curls in the middle with fade shaves on either side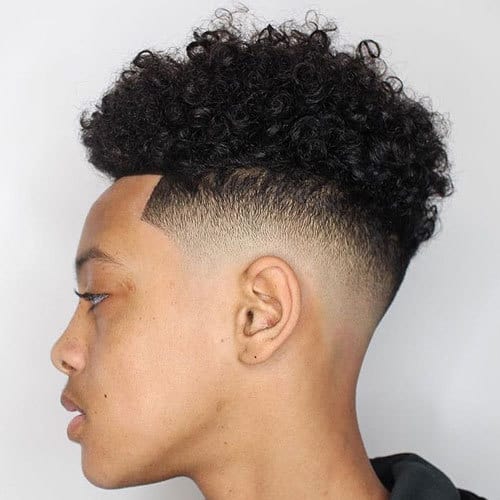 This hairstyle suit African American men with curly hair. You need to first know how much to cut. Leave a patch in the middle. Then, go for a fade shave on either side of your head. A craze among footballers, this makes you the talk of the Town.
2. The classic curled Mohawk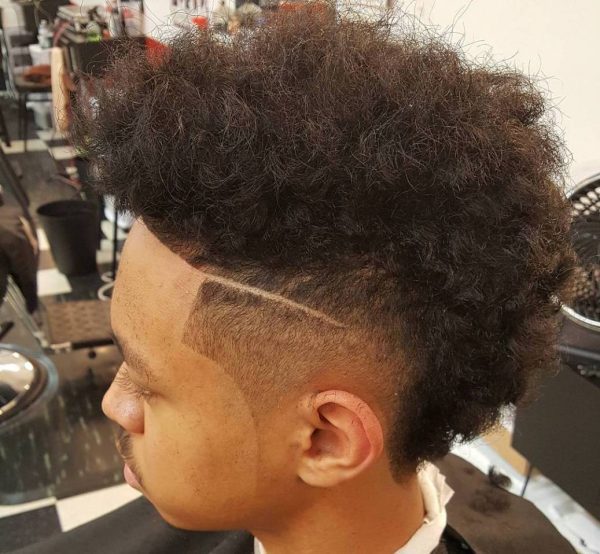 This hairstyle is for men with curly hair till their neckline. Keep the hair as it is with fade shaves on the extreme ends. Also, make sure you don't cut the hair at the end of the neckline. This hairstyle is low maintenance and doesn't require a regular touchup. You can get it done easily and it suits everyone.
3. Short hair and tapered shave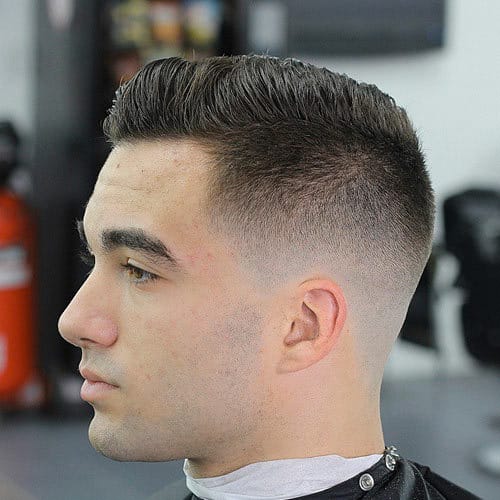 If you don't want a lot of hair on your head and want to keep it short and simple, go for this particular haircut. Maintain some amount of hair in the midline so that you can prepare your Mohawk with it. Then go for the tapered shave on either side. This hairstyle is good for people who stay in humid and hot areas.
4. Afro Mohawk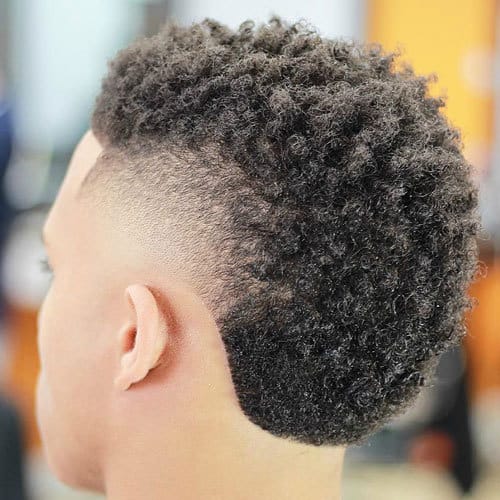 Africans generally have a great volume of curly hair. This style will give the afro feel with hair not shaved on either side. It is just trimmed well from top to bottom. The leftover middle portion is kept the same. The heavy volume is made distinct.
5. Short hair with the geometric pattern
This kind of hairstyle has a patent look. Your hair needs to be cut really short to form a structure in the middle. The back portion would be shaved in geometric patterns. The patterns can be zigzag patterns, a cross or a diamond-shaped pattern that makes your head look sharp and distinct. It looks good on men who are generally tall.
6. Long and skin shaved Mohawk
This particular hairstyle is inspired from the 80s. You need to cut the hair short and trim it well first. Then shave the entire sides from up to down that is go for skin shave. Just make sure you have a long patch of hair in between starting from your temple to your neck.
7. Colorful Mohawk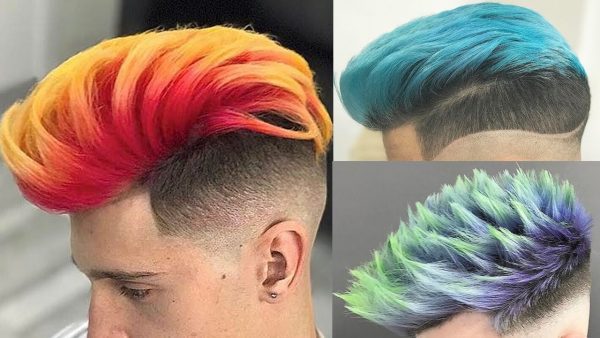 There are men who like experimenting with their hair. You can get a Mohawk by trimming either sides. Then, divide it into different sections and paint it in single or multiple colors. Many men like coloring their hair like a rainbow. So, you have seven divisions with seven colors. This helps you make a statement.
8. The patterned Mohawk
This is one of the coolest Mohawks you would have come across. Get either side of the head shaved in designs. This is more like a hair tattoo where you can get patterns designs according to what you want. You would see men with eagle designs, designs of maps and so on. This gives your haircut a purpose.
9. The dark and sharp Mohawk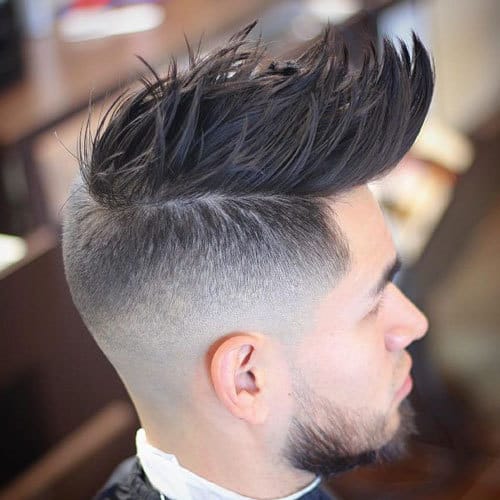 You can get this Mohawk if you don't go for much experimenting. You need to cut the hair on either side short and stop shaving it. Next, make the hair left in the middle look voluminous. Don't bother the curls much and you will look absolutely stunning.
10. The angular Mohawk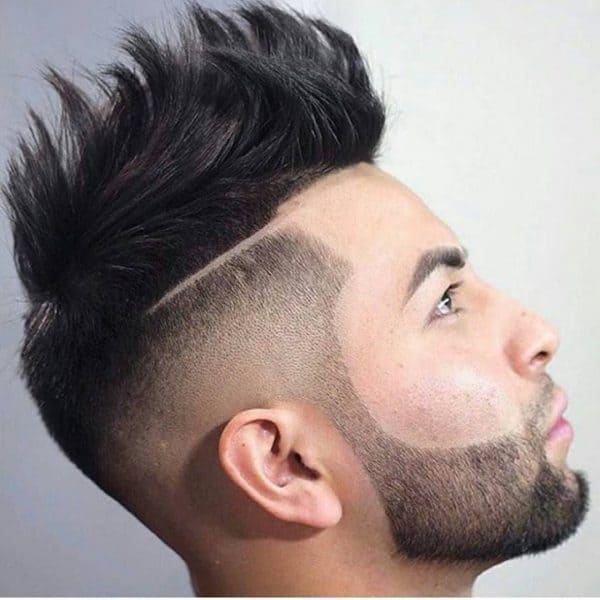 This suits people who have a flat face. Here, you don't shave the sides on a straight way but in one angle. You can complement it with. Good beard style and you are good to go.
How to Get Curly Hair Mohawk
The mohawk is a stylish do and although it may be a drastic change compared to the usual hairstyle for men, you can pull it off with the right kind of confidence, even if you have naturally curly hair. Here are some tips on how to get a mohawk with curly hair.
Shaved Sides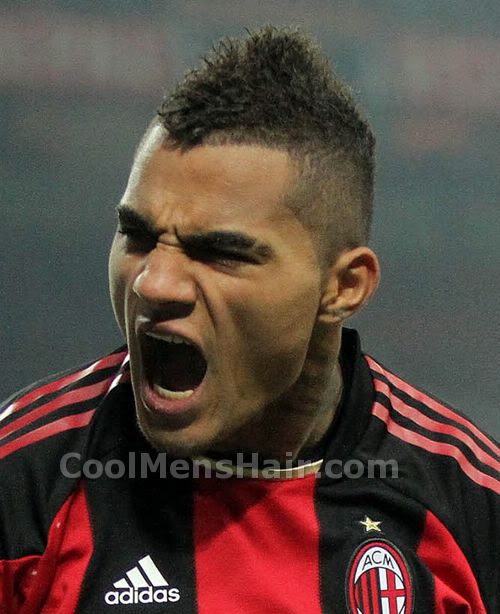 The first thing to do would be to make sure that the sides are primed to make the mohawk stand out. You can do this by getting a buzz cut on the sides or opting for cornrows. You can do either at the salon for a couple of dollars. Cornrows will work great especially in the summer because they keep your curly hair neat and tidy and will help keep the head cool. A buzz cut is great if you still want to rock a masculine hairstyle with a mohawk thrown in for added flair.
If you want to sport the curls and the Mohawk at the same time, going short is the way to go. Keep the hair on the sides shaved close to the scalp and retain the hair on top. About a half to one inch of hair at the top is enough to show your curls off. If you do not want to work too much on your hair every day, you can keep the width of the hawk to a comfortable one inch. This way the Mohawk stands but does not require too much product to be kept upright. You can use a curl boosting cream to make the curls stand out before using a setting spray to keep the hair in place and to tame any frizz. This style is great for guys because it requires very little maintenance.
You can also opt for a narrow mohawk. Most guys like to keep it narrow since this needs a shorter styling time as well, but you may need more product to keep the style in place. It will not show off your curls that well but you can tease the tips to create a bit of texture on top. Keep the sides short to make the do stand out. Use water-based styling clays and avoid anything that contains alcohol to avoid drying out your hair.
Cornrows-hawk
For cornrows that you can make into a mohawk, you need to start braiding from the roots upwards. Section the hair so that it is easier to work on. Braid upwards and leave the free part of the hair unbraided since this will form your mohawk style. You can leave the middle section of the hair unbraided to add more puff. Once you have braided all sides into cornrows, secure the top with a rubber band and bobby pins to make the row of unbraided curls on top of stand up and out. Use a curl boosting spray to emphasize the curls.
Frohawk
You can keep the hair on top curly and bushy and style the bottom part of the Mohawk with setting or styling spray to make it rigid and strong enough to support the top. Some guys simply slather setting gel over the hair and style it upright before using a setting spray, but you need to make your that you have a thicker base that becomes narrower towards the top. You can do this by pushing the hair of the sides up and setting it upright using bobby pins that you stick along the sides to create a sturdy frame. For guys with thicker hair, you can use black or transparent banana clips or rubber bands to keep the hair upright.
With a bit of practice and the right hair length, you can pull off a great mohawk with ease. You have the option to make it wide or narrow and you can even use corn rows for added flair.