If you are a man looking for a hairstyle change to something hyper-stylish that is also banging on trend, then you may want to think about a temp fade haircut.
 What is a Temp Fade Haircut?
Temp fade haircuts for men are also known as the temple fade or Brooklyn fade. This look is basically achieved by shaping the hairline to create a highly sharp and clean line which then blends down into a faded look around the temples, ears, and jawline.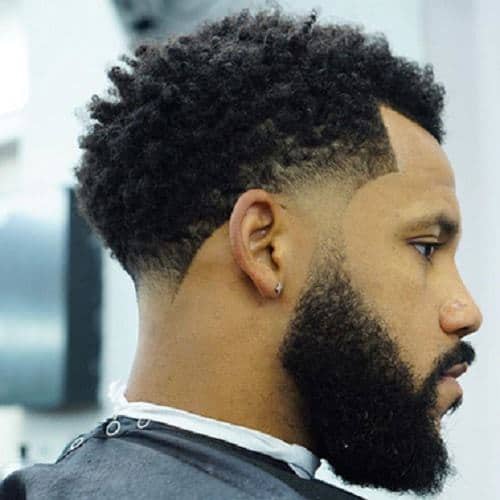 Don't be fooled into thinking that the temp fade hairstyle is only for black men – this is a very trendy look for all fellas who like to have a unique cut.
The main reason it has become so popular is the huge number of variations available to customize your look based on your natural hair and personal preference.
Things to Know Before You Choose A Temp Fade Haircut
Do not underestimate the amount of skill needed in creating a temp fade hairstyle for men. Choose a highly skilled barber or stylist who is acutely aware of what is involved in getting the look and also has the correct tools to carry out such a style. The Barber will need a good set of hair clippers, razors and trimmers.
Watch The Following Tutorial to Know about How to Do A Temple Fade Haircut
Most Popular Temp Fade Hairstyles for Men
The main purpose of the temp fade haircut is to highlight your facial features. The super short style from the temple down to the jaw and nape makes your face shape and cheekbones stand out. However, the added bonus is that you still have lots of hair to style around the crown of your head – so if you particularly favor having longer hair, or you enjoy varying your daily style then you don't have to miss out with the temp fade haircut.
1. Temp Fade Haircut with A Weave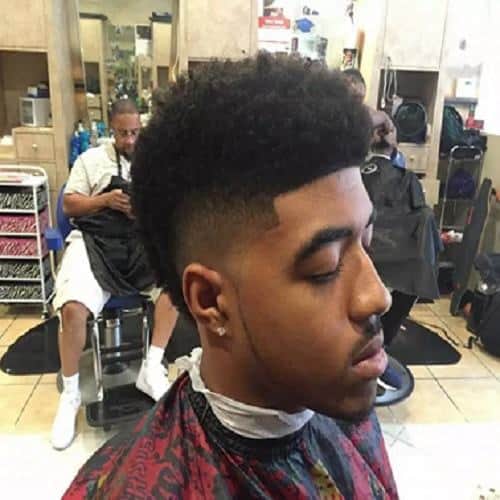 A weave is a great way to set off and highlight the intricate nature of any man's temp fade. By having a full and thick mop of hair or weave on top of your crown it can make for a more dramatic and stylish look.
A weave is also a great way to cover up thinning hair and coupling this with a temp fade haircut is a modern and contemporary style option.
For a cleaner look opt to keep the curl size and overall height to a minimum or try a more dense and tight curl.
Enhancing the style with golden tips or highlights can also be a great look.
2. Temp Fade with Dreads
If you are looking to make a transformation to having dreads but don't have a great deal of hair length, then a temp fade hairstyle is a fantastic option. Short dreads tend to stick out and be unruly, but when worn in conjunction with a short and sharp hairline and a tapered undercut it makes the style look controlled and not wayward.
If you are wanting a more unruly look then opt for free-style dreads and really pick a highly sculpted pattern shaved into the scalp. This will make the style look more considered yet casual.
3. Men's Temp Fade Hairstyle with Beard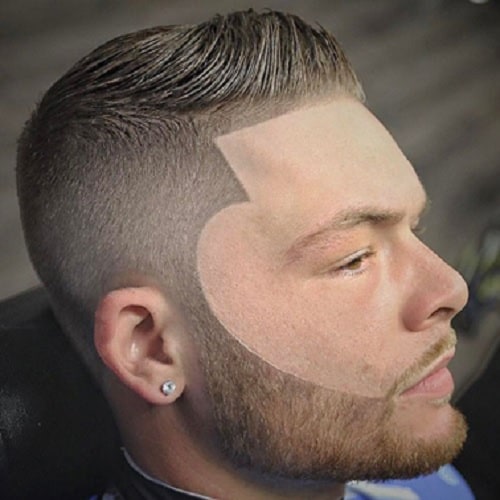 A men's temp fade hairstyle is a great way to have long hair and grow a beard without looking like a Yeti. You can avoid the mountain man look by fading the beard up towards the ear and temple which can create a graduated break between the hair and sideburns. This is a novel way of breaking up large portions of very dense and heavy hair.
This is also a nice idea for anyone who is just starting to grow a beard or anyone who's beard, and sideburns tend to be patchy and thin as this is covered up by the graduated shaved style.
4. Temp Fade Low Hairstyles for Men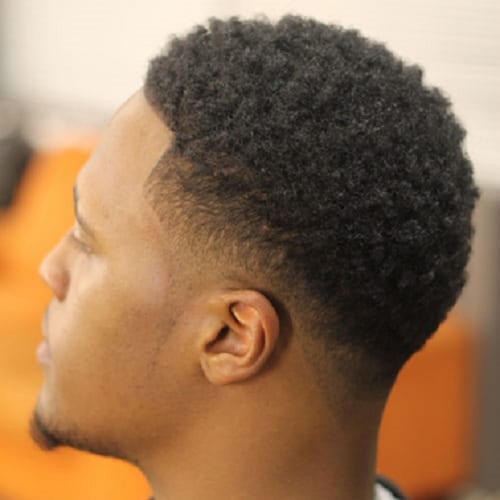 If you like a classic look or need a more suitably reserved haircut for your job – the low temp fade haircut is a good option for you. The hairline is left natural, but the temple is faded back behind the ears. For a more striking look and to make the low temp fade hairstyle stand out – it is often paired with a clean shave.
5. Temp Fade Hairstyle with A Parting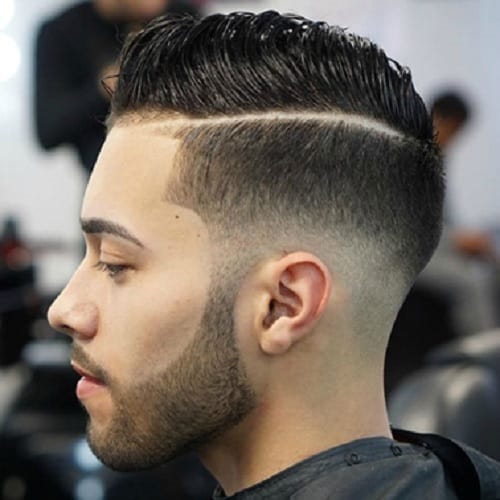 There are many ways a parting can be worn and by opting for a temp fade hairstyle, especially around the natural hairline, it can really boost your overall look.
If you like having longer hair, then along top fade can give the impression of more lengthy locks but without looking bulky. By adding a parting, it can achieve a very bold and dramatic style.
A sculpted pompadour cut is also a great way to wear a parting and get that uber cool look. Using the temple fade along the parietal ridge of the head, you can keep the volume and fullness of your style.
6. Avoid Those Bad Hair Days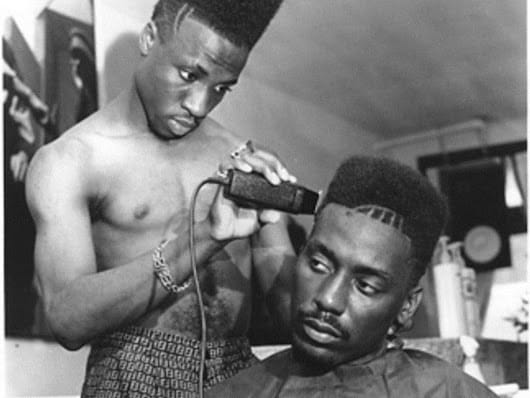 The temp fade hairstyle has been reborn since the 1990s when it was the favorite of many. Its unsurprising as the men's temp fade can be adapted to suit any style and any sort of hair.
With its revival, it is worth jumping on the bandwagon and joining in to get a trendy style that is also relatively easy to look after, although frequent trims will be needed. With this being a very timeless look, it's reasonable to expect this style to make a return again and again.