Men's hairstyles have evolved and changed with the times. From the big hair of the 80's rock band styles to the long hair messy grunge look to the spikey do's, men are into their hair as much as women. Through the ages men have been searching for how to style men's short hair and have come up with some great ways to go from corporate to cutting edge.
Nick Lachey with short spiky haircut
If you are looking for some ideas on how to style
men's short hair
, one of the best cuts for versatility is layers. Layers offer the opportunity to add products and create many different looks. Since most men have coarser hair, the layers allow the hair to lie flatter against the head. That is, unless you want some wild spikes and texture. Products such as molding waxes, hair polishers and flat irons can create some of today's hottest looks. For the
"Alfie" hairstyle
made famous by
Jude Law
, the hair is cut shorter to the head on the sides with more volume on top to push towards the middle and spike up or mess up to create a
faux hawk look
. Other great ideas for short hair is to
texturize
all layers for a messy look all around. Bumble and Bumble Surf Spray works well for a 'just got back from the beach" look. Another great style is short all around with long layers on top that
swoop across the forehead
.
Zac Efron
&
Chace Crawford
is famous for sporting this short hair style. Popular with the younger generation of skateboarder and surfers this style has a wispy, tossled look but is still short enough to go conservative if need be.
Chace Crawford hairstyle
The best haircut is one that offers versatility, easy upkeep and healthy shine. Most men when they get a haircut often have question on how to style.
Men's short hair
does not have to be boring. Unlike short haircuts of the past, there is much that can be done with scissors,
razors
, or
clippers
that create a cut that allows for many styles. Pushed straight back gives the old movie star look, part it to the side for a boyish look, spike it for a more edgy look, buzz it for clean look, pull it forward for a beach swept appearance and let it curl for a natural look. Whatever your hair texture, there is a great hair cut and style for you. Remember to get some great products that work with your hair and a flat iron is an essential tool in your armory.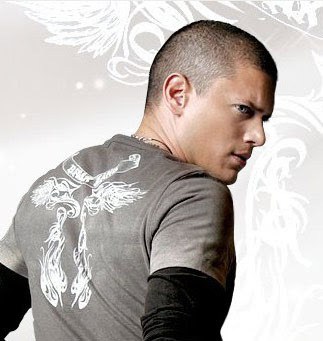 Wentworth Miller's buzz cut makes him look neat.