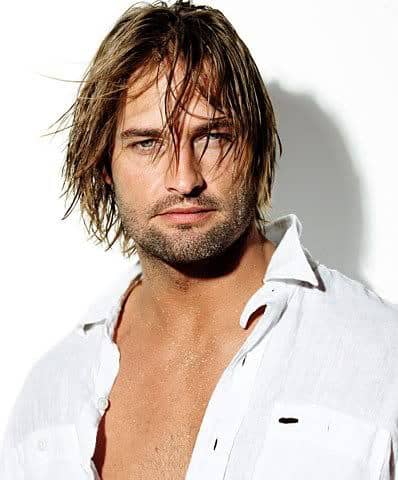 Josh Holloway surfer hair style
One of the hottest looks going for men right now is the
surfer look
. The combination of a nice tan, good muscle tone, and surfer hair seem to drive the ladies wild. Fortunately, you do not have be a surfer, or even live near the shore to achieve this look. Here, we will take a look at how to grow your hair like a surfer.
Most surfers have hair that is slightly longer than average for a man. It usually reaches at least to their chin or shoulders, if not a bit longer. Once the hair has grown out just a little longer than the style that is desired, the ends need to be razor cut to provide some texture. The hair should also be cut in a sort of zig zag pattern instead of straight across.
There are several different styles that the hair can be cut to and shaped. The one thing all have in common is that they are extremely low maintenance. If you are attempting to adopt a surfer hair style, it is best to base the style on an example of someone with hair similar to yours. If you have wavy hair, some styles will work better than others. These same styles may not work at all for someone with hair that straight as a string.
The style should make use of a minimum amount of gel or other styling products. It will look a little mussed up at first glance, but this is the idea. There will not be a need to carry a comb around to ensure each hair is in place because the surfer style is free and easy going.
When it comes time to actually cut the hair and style it, it is best to stick to an experienced stylist. Simply show him or her a picture of the style you are trying to achieve and let him/her do the rest.