Sweeping the nation for the last year or two is the faux hawk (fauxhawk) or fohawk hairstyle. This newer version of the Mohawk hairstyle so popular in the 1980's does not involve cutting the hair so drastically on the sides of the head. A simple slightly shorter cut to the sides and back with the hair somewhat longer on the top of the head allows for the faux hawk hairstyle to be easily manipulated into shape with a touch of gel or wax. Simply smooth the sides back, ease the top into a tapered point and you're done!
Another wonderful aspect of the faux hawk hairstyle is the ease in which it is hidden during the normal workday. It can be simply brushed back, or parted and brushed to the sides and no one is the wiser that when you go home you get a little bit on the wild side! A light mist of water to reactivate the styling product already in your hair, a quick swipe with a brush or comb and you're done!
The faux hawk hairstyle can even be done without having to cut any of the hair at the sides of the head, just simple restyling. It's great for the individual that has concerns about going with the true Mohawk, and just want to try out a new look. It's also less expensive just to try out, because, once again, it's a matter of styling. You don't have to worry about waiting for your hair to grow back if you hate it, you didn't spend a fortune on it, and you don't have to wear it all the time.
Any person can look great with a faux hawk hairstyle. Young boys, teens, college students, men and women can all sport the faux hawk. I've seen women wear it with a sprinkling of bangs and men wear it standing straight up over seven inches high! Often, the wearers cannot be seen at work with a true Mohawk, so the faux hawk hairstyle is a great alternative. They look great in the office, and great at the club!
The faux hawk is really the best of both worlds. You can fit in no matter where you go, if it's up or down. It's two hairstyles in one and both look great! So just give in to the temptation, add a little styling product to your 'do and see what you think. I'll bet you like it!
How to Cut and Style A Faux Hawk
Cutting a faux hawk is a fairly simple matter. The sides of the hair are cut shorter while leaving a band of longer hair up the middle. The advantage of this style is that it can be worn in a more conservative manner for working and restyled into the faux hawk at night for going out.
The hairstyle is easy to maintain with regular trim. And you can style it in minutes. The video below shows you how to style a faux hawk.
Faux Hawk Gallery:
1. Front-Swept Faux Hawk
Let's start off with a classic faux hawk hairstyle. Well, maybe it's not so classic—there's a fade happening on the sides, leading up to a slightly longer crop, which transitions into the actual faux hawk. I love the swept-forward 'do—there's always something a little impish and bad ass about it.
2. Textured Faux Hawk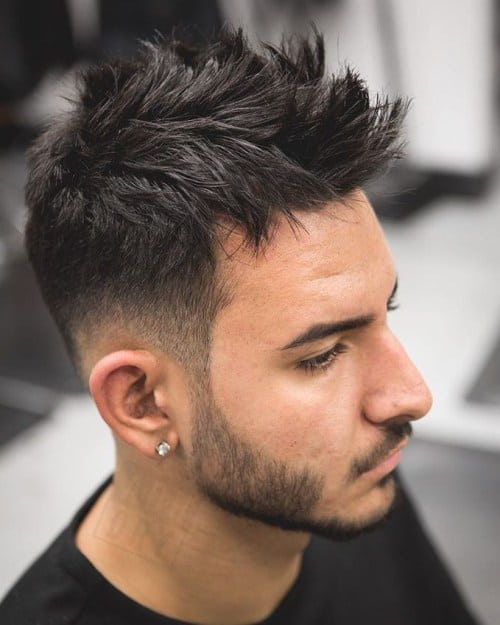 A few layers add dimension and depth to your faux hawk—alternately, and cleverly, known as a fohawk, by the way. Texture creates instant bedhead, plus it gives you the chance to mess around with a variety of styles.
3. Curly Fohawk
Technically speaking, this is more like a real mohawk, but the curls are kept short, and you don't shave it to the scalp. I prefer the fade, and that hard line is a magnificent detail. Those curls, though—I die.
4. Contrasting Color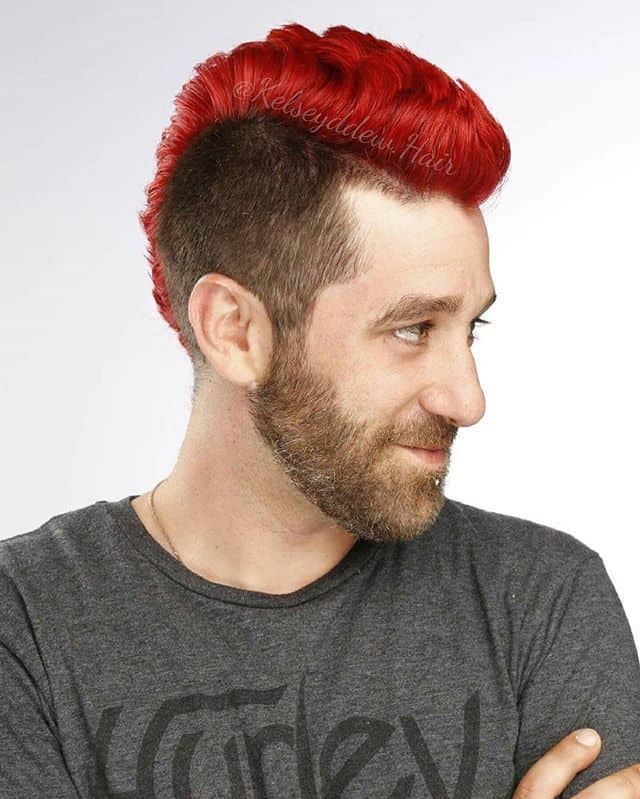 Why not have some fun with your faux hawk hairstyle? Dye the longer hair a daring color. Red catches the eye, but it's a safe choice. Experiment with a hue that no one expects from you.
5. Tousled to Death
You'll have women—or men—running their fingers through your hair from the moment you step out with this cut. It's tousled to perfection. Seriously, that's flawless. The fade is an eye-catching touch, particularly with that hard line.
6. Classic Fohawk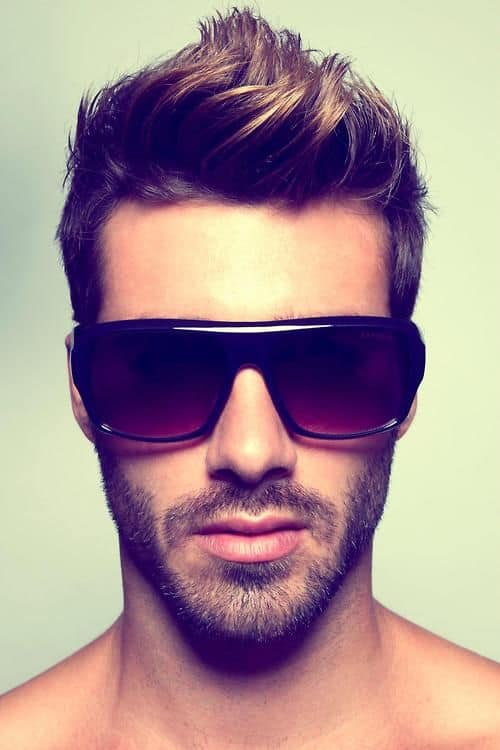 Feast your eyes on the traditional fohawk in all its messy, stylish glory. Note the hair that remains along the temples. That's the hallmark of a genuine faux hawk. The long hair then spikes upward, inward, and slightly backward.
7. Swooped 'hawk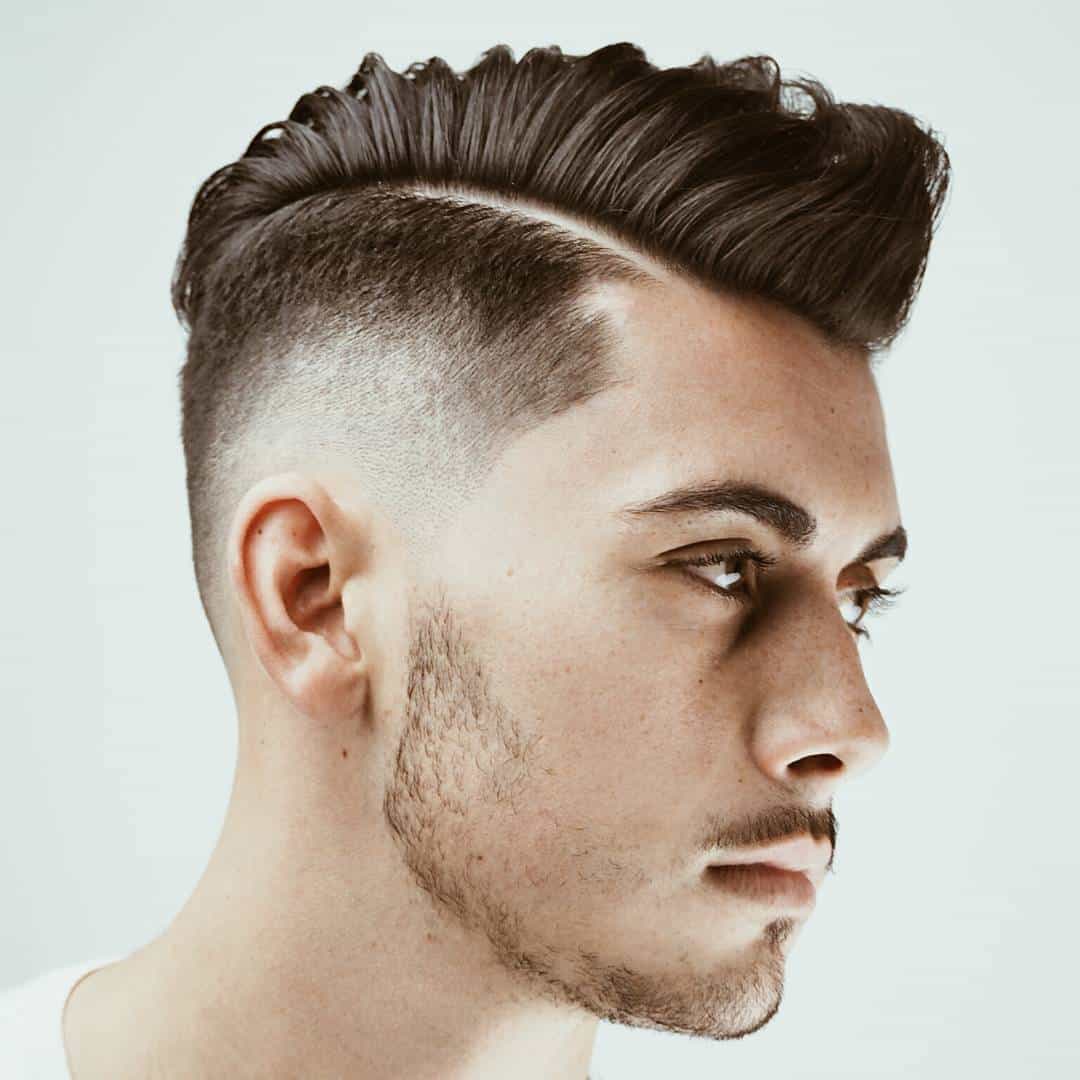 This is a faux hawk hairstyle that has undercut aspirations. Instead of combing your hair to the side or straight back, however, you style it upwards with the faintest hint of a pompadour.
8. Embellished and Edgy
Check out that flawless design. That's art. You couldn't make that more perfect if you followed a stencil. The fohawk is a classic, as well—short, tidy, and slick as hell.
9. Undercut Faux Hawk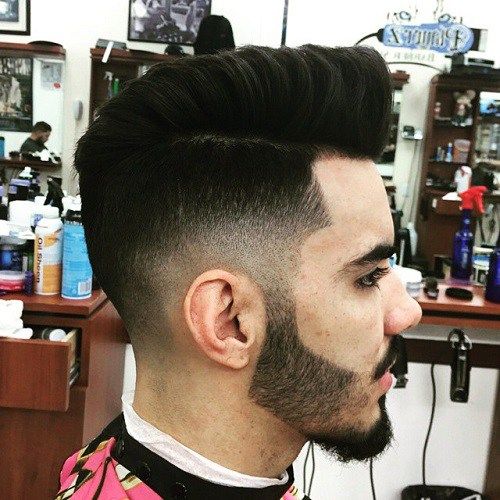 The undercut and the faux hawk honestly are a match made in heaven. His fade is sick, too—the gradient is on-point.
10. Spiked Up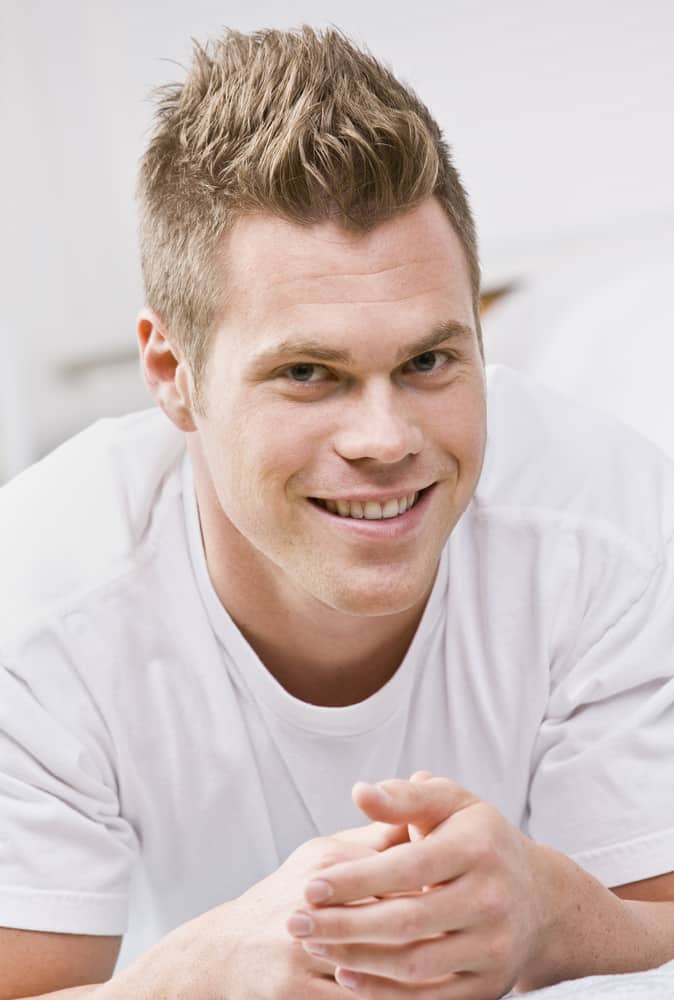 Here's another perfect example of a faux hawk hairstyle in its original form. It's all about the shape of the hair on type. Remember: inward, upward, slightly back.